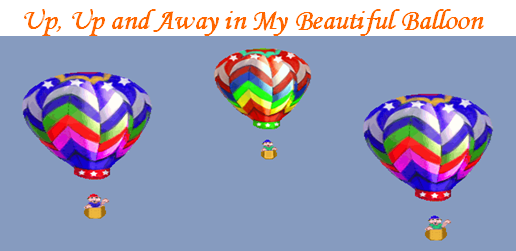 You may have noticed that apart from last night's late breaking news about the Hindenburg as a top notch Indicator for Market Tops, it was not intended to dampen my enthusiasm of the previous couple of captions.  They were up beat with "My Blue Heaven – Market's Up, Surf's Up and "I'm Sitting on Top of the World…Just Rolling Along".  The gloom and doom of six weeks ago is currently behind us and although I warned that we should not count our chickens before they are hatched, we have now hit a new market high on the Dow, the Nasdaq, and the Nasdaq 100, with the S&P 500, S&P 100 and NYSE all close to their old highs of just three months ago.  So enjoy the ride up that the Fed has garnered for us having plucked us out of the jaws of the abyss!
Today's gift seems to have come in part from what Bob Pisani of CNBC calls "Perverse Logic" in that the major announcements of the bad news by both Citigroup and UBS in taking heavy hits in ANTICIPATION of further Loan losses; the bulls turned this bad news around to in fact spin it that the worst is behind us and now we can look ahead.  We have only to look at the bottom fishing in the Home Builders today to see that the exuberance is there to yet once again find a bottom on this sector of the market…along with the strong movement in the beaten down financial stocks.
Couple all of that with this being the 1st day of the 4th qtr when stocks are usually up,  that insider selling is down and insider buying is up, that Company buy backs are up, and that there are fewer IPO's to compete with the current shares outstanding all suggests longer legs to this current bull rally.  It goes without saying that Short Covering is still prevalent and short-term traders are now reversing their positions over the near term. Also, one can't help see that as we head for bed at night and look at "World Markets" the global stocks and markets are showing substantial gains. 
If we bring things down to our little world, we note that stock leaders with RS >95 and strong ERG is where the action is at, coupled with Technology stocks particularly related to the Internet Software and Telecommunications. Transport-Shipping, Chemicals Specialty are still providing stellar gains.  The Chemicals Specialty Wolf Pack I gave you five weeks ago on August 26th, 2007 is now up 25%.  The Internet Software group of ten stocks I suggested just a week ago is up 8.54% as shown below, and in the interest of full disclosure, the Energy Drilling group pulled back last week, but showed signs of life today with all ten stocks up but the group is down 0.76% for the week.  Keep an eye on this group as I warned you that Wolf Packs don't necessarily all fire straight out of the chute.  Below I show the results of the two groups, with Internet Software on top above Energy Drilling.  Naturally every stock in the two groups was green today: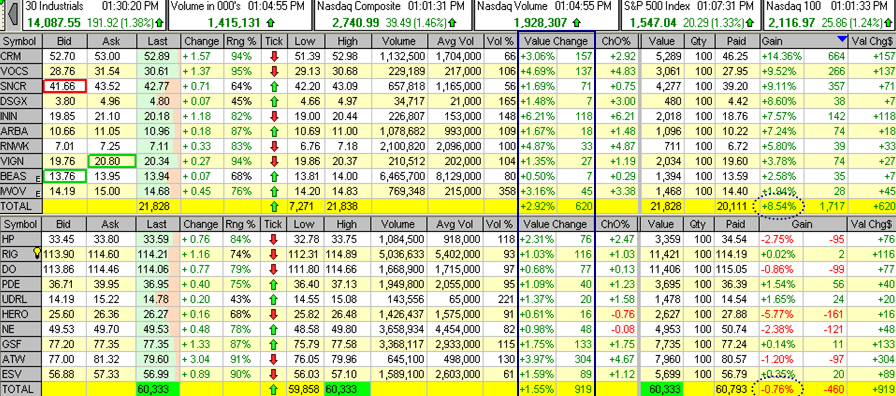 It is only natural that at this stage of events where we have had a powerful drive back from the Base Low and are now above or nearly at new highs in the Market Indexes, that the Technical Analysis aspects come into play, but I believe that we still have a chance to test the recent highs on the High Jumps for all the Major Indexes. I said that I felt we were on the second leg of a high tight flag and today has shown that in spades.  Naturally, October also looms in our minds as one of the worst months for gains so we need to be cautious and not sit with irrational exuberance.
Best Regards, Ian