You can see that we still need three "Dotted Red Ovals to turn to Green", before we have a chance of seeing a Bottom.  Note that I did not say "THE Bottom".  However we are getting more and more into oversold territory and unless we have a major melt down due to some surprise news, we do not have far to go to find a bottom for a Bounce Play.  The one we had with a 300 point up day and a Eureka signal fizzled, so maybe once we get the stars to line up as shown by my friend Sherlock Holmes we will see a Bounce.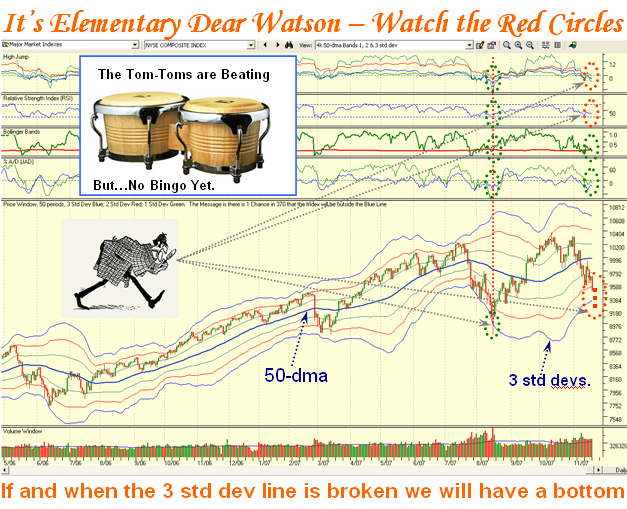 It requires three things to happen:
We need the NYSE Index to break the 3 Std. Dev. Line convincingly as shown at the bottom.

Simultaneously we must have RSI 14 Periods come down to 30 or lower.

We need Capitulation where the New Lows for the day are around 1000 on the NYSE
At that point the Bongo drums should be beating out "Bingo".  We shall see.  For those of you who have the HGSI Software and have downloaded the latest charts, make sure to go to Major Market Indexes, Select the NYSE Composite and the 4K 50-dma Bands 1, 2, 3 std. dev chart. Best Regards, Ian.  
P.S. Don't all shout at once…I modified that view to include the %A/D.  The red oval at the top was an additional item to watch which is to see if the Limbo Bar comes down at least -5% from the 50-dma for good measure.