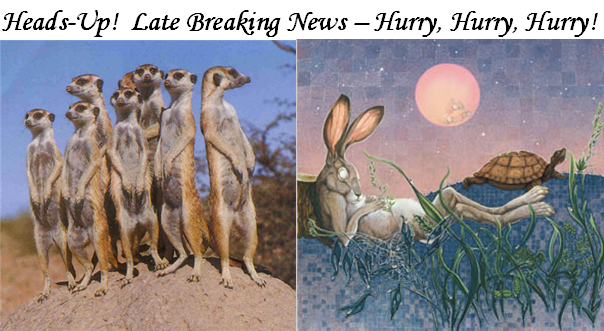 It couldn't be timelier for us with the theme of this blog for today, but we had another Eureka signal today which at least gives the Bulls the upper hand for the moment.  U.S. stocks rallied into Monday's close, spurred by news that Standard & Poor's reaffirmed the credit ratings of two key bond insurers whose financial outlook has been at the center of investor anxiety in recent months.  This exuberance by the bulls, or maybe it was just short covering by the bears spurred a major move back up to safer territory smack in the middle of the symmetrical triangle I featured in my last blog.  Don't be surprised if the violent volatility in this market continues with swings of 150 points in the DOW as part of the current climate, which is totally EVENT driven.  However, the thrust of where to fish was correct in the blog of Feb 19 as the fishing pond is in the commodities with the usual suspects delivering wolf pack baskets of 4%/day and more as I showed in that blog.  Stocks with high ERG of >240 are favored. I am sure many of you have heard me say "There are no silver bullets when it comes to Stock Market Indicators…but two lead ones are better than none."  The HGSI Team is pleased to announce that we now have a complete set. Some of you have seen the notice regarding the High Growth Stock Investor Seminar, but for those who do not get the regular bulletins or may have missed it, here is a repeat of what we sent out this past weekend:       
NEW HGSI CAPABILITY ANNOUNCEMENT:  At the last workshop in October 2007, the attendees enjoyed the introduction of the Hindenburg Omen indicator for identifying imminent tops in the market and saw the first glimpse of the Bingo indicator to signify the possibility of a bottom.  In addition, I explained the dove-tailing with the Eureka signal which we have had available for seven years in the product.
What's New! There is so much volatility in these markets we know it is difficult to find stocks where you can make some reasonable money and wanted to do something about it for our customers. So we set a goal to produce a complete trading and investing strategy by linking the market indicators to stock indicators that would also signal when stocks may be near a top or bottom. If we could achieve this goal we could teach a complete trading/investing methodology to our HGSI customers. To reach the goal a new stock indicator would need to be designed and it would take some innovative thinking.   What better way to design this indicator than to ask customers who are active in using HGSI every day in creative ways for their trading/investing. So a team of HGSI customer was asked if they would accept the challenge of designing an indicator for stocks that would work with the market indicators.  After several months of detailed work on their part, I am glad to report that they were successful!  What the team came up with has come to be known as Bongo and will be introduced for the first time at the March 2008 workshop as a part of a complete HGSI market-stock trading system. Those who attended the October Seminar will immediately understand that Bongo is the "side-kick" to Bingo!  Maybe I will bring out my Bongo Drums once again to show my appreciation and salute the team for their fine effort.
The team is comprised of Robert Minkowski as the Team Leader, assisted by Jeffrey Scott, Dave Steckler, Lou Powers and David Galardi.  If you read the HGSI Stock Market Forum these customers will not be strangers to you.  All of them will be at the March 29, 30, 31 workshop where attendees can meet and interact with them to find out first hand exactly what they did.  You don't want to miss the introduction of Bongo!  We still have 10 seats available on a first-come, first-served basis.  Hurry-hurry-hurry!    www.highgrowthstock.com/order 
In Summary, the HGSI product now offers a complete suite of Indicators that compliment Market Phases and Industry and Stock Rotation:
Hindenburg Omen with Bongo on the Market and Stocks at Tops  

Bingo(s) that indicate one is treading at a Bottom.  Whether it is "a" or "the" bottom is dependent on the severity of the Market decline as it fades from an Intermediate Correction into a Bear Market   

Eureka(s) that indicate the Bulls are stirring again with irrational exuberance for a Rally 

Bongos that usually follow Eureka for both the Market and Stocks

There are always Rotational Opportunities and these are best observed with "Wolf Packs", Industry Group Rotating up and down, and Bongo gives a heads-up as to when and where to look for potential candidates

 
Those of you who have faithfully followed this blog know that the Hindenburg Omen, Bingo and Eureka combination has helped us understand the pulse of the market as I have explained when addressing the various phases in real-time in the various notes.  The subsequent drop in the Market to a Bear Market Correction is also shown evolving ever since my first and subsequent notes on the blog since October.   We now look forward to Eureka and Bongo to give us further insight in this Volatile Market. Best Regards, Ian.