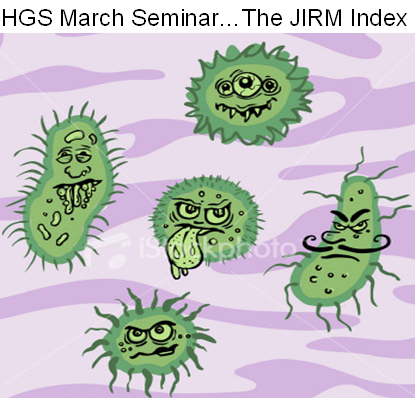 A great time was had by all at the HGS Investor March Seminar, and hot off the press, I am posting the fruits of our labors.  The newbies at the show now understand the language and the repartee Ron and I have with each other and with the attendees, and as the caption implies we might be spreading our "JIRM's" by this early heads-up for all our supporters. The title was made up by the initials of first names of four of us, including our good friend and biggest fan…Manu.  So, if this Index goes sour on us you can blame him, since without his help the acronym would have made no sense on the intended pun!

 

In case you get the impression that these three days are all fun and no substance, just think again.  Besides learning about the HGSI Suite of Indicators, we had an intense review and understanding of the pulse of the market, all the files, filters, combo ranks and chart views which Ron has developed, where do we go from here and what to look for with targets set for the Game Plan ahead.  The newbies will now understand the jargon I am prone to use including winky-winky, flicky-flicky and other Good Stuff! 

 

But enough of that except to say that the next seminar will be from October 25 to 27, 2008, so put it on your calendar and we hope to see you then.  As you well know for the past 15 years I have offered what was originally called the Iandex and since 1999 became the RonIandex.  This is usually a list of 20 Leaders in the market that are selected to give an EARLY WARNING that the Market is over-extended and when all get hit the Index will plunge for a heads-up to take heed. An excellent example of this was the 10142007 Gorilla RonIandex which has been shown and mentioned several times on this blog and in the newsletter.  In that case back in October, it gave an excellent signal that all was not well, though as faithful readers of this blog know only too well, when the market is on a strong up day, the herd comes screaming back to buy these very beaten down stocks.  The Index is up 3.95% today at 11.50am PST, so go do your homework in past blogs to find the RonIandex.

 

However, on this occasion, we felt we would try something different and I am showing you below the JIRM Index which was a Case Study the attendees did led by our good friend Jeffrey Scott to find potentially strong candidates that were showing some signs of life in this rotten market.  Take it at face value for what it is and don't blame us if you get germs from it.  Here is a snapshot of the Index components which on a 100 share lot per stock basis is currently up 2.03% on a strong up day in the market as I write this blog at 11.39am PST.  Ron and my usual disclaimer is that we do not tout stocks, but try to show examples of the fruits of our labors through his weekly movies, the newsletter and this blog.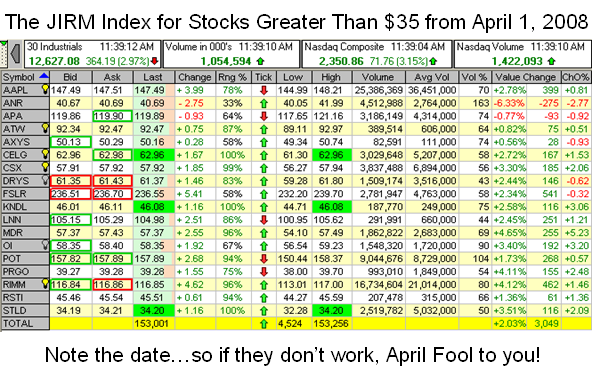 The HGSI Team sends many thanks to all our strong supporters for keeping us young at heart and fresh in spirit as we move us all forward to higher goals in the future. Best Regards, Ian.