My last blog has produced a series of discussions which are looking for a Magic Bullet.
Please read the Comments at the bottom of the blog titled "Early Warning Signs for a
Correction".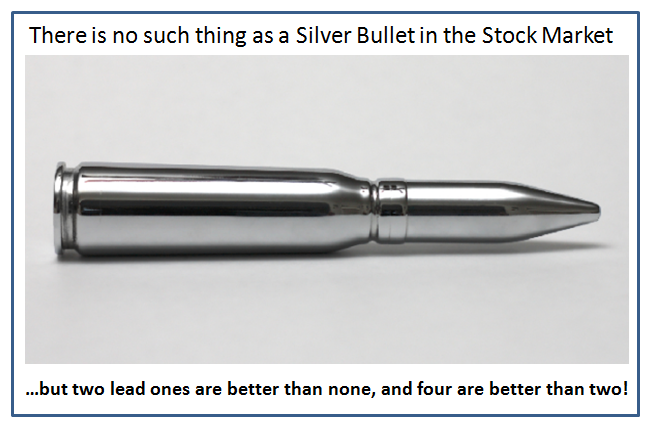 As I have always said…there is no such thing as a "Magic Silver Bullet", but if you press me to the wall  I will give you one that should do the trick to cause the cascade of events I
provided last week in my last blog where I gave you the four lead bullets: 
1.  Bongo Daily turns Red
2.  13-ema Force Index turns negative
3.  %Acc/Dist turns to "B" from "A" – this has already happened
4.  The Nasdaq breaks below the 17-dma
One more negative day of -50 points or more on the Nasdaq should cause the correction
we have been looking for, but it must happen early this coming week with no big moves to the upside in between.  Otherwise, it goes higher to reach the Target of 934 to 940.  Then we review the bidding at that stage.
Let the Market show you what it is doing rather than wishing for a scenario to happen.  By all means develop reasonable "What-if" conditions for what must happen, either up or down…that way you are not surprised when you see it unfold.  Let's see if this one comes about.
There is one cardinal rule which you should never forget…"All Great Leaders rise above the 17-dma; the greatest rise above the 9-dma".  After a long rally, once an Index or a Stock breaks down through the 17-dma the rally is usually over for a while.
Best Regards, Ian.