Those who are consistent followers will immediately pick up on the Message: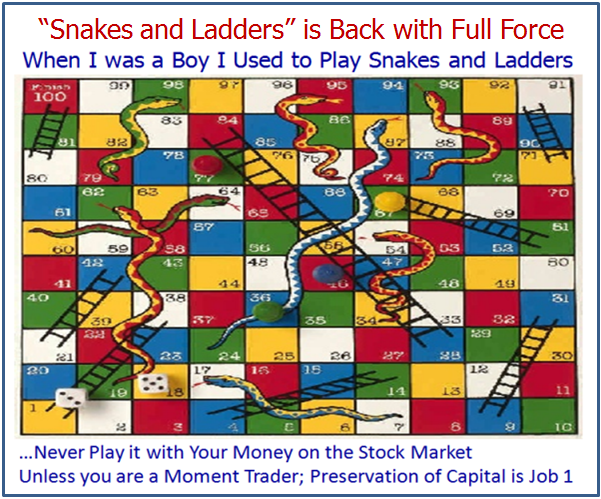 Now take a look at what the VIX has done in the last nine weeks since 8/21/09.  It looked as if there was a fighting chance that the Bulls at long last got the upper hand with force, but it only lasted 10 days since the VIX broke down below 22.  It was too good to last, and here we are at the other end at 27.91: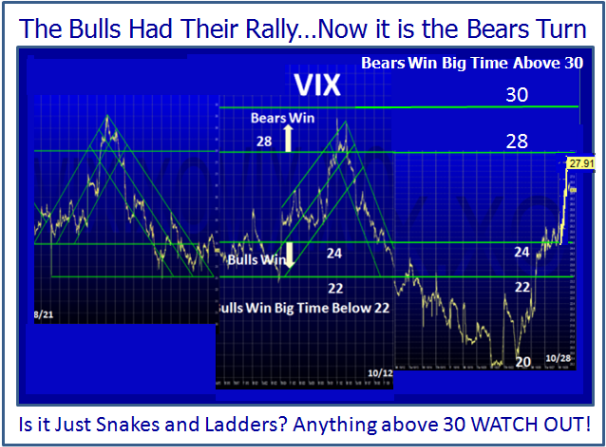 I plucked the next chart from the recent seminar where I warned that we are by no means out of the woods.  As I am sure you have realized the big swings in the S&P 500 of the % Daily Range (High to Low) used to be from -10% to +10% and commonplace a year ago.  It has now come down to less than 1%, i.e., Volatility and Fear had departed to a high degree lately, except for intra day.  Have "LightFeet" is my warning.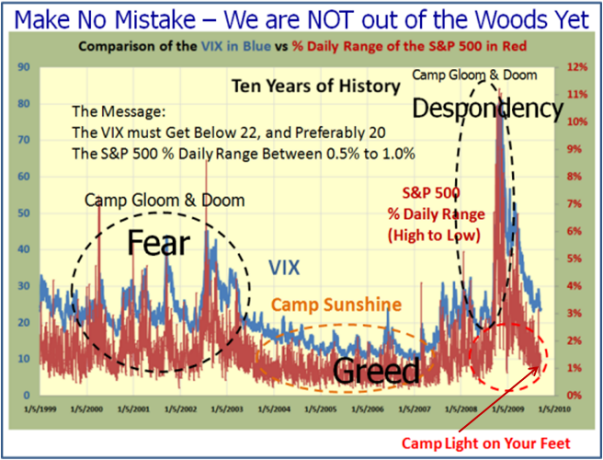 The seminar attendees enjoyed this next chart, which summarizes how the HGSI Indicators keep us on the right side of the Market as we tiptoe through the Minefields and the Tulips.  For those who do not and cannot do detailed analysis due to lack of time and/or interest the following chart provides a very easy way of keeping score.  The total score one can have is plus or minus 8…count the number of windows above and below the Main Window in the middle.  There are five ribbons and %B through the Bandwidth above, and two windows below.  The current score is -6 out of 8, which is twice as bad as it was in the 6/09 to 7/09 period when we had a Market Correction as shown.  Enjoy: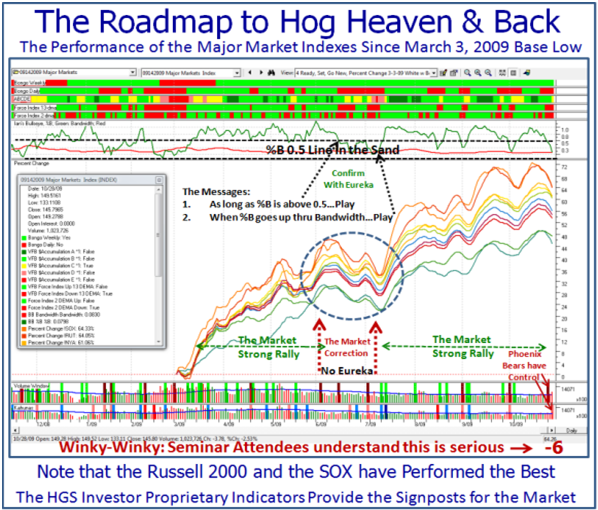 The last picture carries a warning that when the Pendulum swings too hard to the right, be careful of the equal return to the left as Newton's third law of motion has taught us.  My law of Motion suggests there is a 4th law – All that glitters is not gold as the Monkey said when he relieved himself over a big cliff in the moonlight.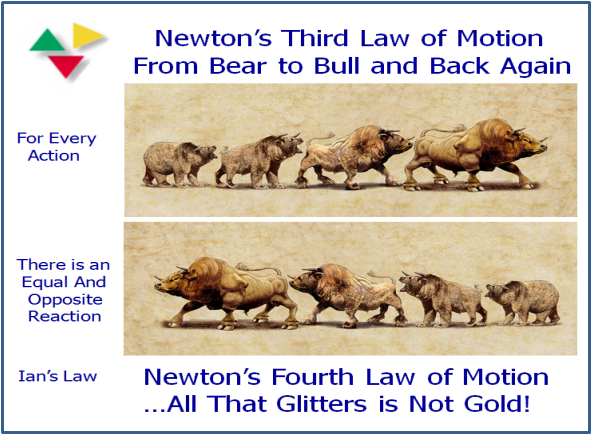 The bottom line is that unless the Bulls can fight back to hold the line at no worse than an 8% correction from the high with the Line in the Sand at 1005, we are headed for the Gloom and Doom Camp.
Thanks to all who attended for making the Seminar memorable and for all your support.
Best Regards, Ian.