Last week we had the dogs in a tug-o-war and I felt "Somethings Got to Give".  We had a relatively quiet week after a great Monday with an Eureka Recorded to give the Bulls hope, but we are still in stalemate: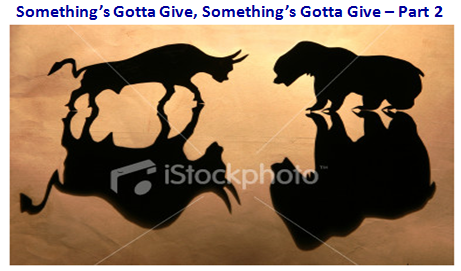 In the last Blog Note, I finished with this chart, but I have updated it to show you that two important things happened for the Bulls this week: 1) The 50-dma has turned up from Flat, an absolute pre-requisite for a Breakout, and 2) As I said above we had an Eureka on Monday, which showed Bullish Momentum: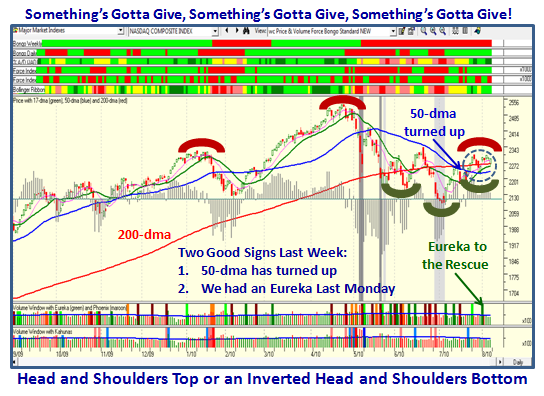 You will recall that I showed you that we had an extremely bullish signal 10 Days ago when we saw 536 Stocks of the S&P 1500 (over 30%) were above the Upper Bollinger Band.  This had only happened three times since the March 2009 Rally: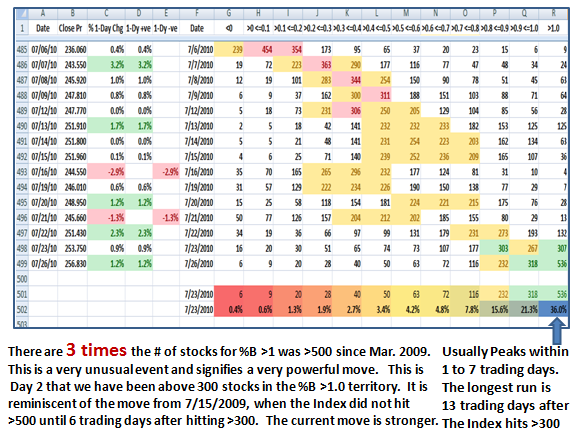 So, let's see what has happened since then and we find that the Index has held up for nine days since then and that we had a small shot across the bow on Friday, since we see that three of the "Buckets" are showing >100 stocks in each below the 0.5 level (Pink):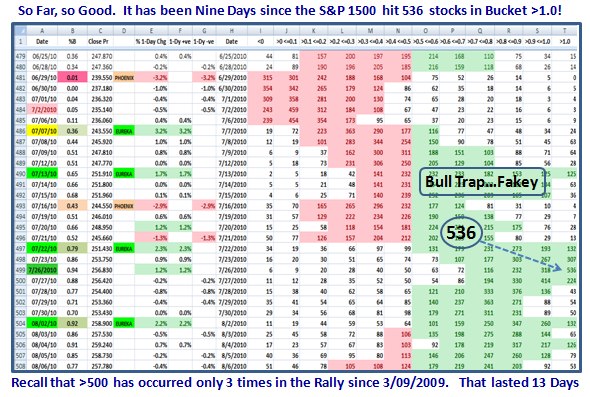 So let's take a look at the 4 most popular Market Indexes and we see that they are all poised at the Down Trend-Line as shown, but the S&P 500 and S&P 1500 are leading in that they have already made some signs of breaking out, while the Nasdaq and IWM ETF, which is a surrogate for the Russell 2000, are lagging and the latter is not quite at the red line.  Realize that there has been recent rebalancing of the Russell 2000, so it might be a trifle sluggish at this point: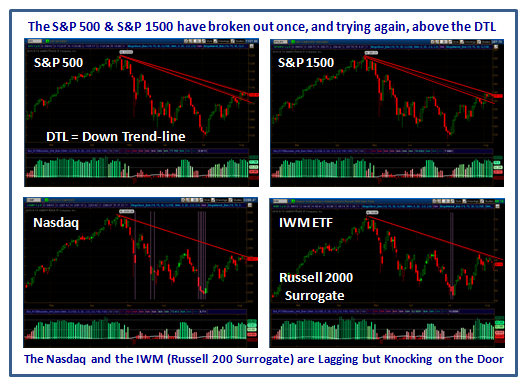 The Next Chart shows the Pie Diagram for the past two week's performancer of the S&P 1500 showing %B above and below 0.5: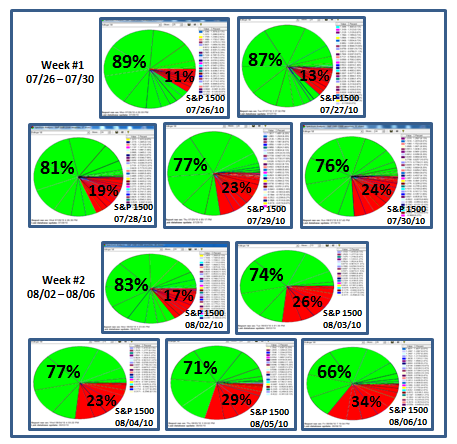 It shows at a glance that we have come down this last week to a reading of 66%:34%, which is still respectable, but it is getting borderline.  There are now three "Buckets" which have 100 stocks in each that are below 0.5 for %B, so there is some deterioration.
Lastly, the Battle is still on and depending on whether you are Bullish or Bearish, I can tell you that it is still a tough call, but maybe we will know which way the wind is blowing, i.e., do we continue up or do we fall back.  I show the picture…you decide, but tread carefully: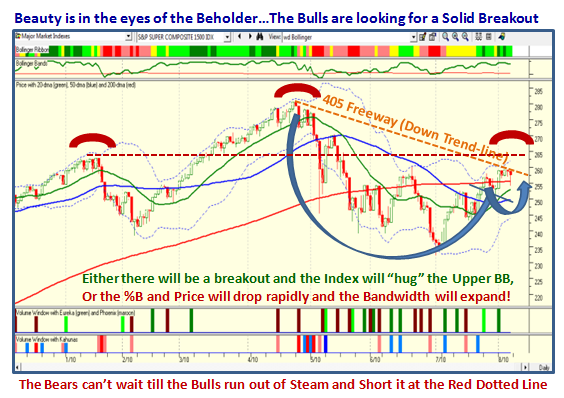 An Eureka or a Phoenix at this stage of events will be the clue.
Good Luck and Best Regards, Ian.