A Happy New Year from the HGSI Team to all our supporters and new friends with peace, prosperity and continued friendships for the coming year.  The Stock Market has had a long run and it is no wonder that it is running on fumes.  It is vulnerable now that the year is finished, but given the putrid volume these past several weeks, we may yet see a final Highland Fling before we see a much awaited correction for the Bears: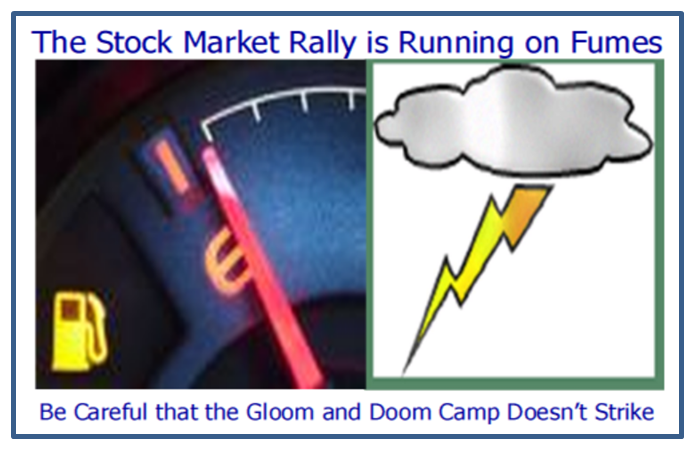 Now that Santa Claus has come and gone, the Grinch is lurking in the bushes and waiting to pounce.  This has been the period of the Calm Before the Storm and unless the Market gets a boost with strong winds at its back, all signals suggest we are headed down: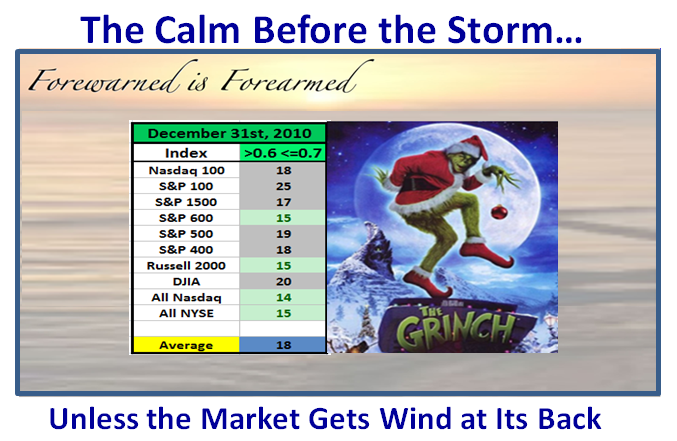 Forewarned is Forearmed I say and I will expand on the picture above as we review the bidding for the alternative scenarios: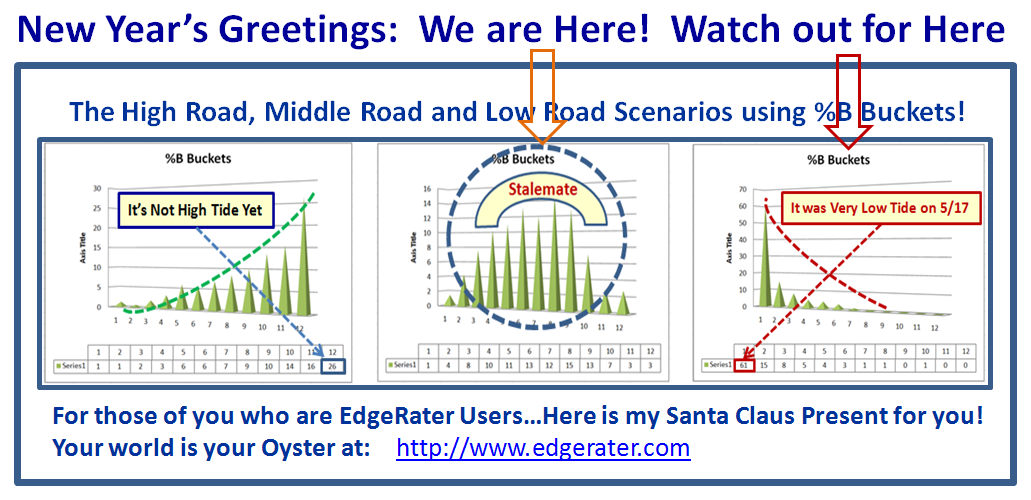 The deterioration is very evident in the past week, and I have warned you earlier that once we get to >=16 in the "Swing Bucket" of >0.6 <=0.7, you better watch out below: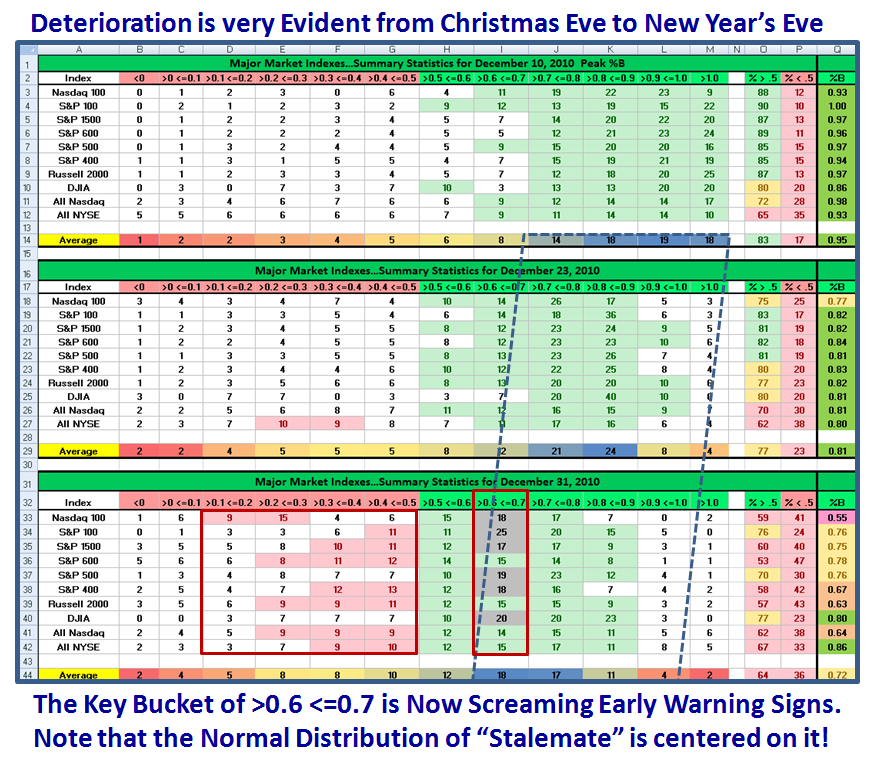 Don't forget to click on the Chart to see a bigger view!  We are currently at "Stalemate" with an Early Warning Sign that the Normal Distribution is shifting towards the center: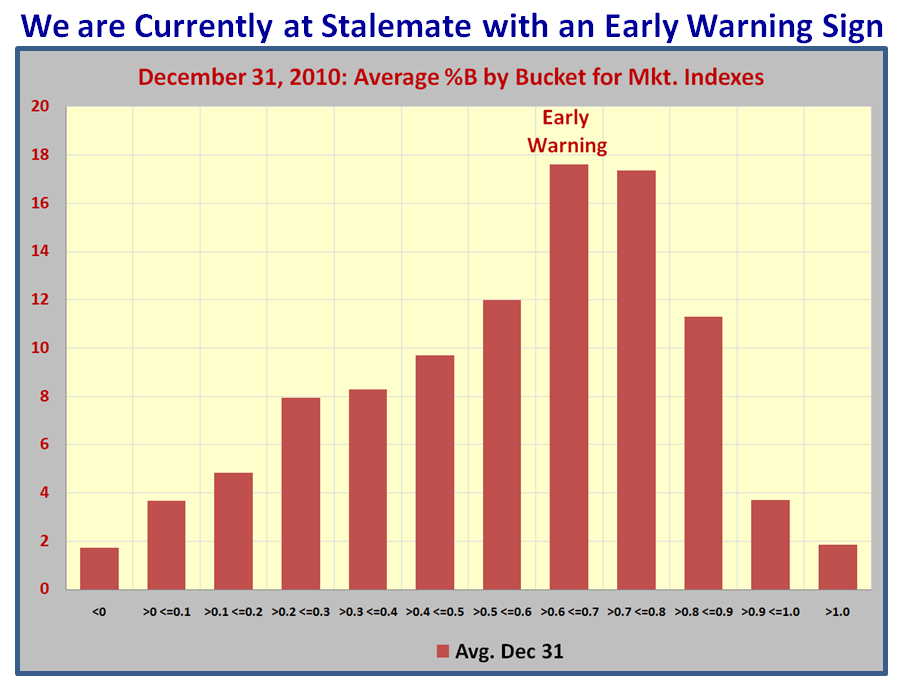 …And here is a comparison with the Peak of the Market Indexes from  three weeks ago: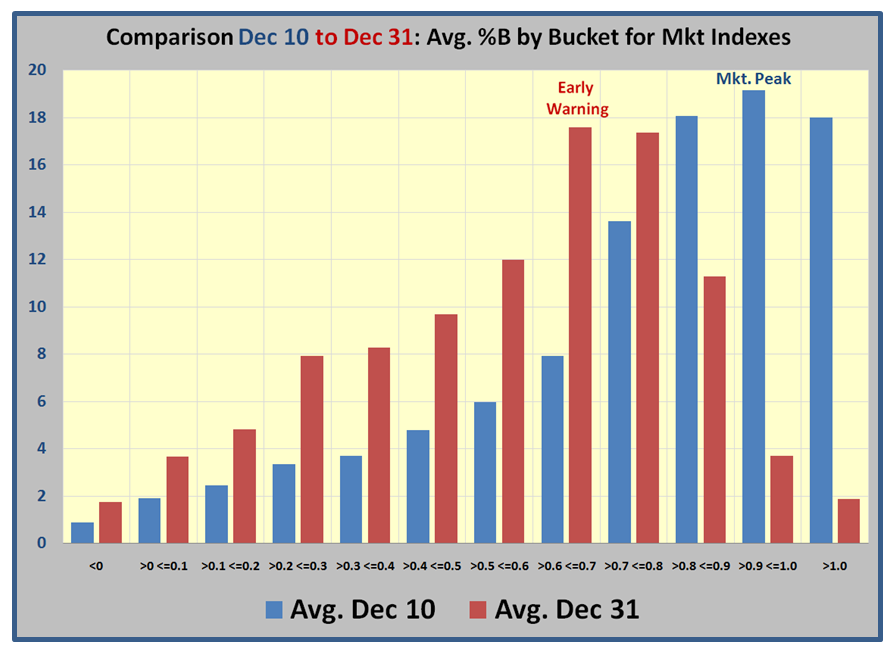 "Where Next", you might well ask?  Who knows, but the odds favor a trot down.  As you well know the Market Volatility has been relatively calm and so we are due for a "2% Day" either way.  What that will spell is either a Phoenix with its 2 Bucket Skip to the downside and its corresponding Kahuna Down, or an Eureka with a 2 Bucket Skip to the upside and its accompanying Kahuna Up.  If it does neither, we wallow around in the Middle Road Scenario until there is some earth shattering news to make it get out of Stalemate.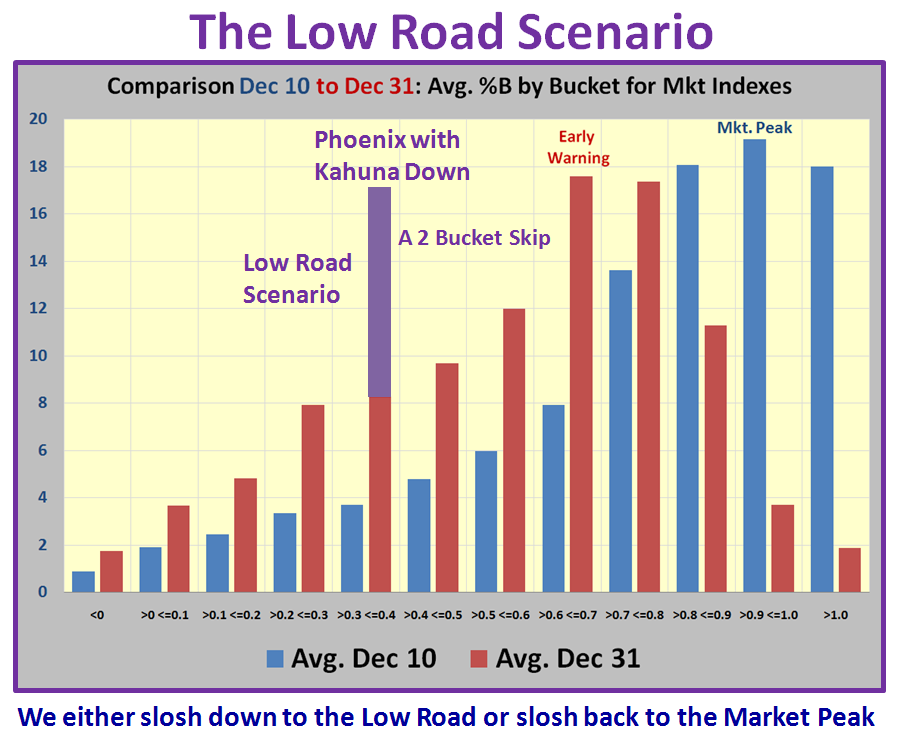 Now let me zoom out to when we had an Eureka just one month ago, and show you the favorite map of how the Market Indexes have performed since then.  Note that we have not had either an Eureka or a Phoenix for the past month, indicating that there has been relatively little volatility, but of course the seasonal volume has been dismal.  However, New Year's Eve showed the first signs of deterioration on a day-to-day basis with three Indexes showing at least a Half Kahuna drop to the downside.  More importantly note that the NDX, which after all contained the favorite leadership, is the weakest of them all with a %B for the NDX of a paltry 0.55.  Grandma's Pies are getting a trifle soggy.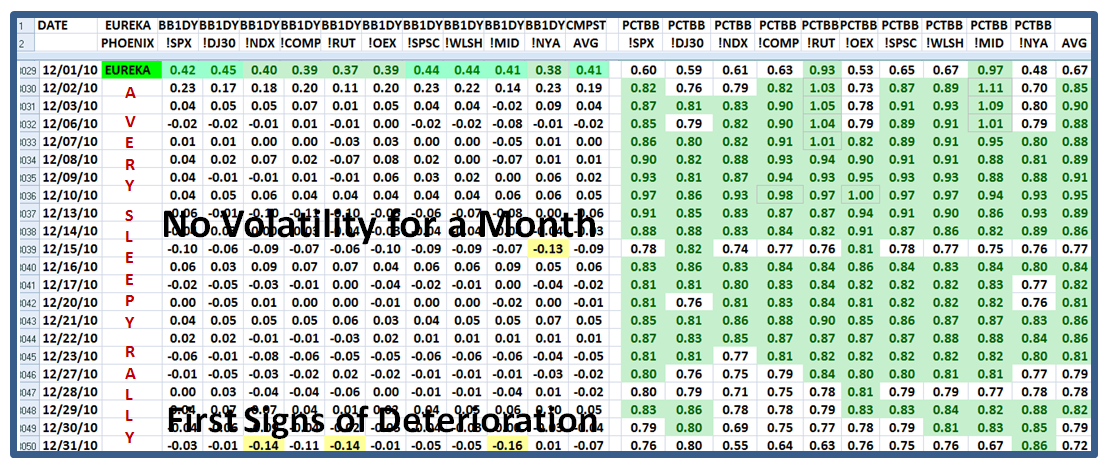 Last but not least we have the chart we have now tracked for the past 18 weeks with Santa's red car now being replaced by a lurking Grinch.  We can certainly tolerate a 3% dip, and maybe even a 7% drop, but any more than that and the Bears will have a field day and be in total control until the Bulls get an appetite to buy into this market with gusto.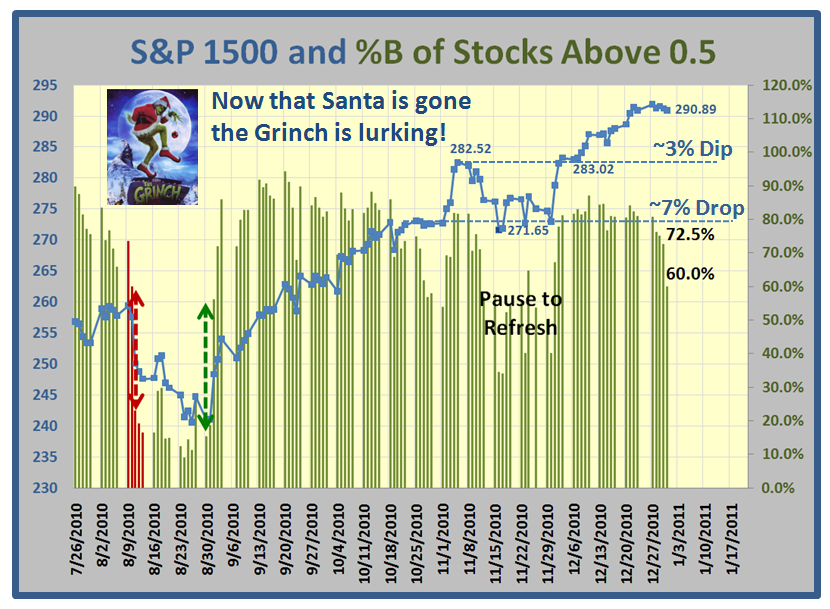 So there you have it.  Have a wonderful year, and we hope to see many of you at the March 26 to 28 Seminar.  Drop me a line and tell me you are coming. 
Best Regards, Ian.