I need hardly tell you that this coming week is a Do or Die Week for the Bulls!  Mark my words, Friday September 9th. will be a Pivotal Day!  On September 8th, President Obama delivers his jobs/economic address to a joint session of Congress, and the airwaves will be a buzz with the Market's and Pundits' reaction to his speech.  We hope it will be one with reasonable specific actions to re-assure the Markets of significant improvements to come for the short and long term future of this country.  If not, expect more turmoil, as we are already in a Snakes and Ladders Market.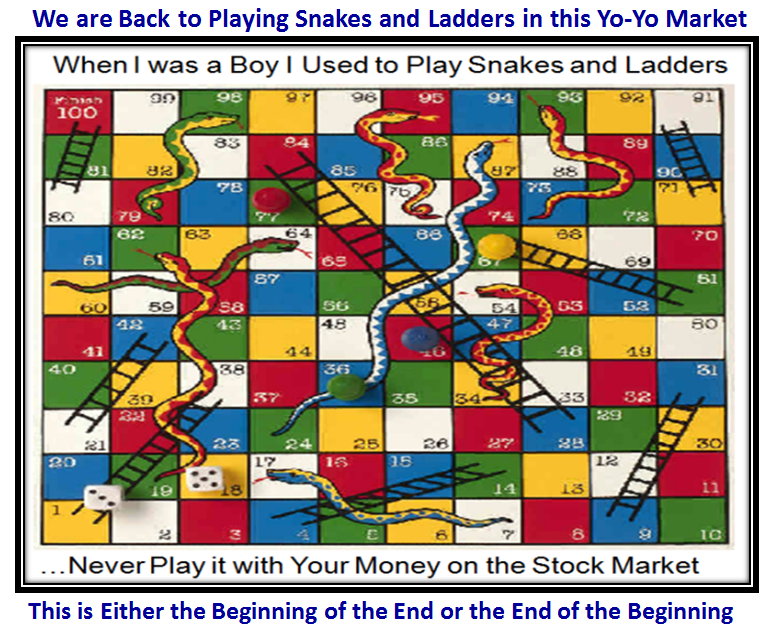 Hold your horses…we may not have to wait that long as Late Breaking News from my good friend Manu says " European Stocks Fall Sharply as Debt Fears Hit Banks", and here are the results to prove it:

Oh well, enjoy your Labor Day Weekend, and as Doris Day used to sing "Que Sera, Sera! Whatever will be, will be":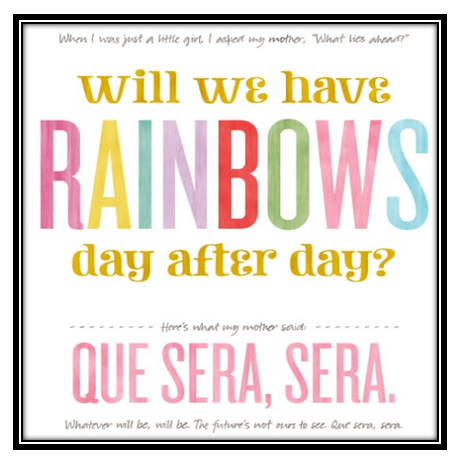 Now on to the "Good Stuff".  Here is a dose of Bandwidth Buckets to bring you up to date on the work I have been doing on this score.  In the following chart, I have milked the Concept of Buckets and have kept a log of the progression of how the various Buckets have been filled for Bandwidth criteria as shown on the chart ranging from Very Calm all the way up to Throw in the Towel.  My good friends Ron Brown and Steve Paris filled me in with past data to help build this picture.  It captures the decay in the market very well inside three weeks from Very Calm to Throw in the Towel: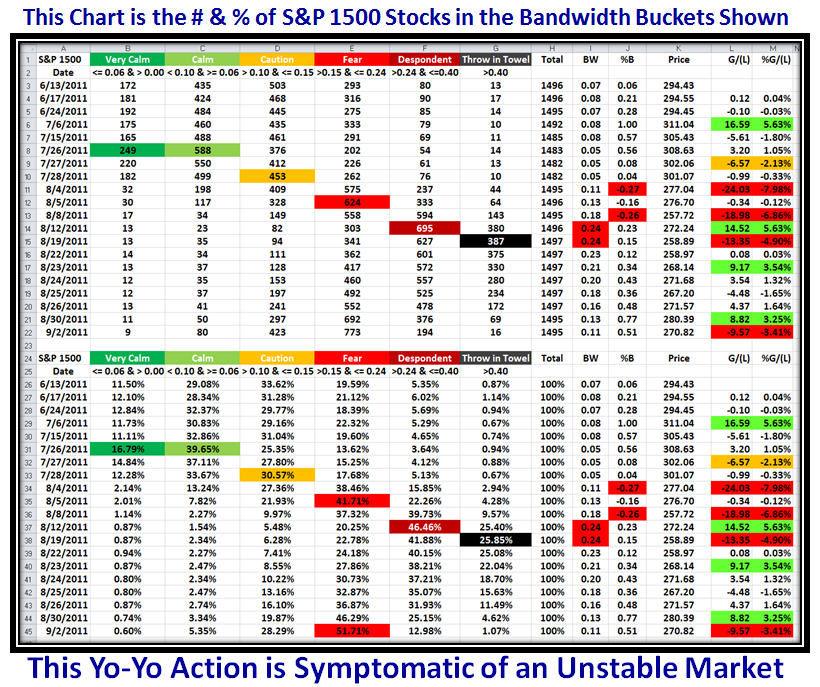 …And here for good measure are the Pie Charts for both %B and Bandwidth for the S&P 1500 comparing the change in three days, where things were looking rosy on 08/30/2011 and then took a major turn for the worse on this last Friday, 09/02/2011.  You can immediately see the Sensitivity of %B as it changed from Sunshine to Gloom and Doom: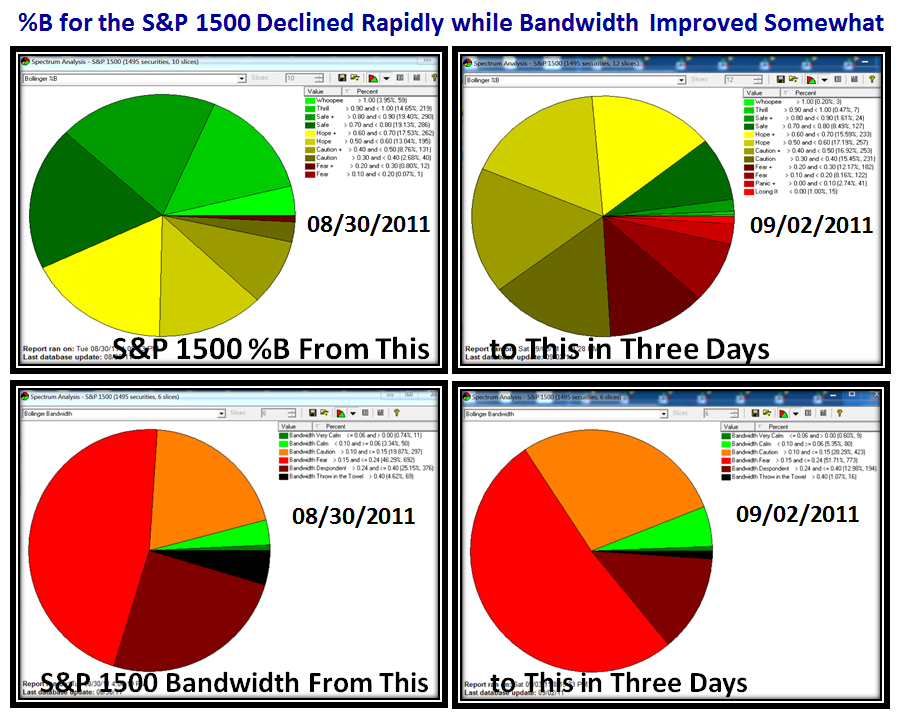 Just as a reminder, here is what the picture looked like for Bandwidth Buckets on 8/12/2011 when the Cave was falling in, and I remind us that we don't want to see this same picture any time soon, or else it is curtains for any Bounce Play, Tepid Rally or Market in Confirmed Uptrend or whatever name you choose to call it: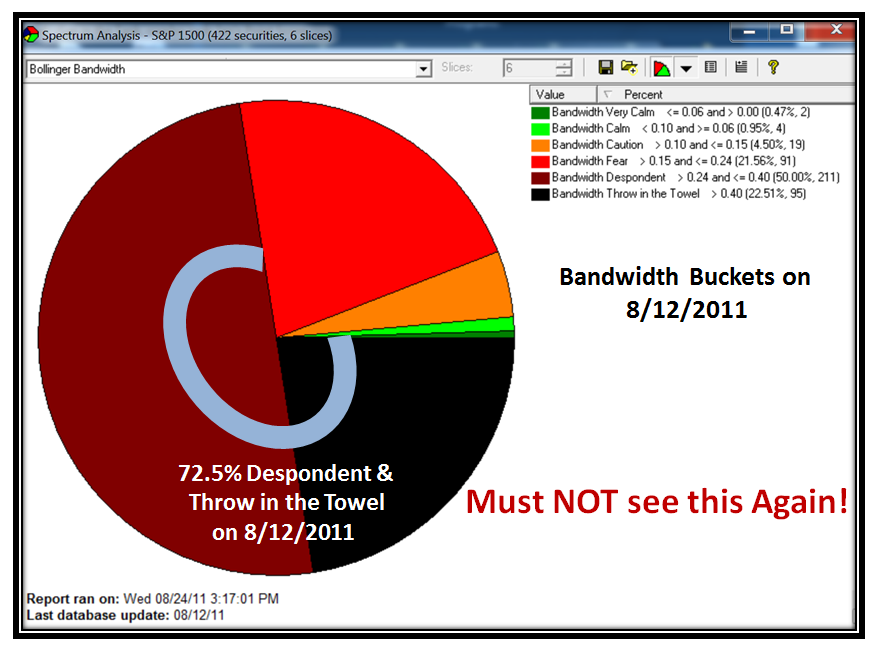 Now here is the picture of what we endured during those dark days of 2008 when the Market fell like a rock to become known as Black Swan.  It gives us the Key Picture for any Benchmarking on Bandwidth for the future…let's hope we don't dwindle to this picture: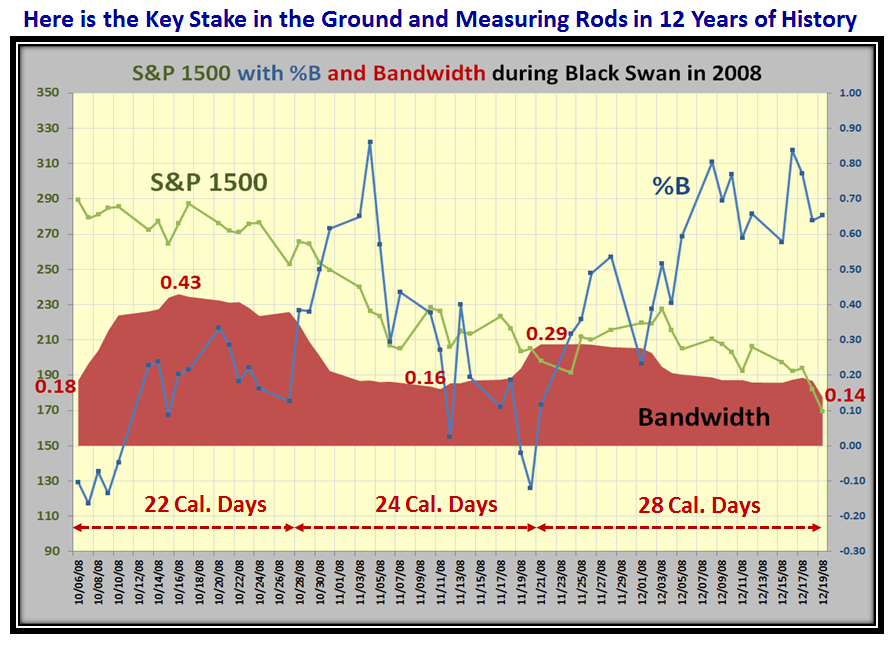 …And, here is the picture as we sit today.  Notice that I show the early warning clues for the Climax Run we experienced at the end of a seven month rally, and then the notorious and unprecidented five bucket fall that came on 7/27/2011 to wash out the entire Market with a -18% drop in a matter of a few days: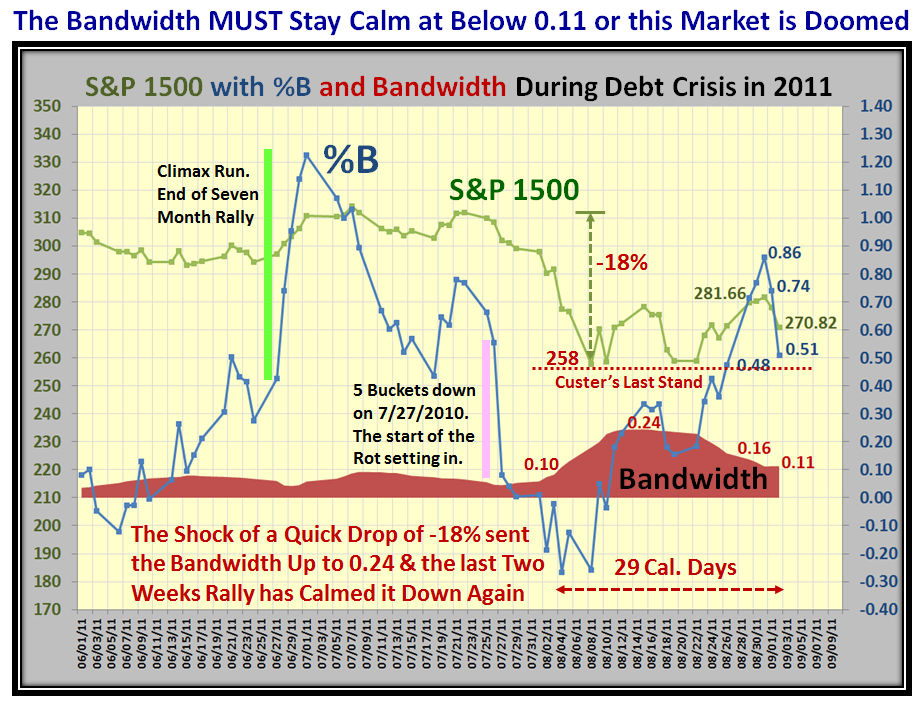 So  I am sure you are asking "What are the Low and High Road Scenarios for next week?"  Here is the Low Road: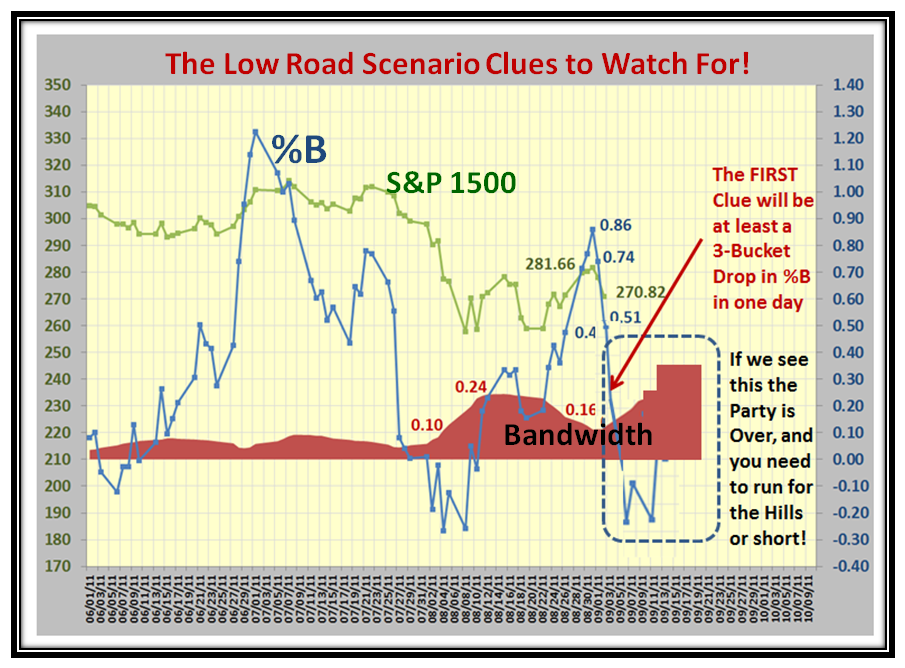 …And here is the High Road which I gave you just yesterday to make sure you keep this one in mind…Custer's Last Stand for the Bulls for this round: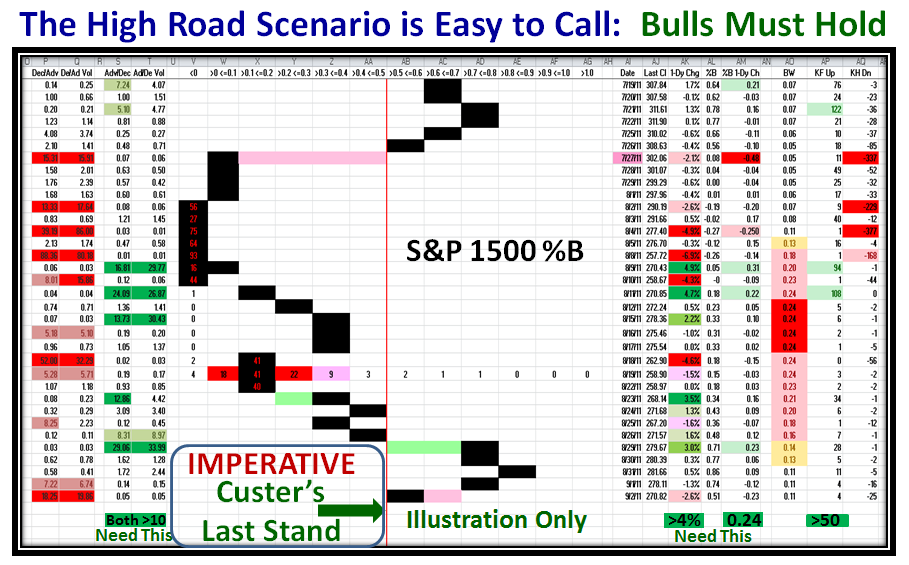 My sincere thanks to all of you who wished and wish me for hitting a milestone of an octogenarian tomorrow…I hope it is a good day on the Market!
Best Regards, Ian.