I see the tom-toms are beating and you are wondering what's next, so building on my latest work here in a nutshell is the essence of the Three Road Scenario for the Stock Market based on the recent action and the anticipated announcement for a Facebook IPO, which has put the market into "Marking Time" or the Middle Road Scenario: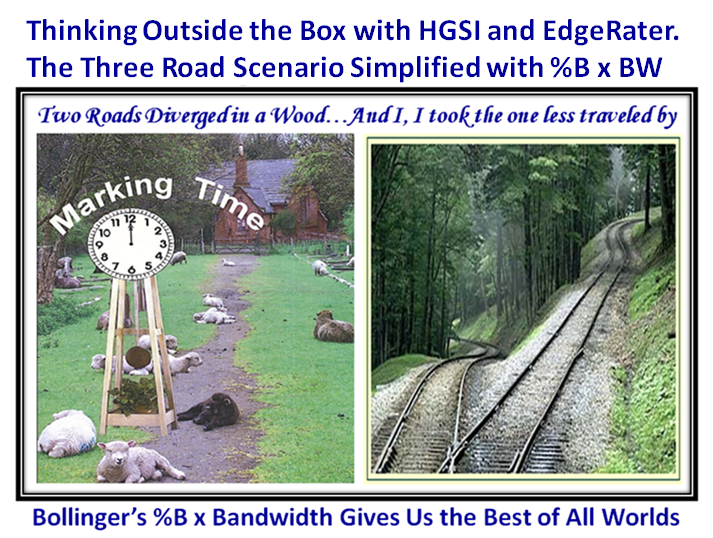 Those who get the newsletter and were at our usual Monthly Meeting know that I have struck oil with using %B x Bandwidth as what has now been dubbed the Woody Indicator by my associates.   But first let's review the High Road Scenario with two slides that you are accustomed to seeing the status in a nutshell.  The first one needs no explanation and shows that although the Major Market Indexes are still mostly in their tramlines, there has been a slight pull back the last three days: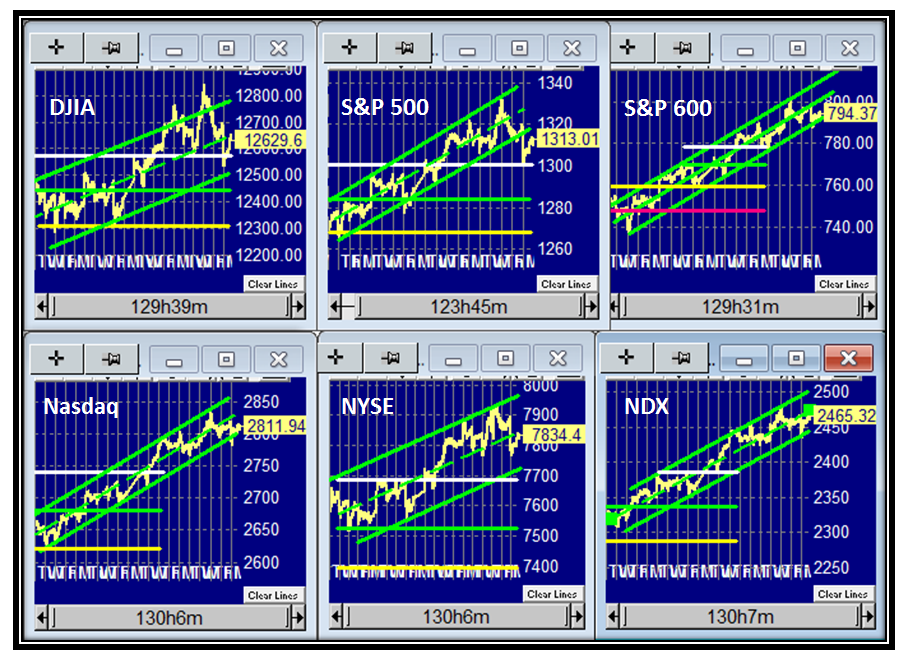 I anticipated a month ahead that the High Road Scenario would happen in Mid-February and we have two weeks to go, so let's see if we make it: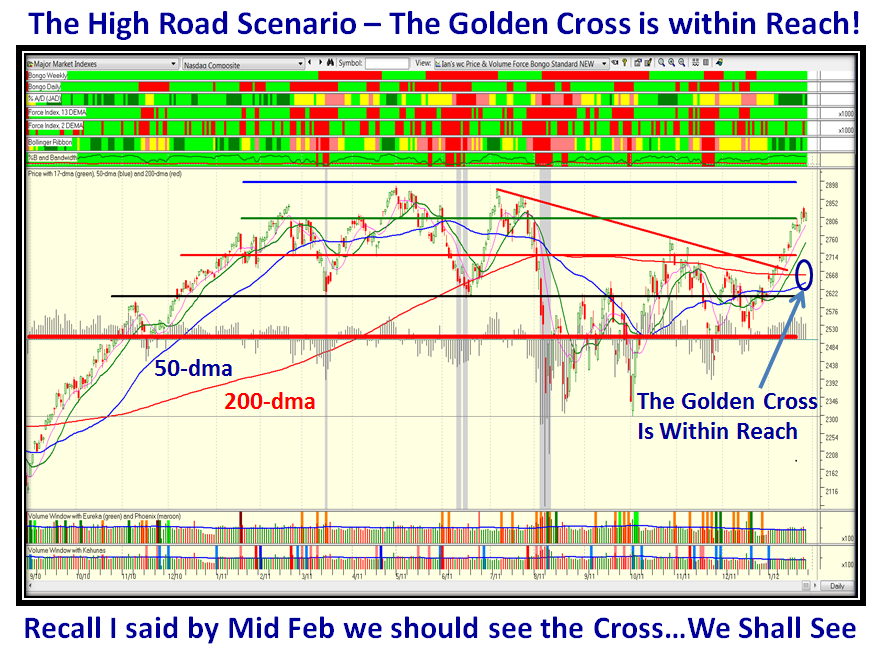 For the Low Road Scenario, the VIX had broken below 19 as I showed in my recent blog, and as being awfully quiet, but since it dipped below the lower Bollinger Band, it is no surprise that it has begun to stir.  Better yet, for those who just want to know what to look for I have narrowed it down to a quick answer on the next two charts: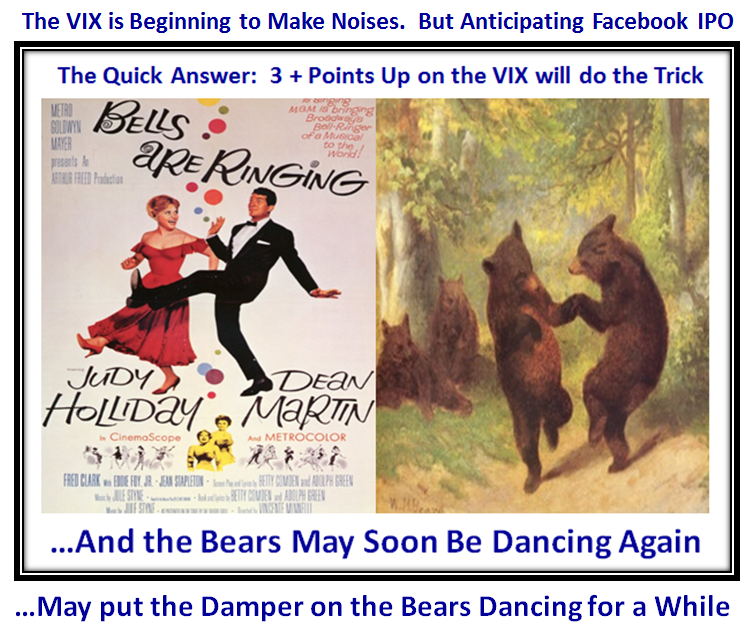 However, don't count your chickens before they are hatched as it seems fairly obvious that the action of the last few days has been dampened by the anticipated annnouncement of the Facebook IPO, so although the VIX has begun to come alive, it looks like we have to wait for that event before we see any major push to the downside.  However, here is what to look for whenever the VIX takes off: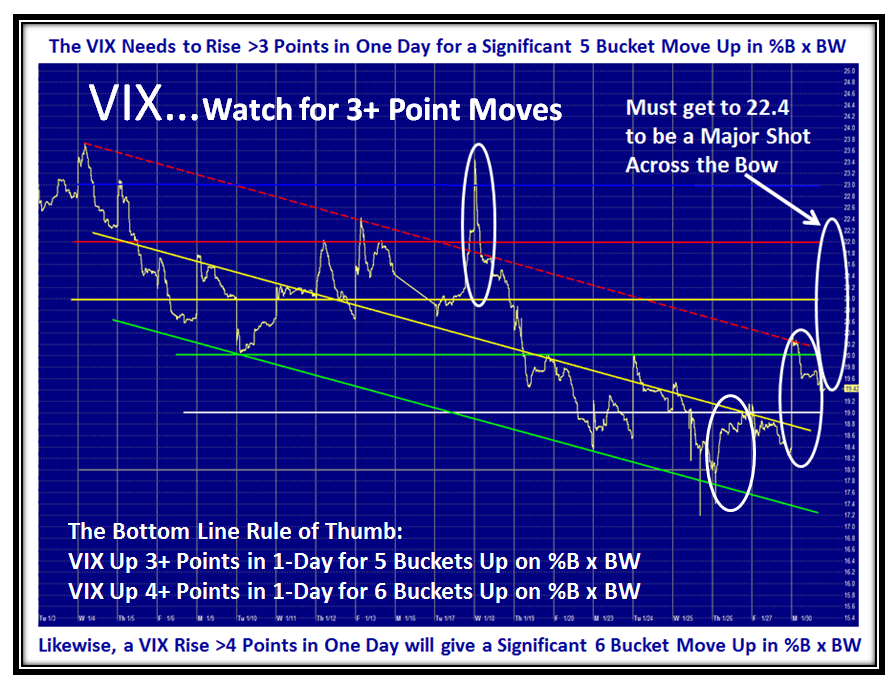 Now if you are wondering how to apply the Keep It Simple Strategy (KISS) approach to all of this, The HGSI and Edgerater team have put together a series of "drip fed" videos for you to digest at your leisure.  The series started on January 27, but over the course of the next couple of weeks you should find a plethora of information that you can view at your leisure so that you don't have to be tied to watching the series every other day.  Here is a Sneak Peak that shows you that the latest Indicator I have conjured up of %B x BW will give you a Jail Free Card BEFORE the VIX gets hic-cups!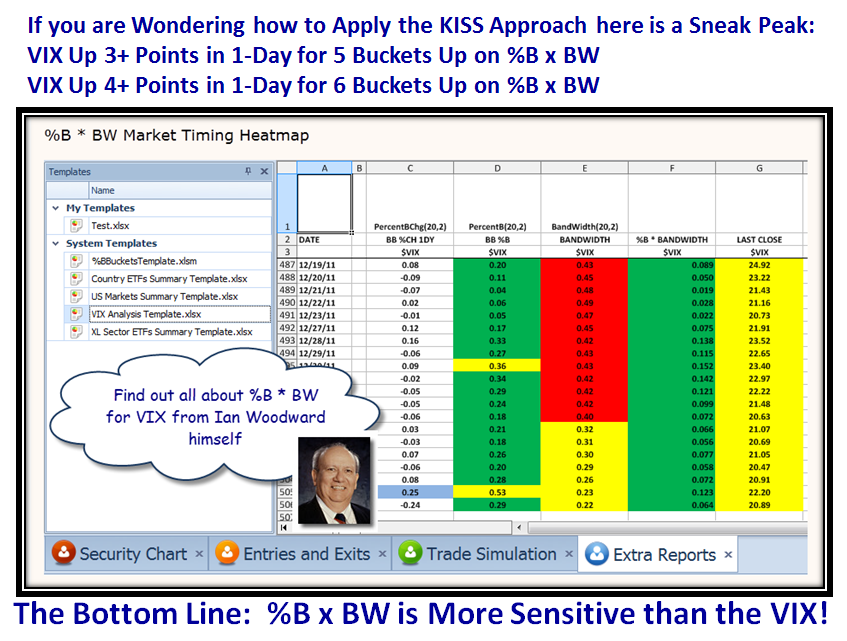 …Judge for yourself the lightening speed of %B x BW as it spies big movements in the VIX to give the red alert when the Market is caving in: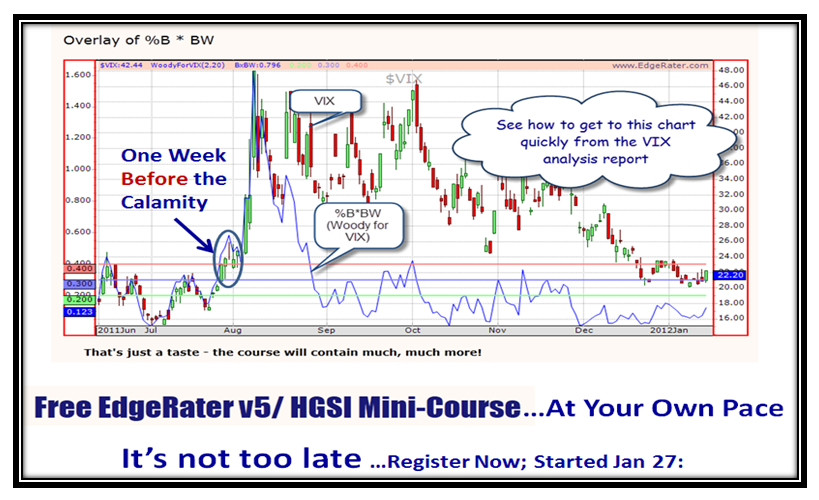 Please take a moment to register below:
Best Regards, Ian