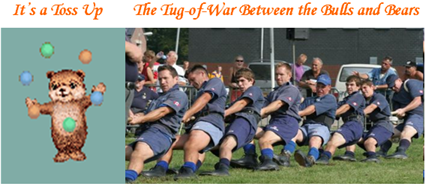 Today was a ho-hum day with the Stock Market taking a breather, before the tug-of-war between the Bulls and Bears resumes. So let's "Review the Bidding" as bridge players would say:
The Bank of America making a $2 billion investment in Countrywide, the large mortgage company that is suffering a liquidity squeeze, is a significant signal that Bernanke's strategy is working over the short term.

It shows that stronger firms can become part of the financial adjustment in the markets by making investments in weaker companies at this illiquid time without the Fed having to immediately lower the federal-funds rate.

 

Understand that the Fed is on notice to lower this latter rate and the markets are already baking some of this anticipation in as we near the September 18th FOMC meeting.

Easing too quickly can then give license to other sloppy lending practices by credit-card and auto financing companies. 

 
Net-net, it seems that Bernanke's Fed is walking a fine line between Volcker and Greenspan, a balance between avoiding a recession versus dropping the rates at the drop of a hat.  The $64 question is whether the Stock Market is patient enough to wait until mid-September, for what now seems an inevitable reduction by then…or the disappointment will be enormous and the market will react negatively. Don't forget that Wal-Mart and Home Depot are red flags to show that the 25% who are the working poor have been hurting for a long while with high gas prices.  
Meanwhile from a Benchmarking and Target Setting standpoint we are at the half-way house and mark today down as the "Pause to Refresh", before the tug-of-war between Bulls and Bears goes one way or the other until mid-September:
The Bulls are happy to see that after several days of short covering that the Bears were not able to drive a dent in the bounce…not yet.

 

The Market jitters have calmed for now.

 

However, the Bears are quick to point out that most Indexes are hitting their critical resistance levels which are essentially struggling at the 200-dma or trying to get to their 50-dma averages.

 

With the strong up day yesterday, the Bulls are desperately looking for the follow through day to give them a signal to go full speed ahead and darn the torpedoes.

 

The Bears point to the tepid volume and cry "Where's the Beef?"

The only saving grace for the Bulls is the Game Plan Index of 18 stocks is holding above the 17-dma, which as you all know by now is a good sign, as all good leaders rise above the 17-dma.
As my caption shows tonight it is a toss up between the Bulls and Bears Tug-of-War.   Best Regards, Ian.