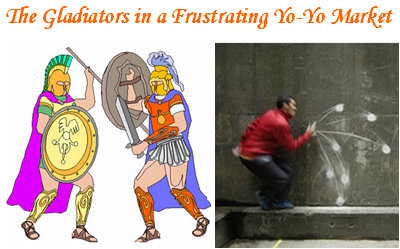 The only Gladiator who can master this market is the yo-yo player who can play either side of the market with equal ease.  We thought the Volatility was bad back in May through July of 2006. That was kid stuff compared to what we have now.  Quick be nimble and nimble be quick.  There is one strategy that is working and that is taking a leaf out of Dave Steckler's book to grab profits when you make 10% or more in a stock in a week; otherwise they are going to get you!  However, there are a few rays of sunshine in all of this turmoil the markets are in: 
The Bounce Play confirmed a lot, not that we didn't know most of it but it cemented a few points.

 

The Nasdaq Big Cap (NDX), i.e. Technology is the place to be and is strong.

Sure, they hit it today, but that was due to news that both Apple and Microsoft were lowering prices on their products. 

The Bounce Play was tolerably good and at least we have a cushion now with which to make swift decisions should there be more on the downside.

 

The Reverse Head and Shoulders I showed you while Fly Specking on the "Hair Raising Experience" Blog notes now sets a higher level for the downside lines in the sand.

The Game Plan Index of 18 stocks seems to be a major winner, which when taken to the general case says quite a lot.

 

It is so good that I will feature it in this month's Newsletter.

 

It says that Growth Stocks in Capital Goods, Technology, Telecommunications, Health Care, Materials and a smattering of Consumer Goods, Consumer Services and Energy are the places to be.

The sad part about this is the strong stocks are in the very HGS Investor pedigree which we have come to know and love.

 

Although the predominance is in High Growth Technology, there is something for every Investor Style within the 40+ stocks that are prime rib.

 

I say sad because one is reluctant to tip toe in at this terrible time, yet my eyes tell me that the Index is trotting off north into the sunset.

If it is of any interest, rounding up many of the usual suspects which are strong with some even waving us good bye as they head north into the sunset include:

 

SILC; AKS; VDSI; CALM; WCRX; NUAN; PRFT; ICFI; TRAK; NUVA; SYNA; CRNT; MR; OMCL; FTK, BPHX, ICOC, CEDC.

 
Best Regards, Ian.