Tuesday, October 30th, 2007

Many thanks from all of us the HGSI Team to all who attended the October Seminar for making it a "happening", your strong contributions and interaction, your friendship and your support.  I had a lazy day today recuperating from the three day seminar, but happened to spy what may either be profit taking prior to the FOMC meeting tomorrow or the first signs of Rotation in the Leading Wolf Packs.  The pictures below for the Transportation- Shipping and Chemicals – Specialty Wolf Packs speak for themselves: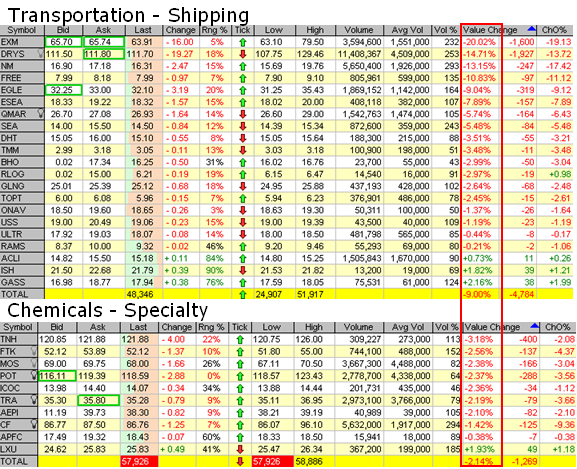 Keep your powder dry and watch how the market behaves tomorrow after the FOMC Meeting Report which may either be a Trick or Treat for the Market.  The next Seminar will be held on March 29 to 31, 2008 so put it on your calendar and don't let the grass grow under your feet in signing up as seating priority is "first come, first served".
Best Regards, Ian.