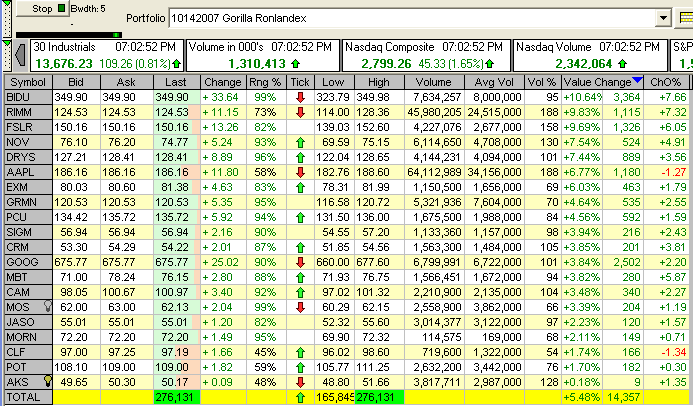 On Sunday I told you watch these Market Leaders to see which way the wind was blowing, and I am pleased to say so far so good.  The numbers speak for themselves.   
Lest we get too euphoric, let me put some perspective on this picture. If I use a simple filter of  $3, and 40,000 average daily volume on the data base, I see that there are 241 stocks with an "A" Accumulation and 492 stocks with an "E" for Distribution.  So what you ask?  One item we watch is that when the number of "E" stocks are greater than "A", and as you can see by a factor of 2 to 1, be careful of the underlying internals of the market.  Note also that we are back up to over 2200 on the NDX, so you might want to go back and look at the Fly Specking I gave you on that number several blogs ago. 
More importantly, when you look at the Gorilla Index where it was down over 3% the other day and it comes back to deliver all stocks up with 5.48%  it is showing that these extended stocks are getting more peaky.  Yes, I know it is not equal dollar weighted, but that is not the thrust of my point.  It reminds of the days when we had the Nifty Fifty…probably before many of the young tigers can remember.  They can go on for ages, but then the majority of them die never to be heard of again.  So if you want to make good profits quickly you know where to play, but play close to the exits.  I say yet again "As GOOG, AAPL, RIMM and GRMN go, so goes the market". 
I note that AMZN got hit hard in after hours, so you might expect another see-saw yo-yo affair tomorrow.  One day up and the next day down is what we have come to expect.  Well folks, this was a quick blog note to keep you tuned, but Ron and I are already working feverishly to put our Case Studies together for the seminar, so I will wind down for a few days as I would rather tell you than disappointment you when there is no blog.  I'll be back when I can. Best Regards, Ian.