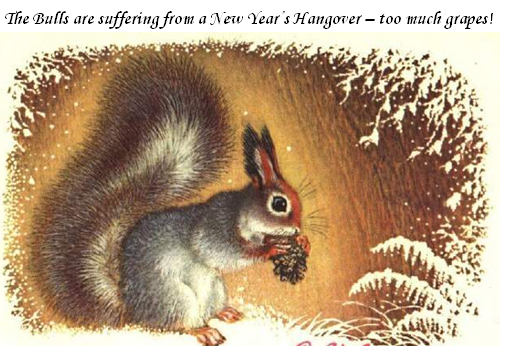 The Bulls are suffering from a New Year's hangover…too much bubbly.  The Markets were rocked and Stocks fell sharply on the first trading day of 2008, reversing earlier gains after a key manufacturing report was surprisingly weak and as oil prices neared $100 a barrel.
The U.S. factory sector contracted in December for the first time in nearly a year as new orders collapsed.  The Institute for Supply Management said its index of U.S. manufacturing activity tumbled to 47.7% in December from 50.8% in November. It's the lowest reading since April 2003 and the first sub-50 reading since January 2007.  The selling continued down as the markets broke down further, sending markets to the lowest levels of the day.  Retail shares traded lower on the first trading day of 2008 as crude-oil futures hit the $100 mark. Investors also awaited word of how retailers fared during the holiday season, their most significant selling period.  Retailers are set to report their December same-store-sales results on Jan. 10, and that will help provide an outlook for what's in store for them in the New Year…but that is eight days away and in this market is an eternity.  Retailers' sales at stores open at least a year in November and December combined are forecast to rise by 2.5% or less, according to the International Council of Shopping Centers.  Technology Stocks and the Steels were weak, but Energy Alternatives were strong.
The Dow Jones Industrial Average fell -220.06 points, or -1.67%, to 13043.96; the blue-chip index had been slightly higher just after the opening bell. The S&P 500 fell -21.2, or -1.44%, to 1447.16, and the Nasdaq Composite index was down -42.65, or 1.61%, to 2609.63.  The Yo-Yo Indexes show that the odds are we are headed down to test the recent lows.  The only scenario that can give the Bulls hope is a Bounce Play from an oversold market after four down days in a row.  Best regards, Ian.