I'm afraid we are in for rough sledding when the Market opens tomorrow, but I have tried to keep you one step ahead of the dips as best I can.  It seems the warning signs of the Hindenburg Omen I gave you for the first time on October 15, 2007 will finally take us down to a Bear Market.  Given the state of the World Markets today, it goes without saying we should expect the worst tomorrow.  I feel really sorry for Fed Chairman Ben Bernanke as he has to desperately clean up the mess that his predecessor got us into, who has got off scot-free, all in my opinion. 
But that was yesterday.  Now he has to stand on his liver and deliver, or eat his own words of "the Fed standing ready to take substantive additional action."  Given what has transpired around the world markets today, which can only mean one thing in my book and that is to make a surprise announcement of his action BEFORE the markets open tomorrow and it had better be 50 basis points minimum.  Anything less than 50 basis points and it will produce another yawn.  That too can be a drop in the bucket.  In any event the reverse psychology can also backfire by confirming that the World Economic situation is in fact worse than they have made it out to be and now that the cat is out of the bag there is no place to hide.  
The futures on the DJIA are UGLY, but were uglier earlier, so who knows where it will finish up by the open tomorrow.  It seems it might have been as bad as -560 at one stage and it is currently sitting at -477 as I write this.  I suggest you watch the Asian markets tonight to see if there is any improvement in the mood abroad:

What seems very apparent is that we are due for a wash out in the market and that will happen one way or another tomorrow.  Even if there is a sharp reaction by way of a bounce play, it seems that we are now in for several weeks if not months of working our way back out of this mess.  I note that you have all been refreshing your memory on the New Year RonIandex of leaders just 21 days ago and as you can see from the chart below it has broken the 50-dma and I would not be surprised if it hit the 200-dma Red line tomorrow.  Frankly, it hardly matters now in the bigger scheme of things, but tuck it all away in your memory bank and it may help you in the future as a strong early warning sign.  If you are reading this for the first time, I won't repeat myself…just go back and read earlier blog notes.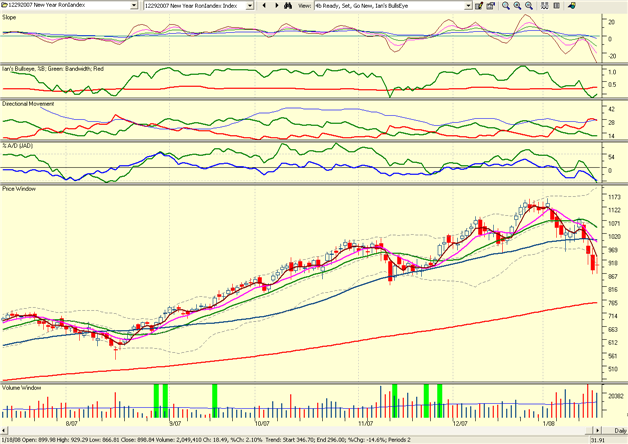 Best regards, Ian