Treasury Secretary Henry Paulson and Federal Reserve Chairman Ben Bernanke explained the plan to prop up troubled mortgage-buyers Fannie Mae and Freddie Mac to members of the Senate Banking Committee.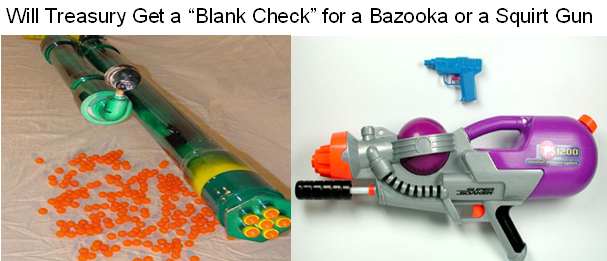 They faced questions about the cost to taxpayers, but Paulson didn't put a dollar amount on the proposed aid, which gave some senators pause.

 

He drew the analogy of requesting a Bazooka in his pocket rather than being given a squirt gun.

 

Congress must approve the plan, hammered out over the weekend by the Treasury and the Federal Reserve.

 

"I think you could be risking the taxpayers' dollar here," said Sen. Richard Shelby, R-Ala. the panel's top Republican. "To give you a blank check…I'm not sure."

 

With that remark, you can guess where the plan will end up…IMHO on the shelf with more trouble to come.

 

Ask the stock market which once again yawned at the Administration and Congress' stalemate in getting anything done.

 

It's a sad commentary.
SEC to limit naked shorting of Fannie, Freddie, brokers
Christopher Cox, chairman of the Securities and Exchange Commission, said on Tuesday that the regulator will try to limit so-called naked shorting of shares in

Fannie Mae

,

Freddie Mac

and primary dealers. The SEC will issue an emergency order stating that all short sales of shares in these companies will be subject to a "pre-borrow" requirement, Cox explained. The SEC is also planning more rule-making focused on the broader market, Cox said.

 

Naked Shorting has been illegal for years, but the SEC has turned a blind eye to it until now when their hands were forced, and then only in a limited sense.

 

If history repeats itself this too will be forgotten when the hubbub dies down.

 
Crude Oil Down >$6 a Barrel
Crude futures Tuesday closed down more than $6 a barrel, the biggest daily drop in more than 17 years, as concerns that slowing economic growth will dampen oil demand triggered a broad sell-off in energy commodities.

 

It buoyed the market for most of the day, but then with that big a drop and the dollar bouncing back a little, the market died in the last hour and was down 93 points!

 

It shows how weak the market is.
The Banking ETF, XLF hit a New Low and a New High in $ Volume!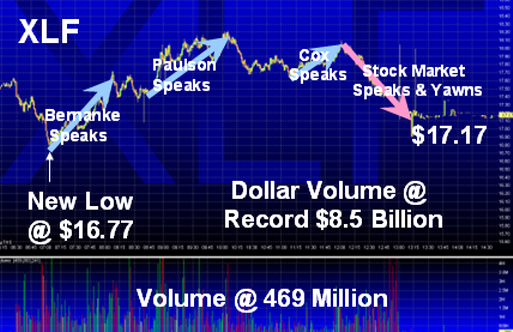 The VIX is moving towards a high
The VIX bounced to 30.55 within 35 minutes of the open and it looked as if it would spike up to the 34ish that all are looking for to see a full capitulation, but no such luck with it backing off to 28.54 at the end of the day.

 
Intel Ray of Hope for Technology stocks after hours
Intel came in with a 25% rise in profits, Revenues of $9.47 Billion with Gross Margins of 55% in their after hours EPS report and may offer a ray of sunshine for the Tech Sector tomorrow.

 
 Net-net…we should be thankful for small mercies that Crude dropped, the Dollar rose, and INTC had a blockbuster EPS Report. 

 

Best Regards, Ian.