Sometimes it takes a Catalyst to Make the Market Rally off an oversold state.  I suggested the three factors required two blogs ago.  With any luck we may have got all three of the factors I suggested to make it happen!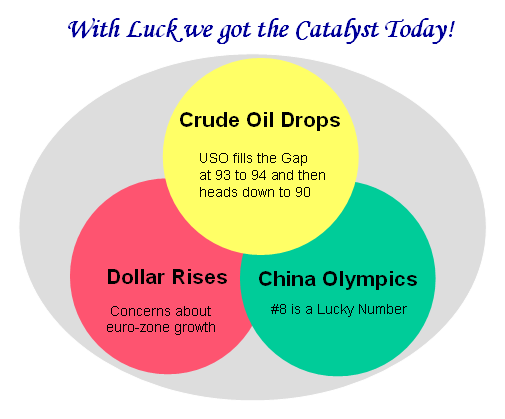 1. U.S. stocks rally as crude drops to 3-month low – U.S. stocks on Friday rallied as a surging dollar pushed the price of crude oil to lows not since seen early May, helping investors set aside the latest fault line in the housing sector, which came in the form of large losses at Fannie Mae.
2. Dollar extends broad rally as euro withers – A sell-off in crude-oil futures, surging stocks on Wall Street and U.S. economic data showing a rise in productivity further fueled a dollar rally Friday initially sprung by concerns about euro-zone growth.
3. Fireworks and number 8 kick off Beijing games – The Games will ceremoniously begin Friday, the eighth day of the eighth month of 2008, at the carefully chosen moment of 8:08 p.m. local time.
It goes without saying that most have been worn to a frazzle with this yo-yo market, but with luck we may get some respite and see a decent summer rally.
On CNBC, Art Cashin said this week looks a lot more interesting, but he is not quite ready to give it the Miss Universe Crown yet.
We know that the Medicals by way of the Biotechs, HMO's and Nursing Homes have all been hot, but now as a winky-winky we see the Technology Sector coming out of the ashes.  This bodes well for a potential rally.  Good Luck.  Best Regards, Ian.