Ian, Now I know what a Swan Dive is. Black, White, Pink and Blue, they all went. Another big day, but no bottom. Is that the good news?  Can't wait for the workshop.  Maynard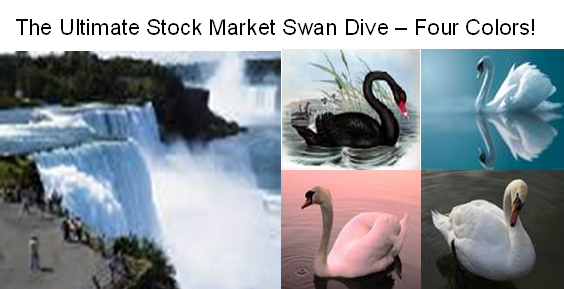 Hi Maynard, the Newsletter which anticipated your question says it all, and also shows a beautiful chart of the last nine big corrections.  The bottom lines are:
1.  The "mode' has now changed to 500-700 points a day on the Dow, 50 to 100 on the S&P 500, and >80 on the Nasdaq as a normal event.  As you recall, we used to marvel at 150 point swings on the Dow just six months ago at the March Seminar.  There's a measure of volatility for you!
2. The expected rise from the precipitous drop was >20% from bottom to top, and as we see it finished up at around 22% to 24% for each of the three indexes.  The expected re-test is likely to take us down to -17%, between friends, which suggests that should that occur we will not take out the current lows.  However, as I say in the newsletter, that is in the lap of the gods and all it takes is another Global financial negative surprise, hardening of the arteries on the credit scene and rotten EPS reports due out during these next three weeks to take us down below that level.  I am sure there are fifty-four other reasons, but you get the point.  In which case we will forget a double bottom formation of the usual nature and look to a head and shoulders (complex bottom) ala 2002 to 2003 timeframe.
3.  I am sad to say that the Limbo Bar (inverse high jump) has indeed reached the piths as I suggested might happen at the last Seminar and on the March 9 blog, and that is no surprise to us.
4.  Manu will be pleased with me as I have used his Rainbow Charts to show you the rope-a-dope trick which I hope you will enjoy to estimate the Golden Cross of the 50-dma up through the 200-dma, which I can tell you will not happen any time soon.
5. Those who are Type 4 Investors can bury themselves in their foxholes for several months as it is a trifle difficult to high jump Niagara Falls at this stage of the game.
6. Those who are Type 3 Investors need only draw 405-Freeway trend-lines to see that it is a long way to Tipperary.
7. Those who are Type 2 Day Traders must of necessity become Type 1's
8. Type 1's who are Moment Traders are having the most fun since they enjoy volatility, but even with tight stops it must be a trifle harrowing.
The Newsletter is up, and Ron and I are looking forward to seeing all of you and raring to go in ten days time. There will be a quiz on its contents so I hope the gang of five coming up from San Antonio will have it down pat from your tutelage by the time they get here.
Would you believe I had over 22,000 hits on the 401-Keg Blog in one week, so that is a measure of the light-hearted relief in frustration in these bad times!
Best Regards, Ian.