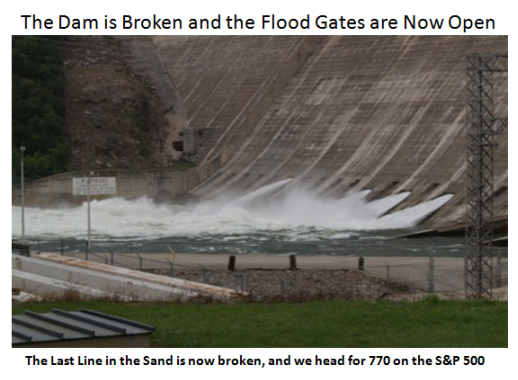 During the past several months I have tried to steer you through the mine fields and give you ample warning of the Lines in the Sand at critical points in time.  Past Blogs have featured key skirmishes between the Bulls and Bears at the O.K. Corral and we have just finished Round #4 which the Bears have once again won.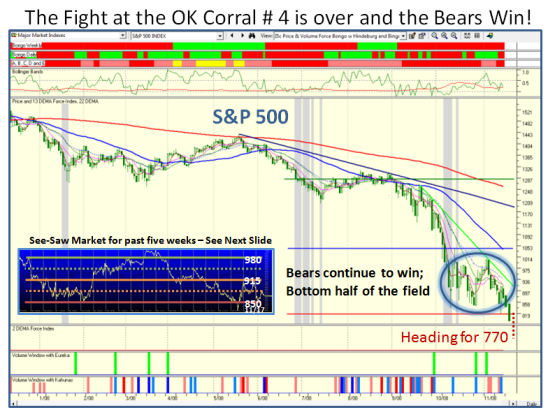 In recent blogs I have shown you the boundaries in which the "Ball Game" was being played to keep the picture down to its simplest form.  The chart below needs little explanation as you have seen this from time to time in the past.  What is important is that the Last Line in the Sand is broken and it will take a Thanksgiving Gift, A Santa Claus Rally and a "Hail Mary" Pass to head back into the Zone again as shown above and below: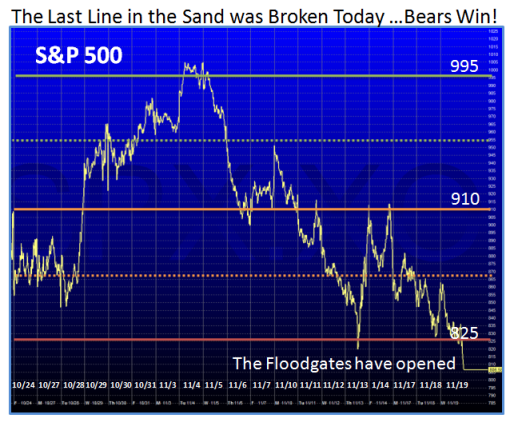 Worse yet, given past statistics of Bear Market Swings Down, Rallies Up and Re-Test Statistics we find ourselves in the dubious spot of having beaten all of them to the downside except the one of 1937, and heaven forbid we head on down that low: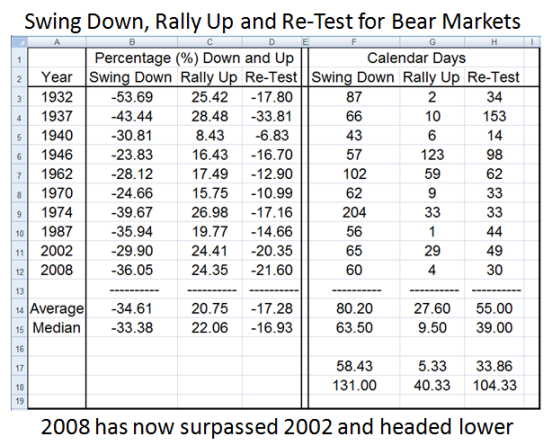 At the recent High Growth Stock Seminar completed in late October just four weeks ago, I presented the following chart as evidence that Wall Street had now impacted and spilled over into Main Street by describing the effect of the downgrading in Earnings Estimates as we go forward into 2009.  The chart below is a picture I put together to show the effect of both EPS estimates (past and future) on one axis with P-E on the other to show the net effect of what the S&P 500 can support as an Index Price.   Sad to say we have wallowed around in the Red Zone of late in these past five weeks and have now broken down into the Brown Zone as shown on the chart below.   I suggest we are now headed for 770 (between friends) on the downside, unless we get a humongous Bear Market Rally: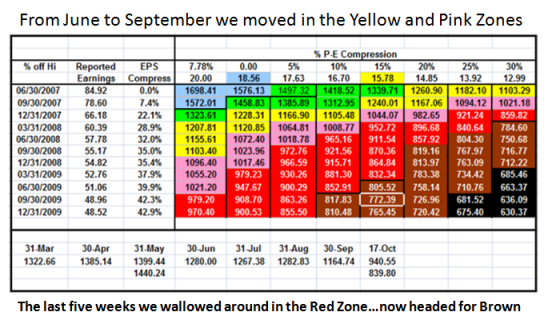 I wish I could be the bearer of glad tidings at this festive season, but it is better to know the plain facts and the logic that supports them than for me to pull the wool over your eyes.  It goes without saying that we start the entire process again of Capitulation, Reversal Day and Follow Through Day(s) with Eurekas and Kahunas to support the Bull enthusiasm and that can take another six to nine weeks.  In addition we need New Highs on the NYSE to come out of the woodwork and New Lows to dampen below 50 before we have a glimmer of a proper Bear Market Rally.   When Base Low Stakes are uprooted, we now wait to see the above before we can even begin to suggest we have found "A Bottom", leave alone "The Bottom".
Best Regards, Ian.