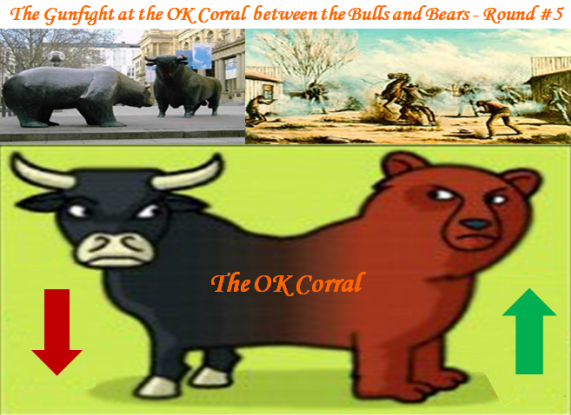 The headlines from the Geithner and Fed announcements today say "New lending program targets consumers, business", and seems to have done the trick at least for now that the Government is taking appropriate action to jump start lending in critical areas.  Gone is any mention of TARP or son of TARP, it is now TALF…Term Asset-Backed Securities Loan Facility, and will provide its first loans March 25, the government said.  The reaction during Geitner's testimony by the markets was mildly positive.
According to the pundits, don't expect any results until the end of the second or early third quarter altering perceptions about the economy and boosting household, business and investor sentiment.
The Market had a ho-hum reaction to all of this and essentially gave a flat return for the day on all Indexes, but the S&P 500 dropped below 700…not good.
My good friend Mike Scott reminds me of an old rule of thumb I developed many moons ago when the QID and QLD were all the burning rage back in mid 2007.  It is the ratio of the Total Dollar Volume (Close Price of the stock x Volume for the day) of the QID to the QLD.  Since then we have accumulated a vast amount of data as we have plunged from the Peak of the Market in 2007 to the recent Capitulation back in November 2008 to the retest and breaking of the lows yesterday.  The latest reading as of yesterday was 2.5:1.
The two good rules of thumb are:
1)  The Bears drive for Capitulation once again with a QID:QLD ratio of >3.3:1
2)  The Bulls Fight back to start a Fresh Bear Market Rally with the QID:QLD Ratio subsiding to <1.5:1: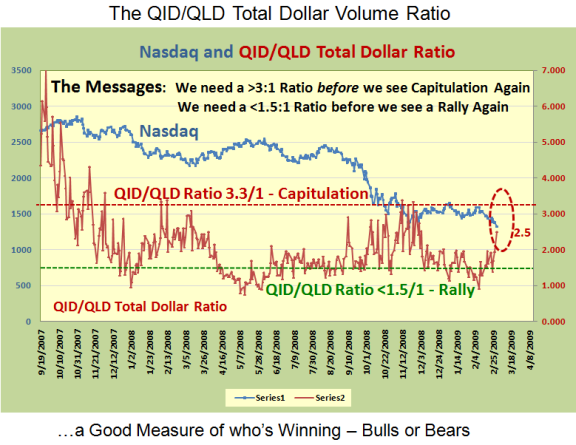 You don't have to go to all that trouble, but keep an eye on the ratio to see if we are heading for deep yougurt or starting a fresh Bear Market Rally. 
Today's numbers are: 
QID = $67.62 x 26,818,002 = 18,134,000
QLD = $20.84 x 38,671,390 =  8,059,000
QID:QLD Ratio = 2.25:1, i.e., about half way in between the targets, so in ho-hum territory in keeping with today's reaction, and the Bears with the upper hand.
So there you have it – a new measure of the fight between the Bulls and Bears at the OK Corral, Round #5.
Best regards, Ian.