Camp Sunshine is rubbing their hands with glee and they can do no wrong as they see their 401-Kegs turn again to 401-K's almost 12 months later.  (For those who haven't been regular visitors to this blog, please take a moment to have a laugh and scroll down to my Blog Note of Monday, October 6th, 2008.  Better yet, just type in 401-Keg in the Search Window and enjoy).  I had nearly 27,000 hits that month and it went around the world for a "relief humor" joke in what then turned out to be panic times with a Black Swan soon thereafter.  On the other hand Camp Gloom and Doom is waiting patiently for this Market to get into Nose Bleed Territory as they have been thwarted several times along the way, and are now licking their chops to "bring it on"…albeit one more time!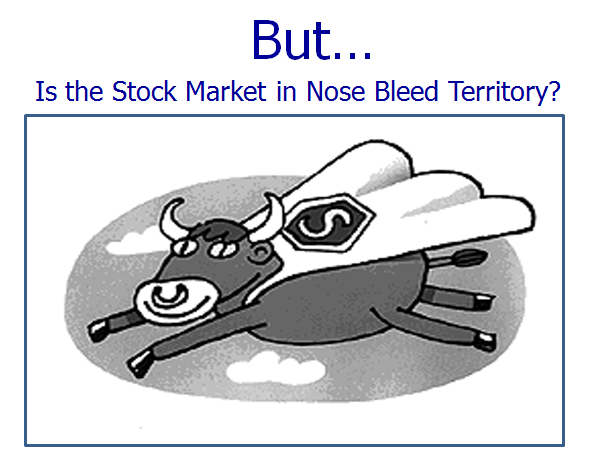 As followers of Ron and my efforts know we keep you informed with a balanced picture, we are not Soothsayers; but use Commonsense and the HGSI Software with its plethora of Proprietary Indicators to let the Market tell us where it is headed.  Furthermore, we let our respective Weekly Movies and Blog Notes do the walking for our talking.  Likewise, we don't trumpet our wares very often, but this is a reminder of what you will get at the HGS Investor Seminar from October 24 to 26, and you have just five weeks to hurry, hurry, hurry for the last few seats!   Here is just a taste of what the attendees will be getting with several winky-winkies as well: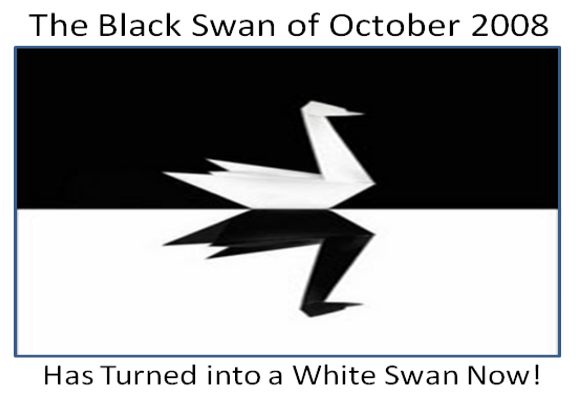 What was a calamity a year ago, has now turned out to be a Blessing as this Market has risen 61% for the S&P 500 from the Base Low of 667 last year.  The Black Swan is something few of us have experienced except the quick Knee Jerk back in 1987, until we go back to the Deep Depression of the 1930's.  Oddly enough it has produced Opportunity in a cussid sort of way.  I refer you to the August Newsletter Picture of the Black and White Swan showing that that mighty fall of two weeks produced a Vaccum in Volume at that stage which spelt Future Opportunity when we got back to 1000 on the way back up.  The Message then was "In this Crazy Market, don't count out a return to 1200 on the S&P 500."  That would be an 80% gain!
Now hold your horses:  I have not taken leave of my senses, so here is the News and Game Plan in a Nutshell.  The Chart below says it all, and in a month's time when we are feversihly preparing for the Seminar, we will see where we stand then: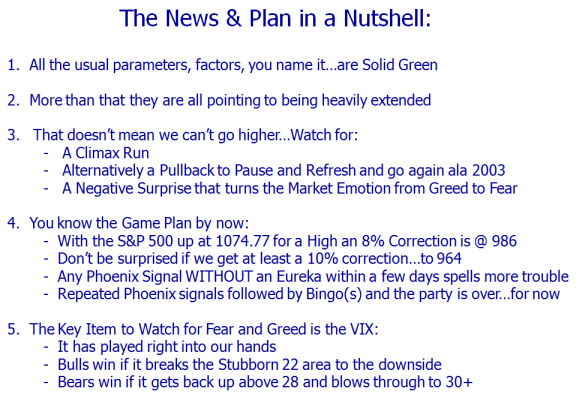 Here is the Saw Tooth Plan which has worked successfully for all of us since its inception at the HGS Investor Seminar last March.  By the way…we make you work with us on Case Studies on these occasions.  It's not all Beer and Skittles: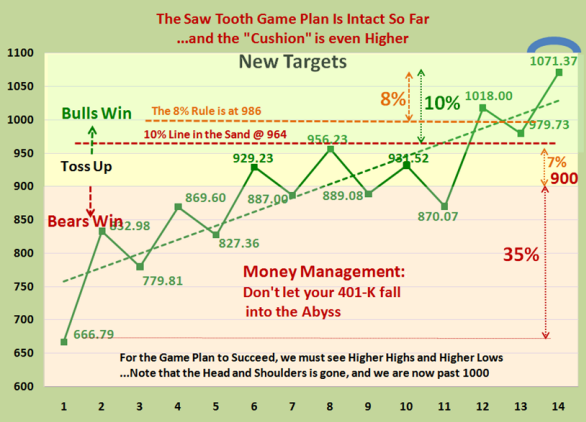 Now, let me give you two important charts for you to focus on as I busily trot off to keep working on the Seminar Material.   The first is my handy-dandy overlay chart that shows what the Nasdaq MUST DO for the Rally to continue.  That will give us a template to watch if it succeeds or fails: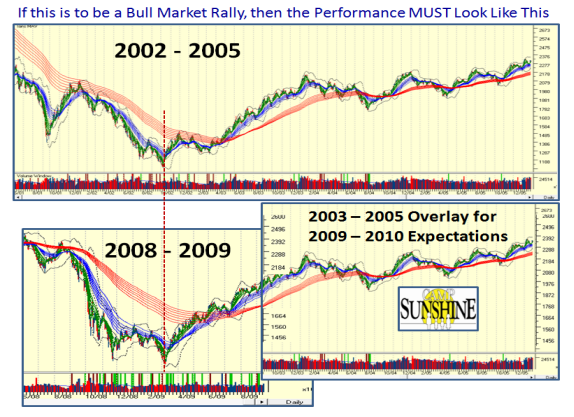 At this stage of events, among all the Internal factors we watch carefully, the one that will give us the earliest warning of whether we have a runaway Bull Market or are heading for a correction, be it shallow or deep is the VIX.  Its Performance these last few weeks has played right into our hands: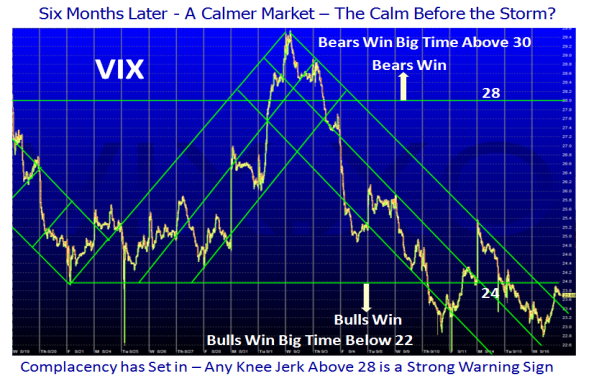 Enjoy, and keep your powder dry. 
Best Regards, Ian.