As we enter the New Year, I felt it important to show the current status of the various
Internal Stock Market Factors we review from time to time and to show the strengths
and weaknesses at this juncture.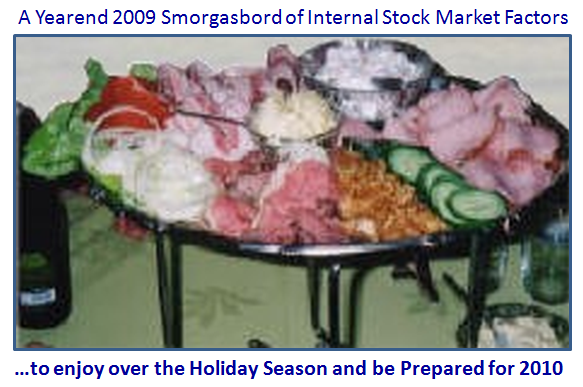 The Saw Tooth Game Plan I introduced nine months ago is still intact and up 69%: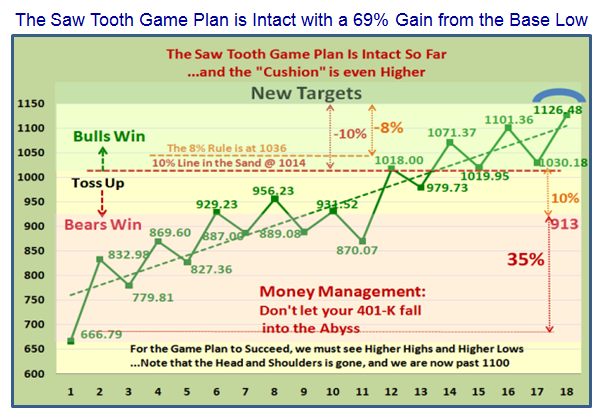 This Rally is now 69% up for the S&P 500 since the Base Low in early March 2009, so
with the Year End Bonuses at hand, the "Composite Man" may soon be ready to take
a breather and force a correction in the New Year.  The Rally has been in three Phases
as shown below, with the current phase more volatile than before.  As you will quickly
see we dodged a bullet around November 1, when the Internals all faltered, but they
have revived since.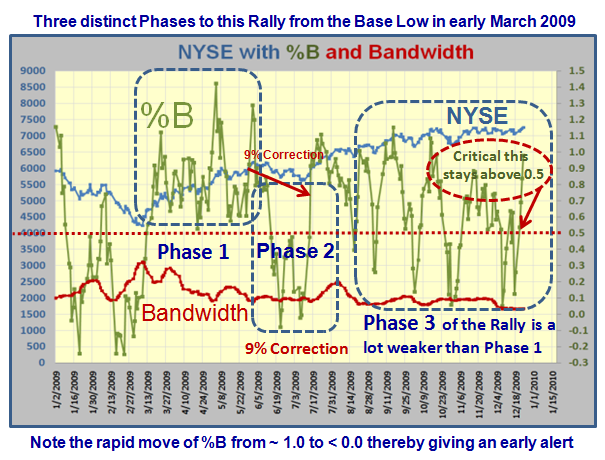 The IBD Total number of stocks peaked in 2007, and after a precipitous drop of ~2000
stocks, it has rebounded by 1000.  It needs to now add an additional 300 stocks for
this Rally to continue.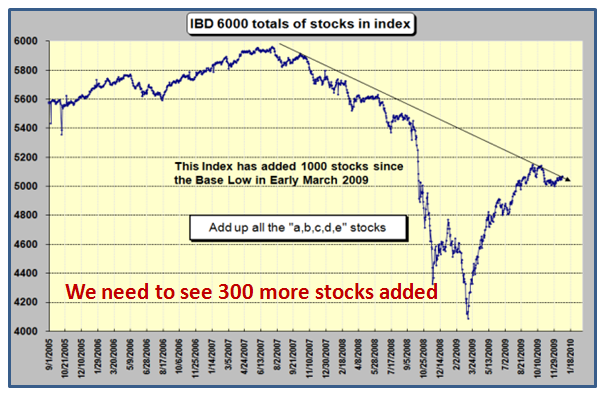 The Advance-Decline line is very healthy; infact it is too steep to maintain.  Watch!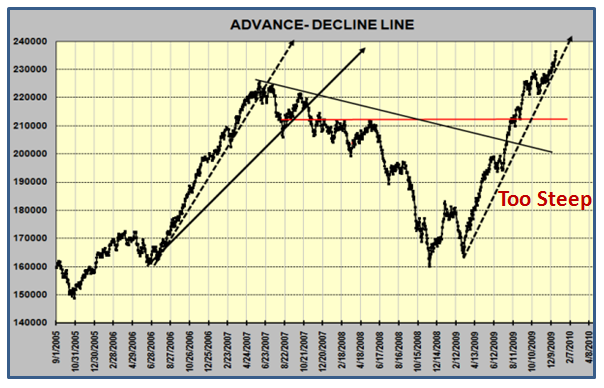 The McClellan Summation Index has bottomed and again showing signs of strength: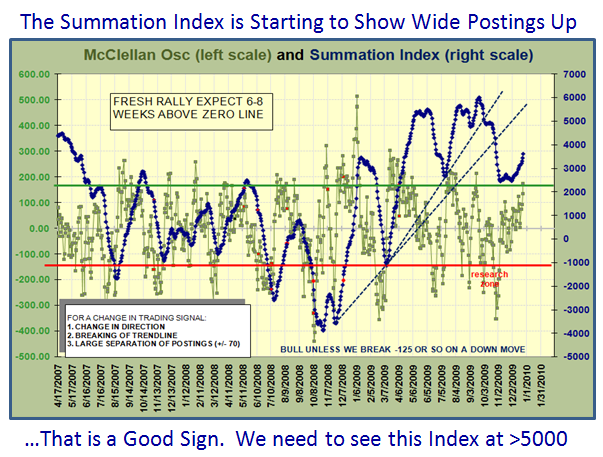 As one would expect, the stocks above the 200-dma is ~90% and it needs to stay up.
Any sharp drop in the New Year can cause concern for about a 10% correction if the
2004 timeframe is any guide.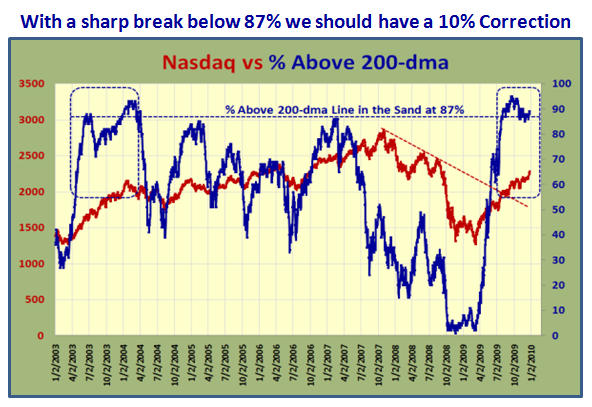 The Number of Distribution stocks %E has been dormant for a long while and any rise
above 6% should be watched for a quick distribution as shown below: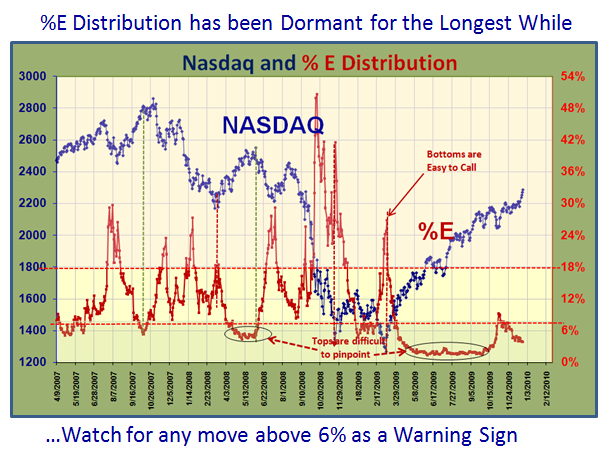 The Leadership Stocks had a Major Rotation at the end of October and is still at a low
value of 13%.  It needs to rise rapidly to show that there is indeed new leadership: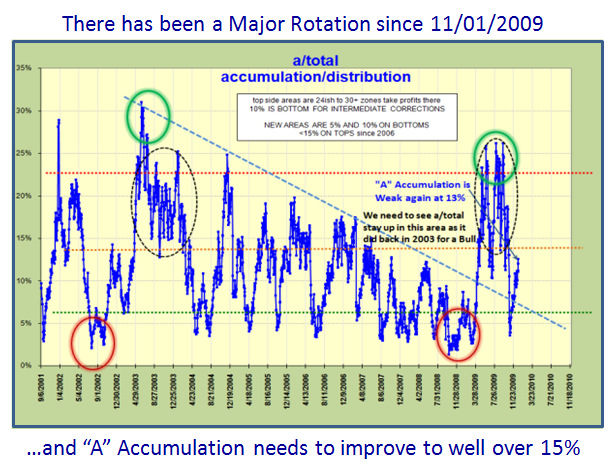 However, %A+B is strong at ~60% and needs to stay up above 65% for the rally to hold: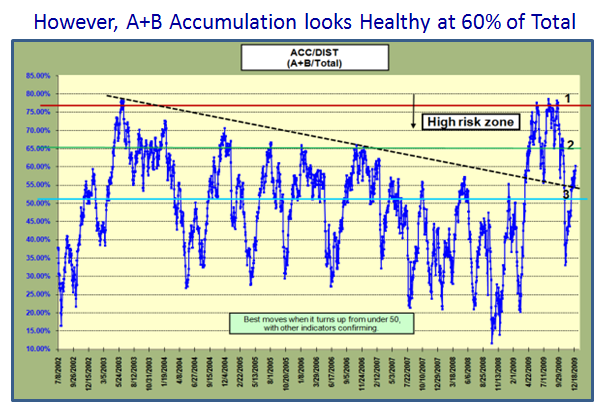 Thanks to an Idea I got from a friend Billy in Belgium, this chart uses a Reverse Score
to evaluate the ABCDE statistics.  It needs to stay above a reading of 2.37, and again
we had a serious shot across the bow in late October when it plunged to 1.90: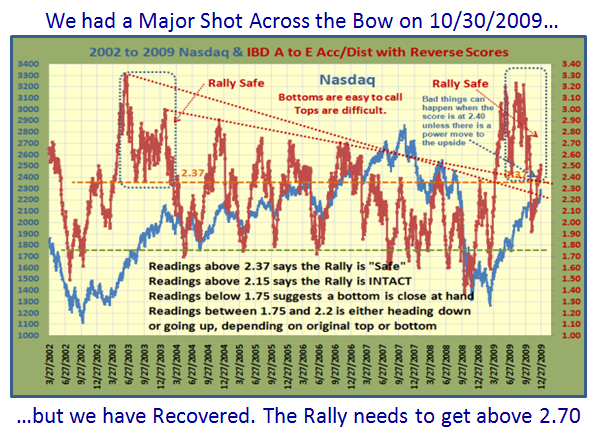 The New Highs are Strong at >400 and the New Lows are dormant as we would expect: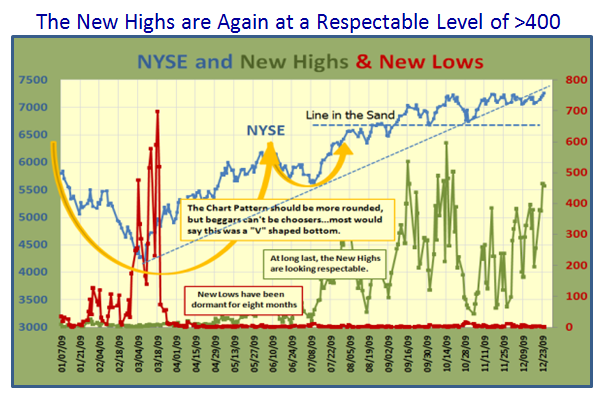 The Up:Down Volume Ratio is weak and needs to get back above 1.2 in a hurry: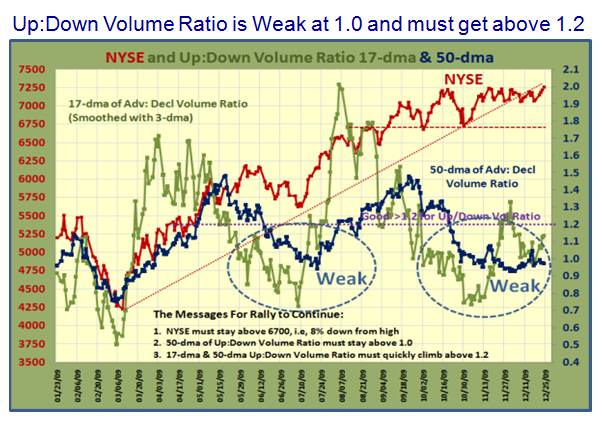 If Chaikin's Money Flow is any indication, the Big Guns are not participating…Beware!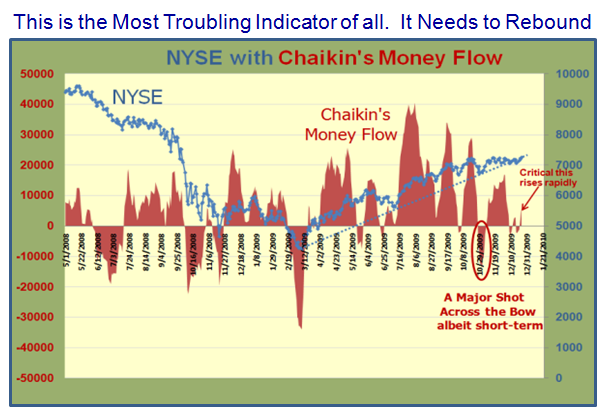 Here is the overall assessment for the Internal factors shown above.  It is a strong
report, but there are weaknesses, particularly in %A Accumulation, Up:Down Volume
Ratio and Chaikin's Money Flow.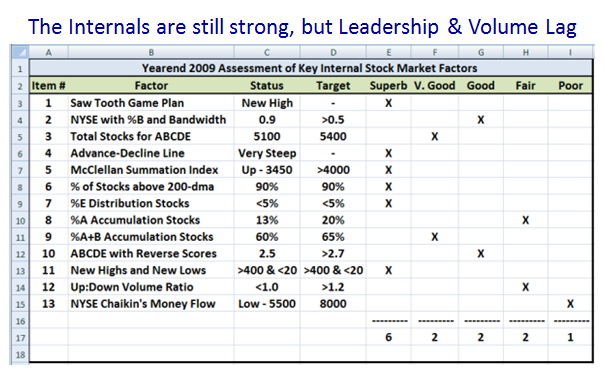 All Best Wishes for a Happy and Prosperous New Year.  Ian.