I just got back from a little R&R with my Son and his family, so here is an update based on a note I wrote to my friend Keith in New Zealand, which I answered yesterday, but have embellished today for all of you who read my blog.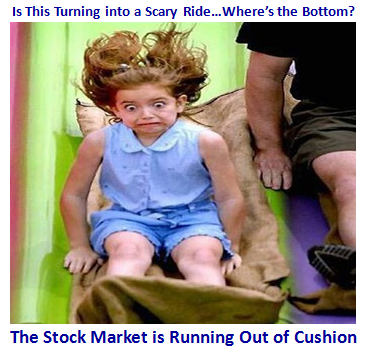 Question:  Hi Ian – so whilst High Jump helped identify possible tops, does any HGSI tool predict the likely level of falls in this new downtrend?
Keith  New Zealand
Answer:  Hi Keith – Yes, it's called the Limbo Bar!  As you might have guessed, it is the reverse of the High Jump.  Let me offer a few pointers:
1.  I use Rules of Thumb which comes from over 25 years of experience:
      a.  Minor Corrections are 8% to 12%
     b.   Intermediate Corrections are 12% to 16%
     c.   Major Corrections are 16% to 20%
    d.   Bear Markets are >20%
2.  As I am sure you have heard me say if you read my blog notes faithfully…There is a 75% probability that the S&P 500 will correct no worse than 8% Close to Close and then rebound.  Heaven help you after that as it can fall anywhere.  We are on the hairy edge by being 8.6% down from the high with no cushion: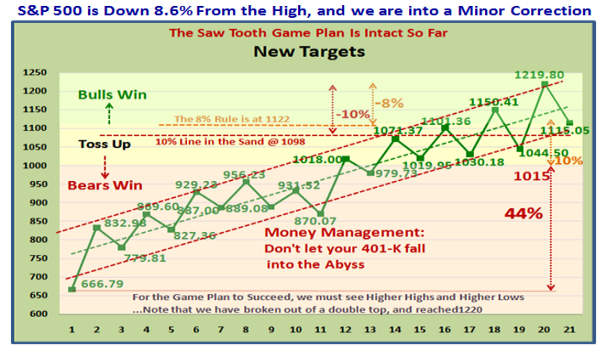 3.  We are also close to the Bottom on the set of Targets I gave you for AAPL last week: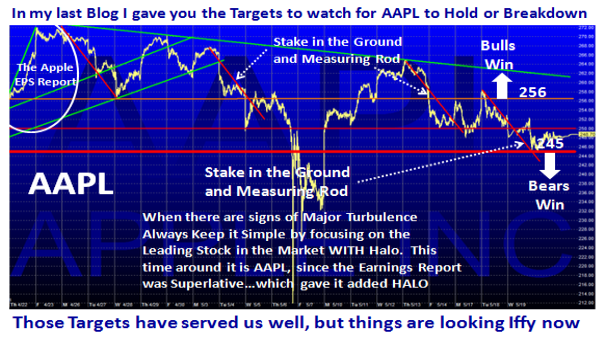 4.  There is an excellent blog note I wrote on the subject with all sorts of statistics that you can read about if you will take the trouble to scroll down to  November 23rd, 2008 labeled "The Worst Market Conditions since 1937, Surpassing 2002".
5.  No tool can FORECAST HOW LOW this correction will go…if you find someone who can do it, please let me know.  We have two good tools in HGSI which help define the Targets, one is the Limbo Bar and the other is Bingo followed by Eureka(s) to start a fresh rally.
6.  The Low Jump or Limbo Bar:  This is the % distance of the 200-dma of the S&P 500 to the Low of the Index as shown in the next chart.  Our past experience for the 2003 to 2007 Rally gives us an excellent perspective of what to expect if the Rally is to continue and the Targets that must not be exceeded as shown below: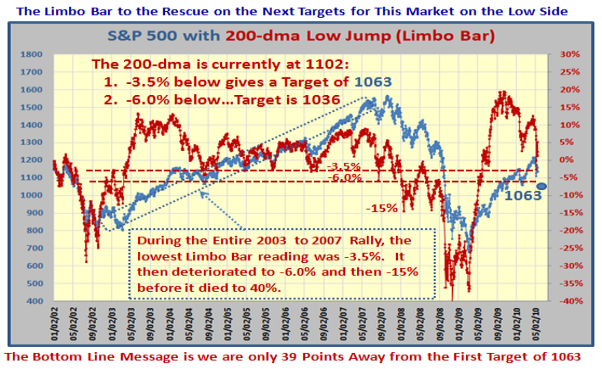 7.  The Bingo Accompanied by Eureka(s):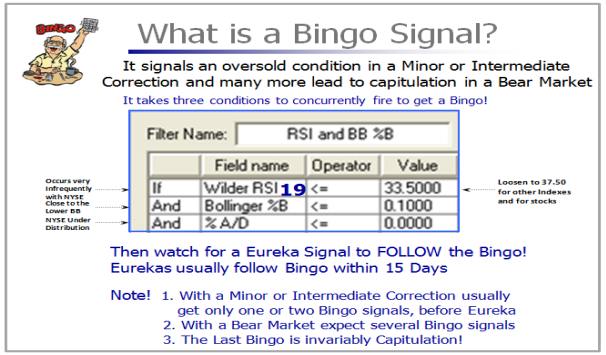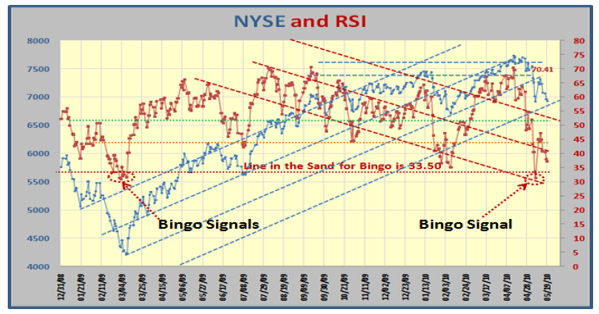 However, what we also look for is a Bingo followed by two Eurekas in quick succession to suggest that a Bottom has been reached.  Alternatively, if the market just deteriorates from here, you will see several Bingos (grey bars on the NYSE chart using the wc View).  Eventually there will be several Eurekas to suggest the Bulls have finally got control and we start a new Rally upwards.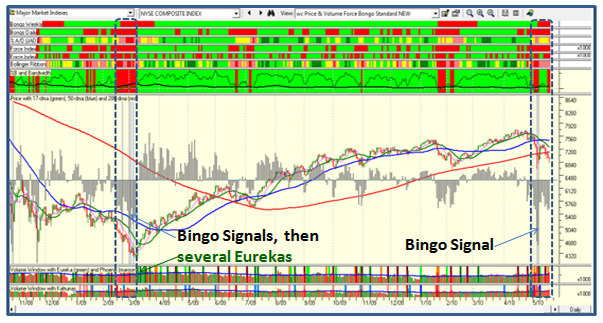 Now that we have a Guideline, either sit out for now, or Short, or sharpen your pencil for New Leaders from those that have not broken too much during this downturn.
Best Regards, Ian.