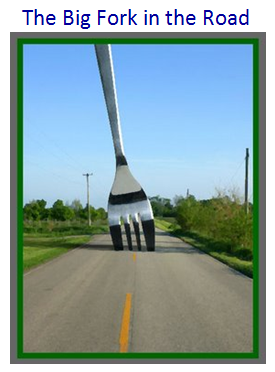 My good friend Mike Scott sent me this picture some time back which I felt was appropriate to use on this occasion.  The Bears are saying "What Fork in the Road?  After this little rally from an oversold market, we will be headed down once more."  And the Bulls are hoping that with supposedly stellar earnings to come starting this week, the worst is behind us and we are in the recovery phase, albeit a trifle tepid by way of a rally without good volume so far.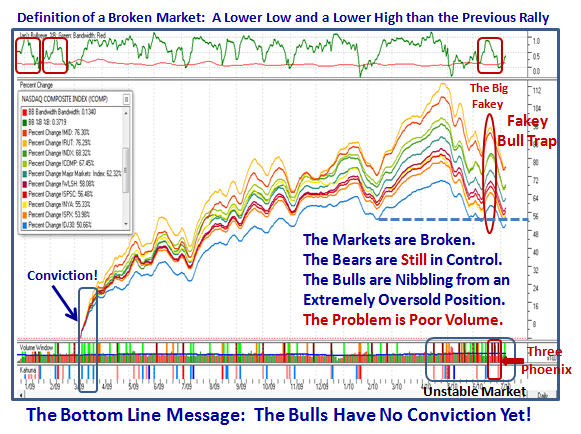 Since you are now all familiar with the Roadmap chart which shows the rise and fall of Key Market Indexes, I need only point out the most recent changes since you last saw this picture.
1.  When a Market suffers a Major Correction where the High to Low % change is 16% to 20%, we are just short of a Bear Market and it takes a lot to extract oneself from the mire.  That is precisely where we are.
2.  We have learned that two Eurekas in a row coupled with a Kahuna is not good enough to avoid a Bull Trap, which we saw over a week ago.  The same thing goes for Follow Through Days (FTDs) which got equally bounced around two days after they were declared. 
3.  Minor Corrections of the previous three we had in 2009 and the recent one in Feb 2010 can sustain a potential one or two day drumming from the Bears through Phoenix signals, but when they have either an Intermediate or a Major Correction under their belt, watch out for a Fakey!
4.  That is precisely what happened.  We had three Phoenix Impulse Signals in quick succession on 6/22, 6/24 and 6/29 to take us down to a -17.4% Correction, High to Low on the S&P 500, with Black Crosses appearing two-a-penny on most of the Indexes.  So the Bears were whooping it up.
6.  Not even a % B reading of well over 0.8 could protect the Market from tumbling into coming down to break the Bandwidth (red line, top window) yet again, the likes of which we have not seen since Black Swan days back in early 2009, when this market was trying to recover from an extremely oversold situation (look back to the left hand top of the chart).
7.  The Bulls are now nibbling from an extremely oversold position with the Eureka signal on 7/7, and we have had a tepid rally these last four days.  I say tepid since all the pundits will tell you "There is no beef in the volume".
8.  I don't have to tell you that we have an extremely Volatile Market as recorded by the yo-yo signals as shown at the bottom right hand side of the chart.
9.  The Bottom line message is that until we see the type of conviction we saw in March 2009 where we had a powerful move up on all cylinders: price, volume and momentum, the Bears will continue to enjoy the power they have missed for all of 15 months. 
Very short term Type 1 and maybe Type 2 Players can make hay in this market and  like Rumpelstiltskin spin straw into gold, but Types 3 & 4 need to be patient and wait for Goldilocks to give the all clear. 
Best Regards, Ian.