It seems it doesn't take much to cause Irrational Exuberance these days with an Eureka at the close on Friday despite the somber news out of the Fed Meeting in Jackson Hole.  I have captured the headlines from Market Watch in the Chart below: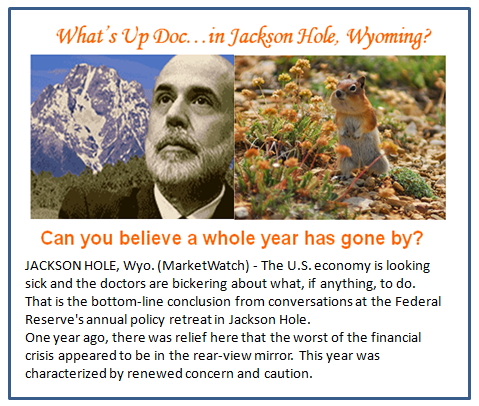 The chart below shows we had a strong Eureka Signal accompanied by most Market Indexes showing Price gains of >1.5%: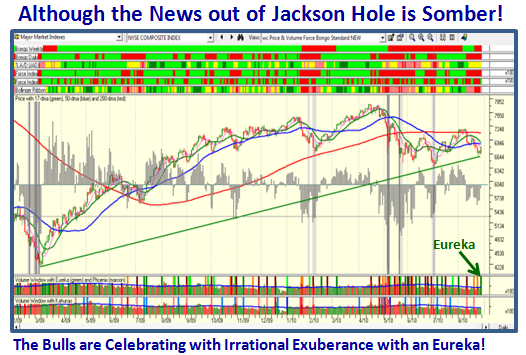 We have had a lot of negative news of late with the Market badly oversold so that it was no surprise that we had a "relief" bounce play, and dare I suggest we could have the start of a Rally: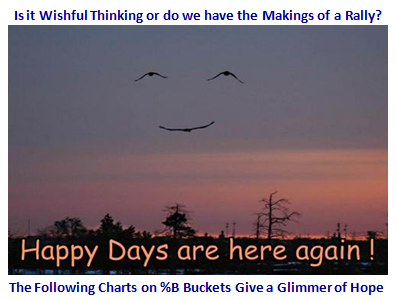 There is a glimmer of hope for a follow through tomorrow given that Friday was a strong up day.  You will recall that I showed you back in the May 8, 2010 Blog the golden dates we use as benchmarks for proven rallies using %B of the Bollinger Bands.  Here is that chart to remind you: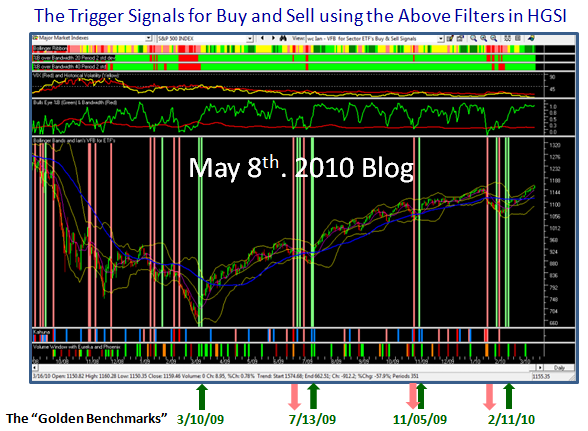 Using Chris White's handy-dandy EdgeRater Software, I was able to pluck the statistics of what transpired with the twenty Major Market Indexes and the usual X series ETFs during those crucial days before and after there was a strong signal that the Market was in Rally mode.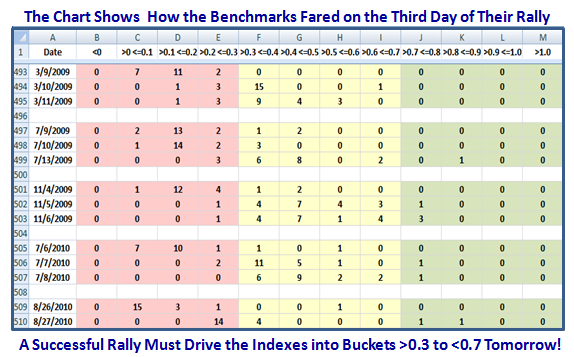 As you will quickly see from past history, the rally was golden provided it confirmed the previous day's momentum, by most Indexes/ETFs moving from the Pink to the Yellow Zone on the day after the Eureka fired.  We currently have 14 stocks poised to move from the ideal spot of being in the >0.2 <= 0.3 Bucket, while the likes of the India Fund (IFN) and particularly the Utilities ETF (XLU) showing major strength as shown in the next chart: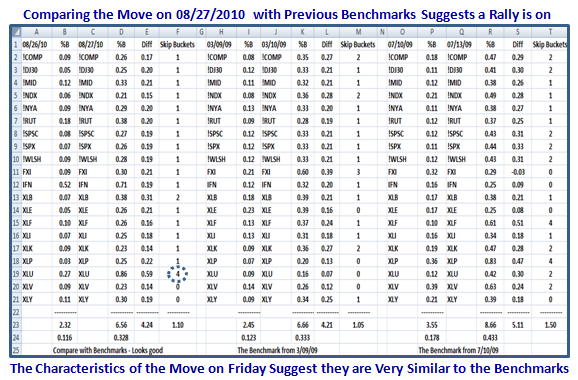 Note the "4" I have circled which signifies that the XLU skipped four buckets of %B from Thursday to Friday as it went from a %B reading of 0.27 to 0.86, a 0.59 improvement in %B as shown on the chart.  I'll leave you to compare the various ratios between Friday's statistics and the two Benchmarks I have used, and you will see that "Jupiter is in line with Mars" if history is anything to go by.  Now, wouldn't it be a turn up for the books if we see a follow through tomorrow, three days before the usual "Follow Through Day" (FTD) is supposed to show its muscle.  That should stiffen up a few backbones going into the Labor Day holiday.  If not, we can climb back into our shell and understand it was not to be in this crazy on-again-off-again market.
Best Regards, Ian.