Ron and I have been busy producing the April Newsletter which is now published:
Overview:
The Stock Market is currently at the crossroads of holding after a very Minor Dip so far of only ~ 5%, or heading on down for a normal 7% to 10% Correction as we experienced in the first three Corrections in 2009 during the long Bully Rally. Now for sure we have Double and Triple Top Scenarios on most fronts.  The $64 question is whether the shot across the bow on March 6th over the Greece kerfuffle followed by the more recent deeper pullback on April 9, 10 and 13 with the poor Spain Bond Auction coupled with a poor Jobs Report is a Storm in a Tea Cup or a warning to Run for the Hills as we close out the week on another down day of >1.25% on most Market Indexes?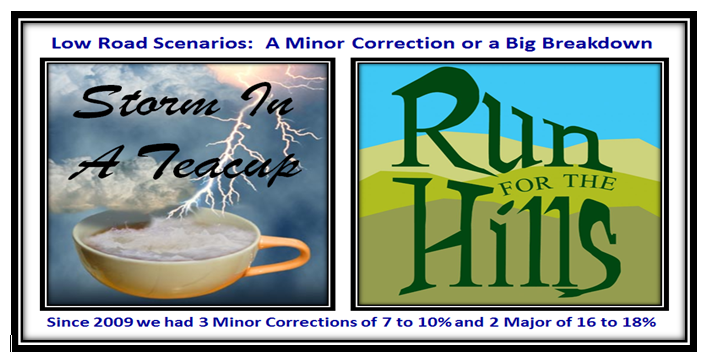 The Major theme for this month is the High Jump Tool and an update of the Benchmarking of Fear and Greed.  I have reviewed the High Jump to give insight into this valuable concept which you will find only available in the HGS Investor Software.  I cover the High and Low Road Scenarios and a Review of the Market at this critical stage.
Ron covers "The New America Case Study"…a quick way to home in on up and coming Companies with strong Earnings.  Ron and I will give a brief demonstration at the Roundtable scheduled for Thursday April 19th. at 4.30 to 5:45 ET.  The emphasis will be on the New America Study.
Not a Monthly Roundtable Newsletter Subscriber?
Consider the value! For the current price of $200 a year, $16 a month you are getting the latest research from Ian Woodward that is not published elsewhere plus the latest HGS Investor software techniques from Ron Brown. To make this subscription even more valuable, you also get a seat at the W&B Round Table where a topic from the current month's newsletter will be discussed in more detail. 
Attendance will require registration. If you are not a subscriber the registration will not be accepted. The session will be recorded and the video posted in the monthly newsletter section of the website for subscribers.  Please click on the following link to Register:
Best Regards, Ian.