In my last two blog notes I explained the unusual overbought status of the Market Indexes and particularly pinpointed the 42% of the S&P 1500 stocks sitting above the Upper Bollinger Band, i.e., Bucket >1.0, as being very rare.  I also showed you the two other recent occasions when such a blow out had occured in 2011 and warned of the pending downdraft that inevitably happens at such times.  Seven days later we will review where we stand.  Said in a word we are at "Stalemate", and given today's action the bias is that we are probably headed down: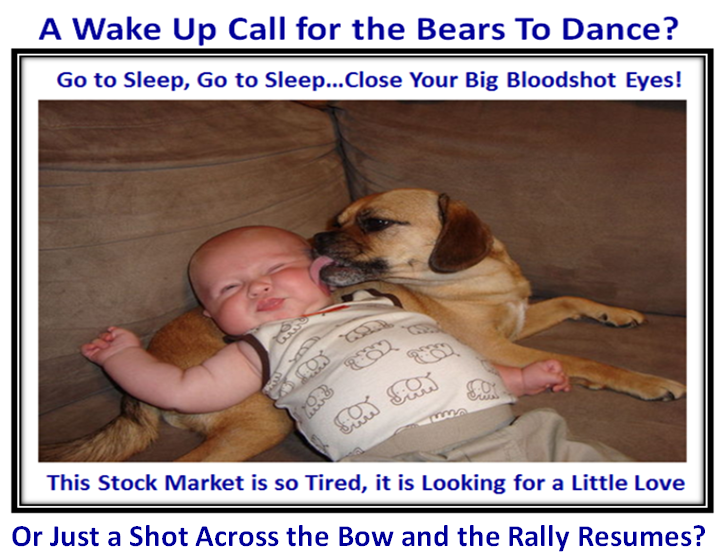 Let's first look at the eight Market Indexes I regularly feature and the double Flag caused by the Draghi Plan in Europe and the announcement of Q-E 3 by the Fed which put the Markets into Overbought territory.  Whether this transfusion of optimism will last and the markets move higher after a pause to refresh remains to be seen, but for now we had an orderly move down for a week until yesterday when a Phoenix coupled with a Down Kahuna suggested a meaningful Shot across the Bow: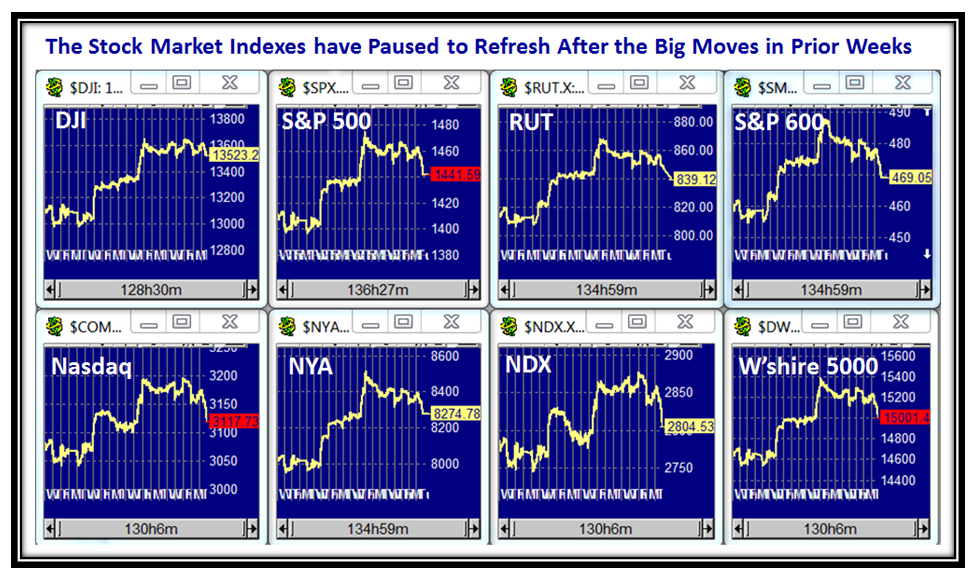 We see that three Indexes finished at their lows yesterday and all gave up the Q-E 3 "Kick" of eight days ago.  Now the question is "Do we wander on down to support levels before the Draghi Effect or do we hold here abouts and trot on up for the Bulls to gain leadership again with GOOG leading the charge and AAPL regaining its composure with a move up from the usual 35 to 40 point correction we have seen of late before it moves up again?"  As of yesterday we were at Stalemate as shown by who has Control using the 2x and 3x Bear ETFs picture: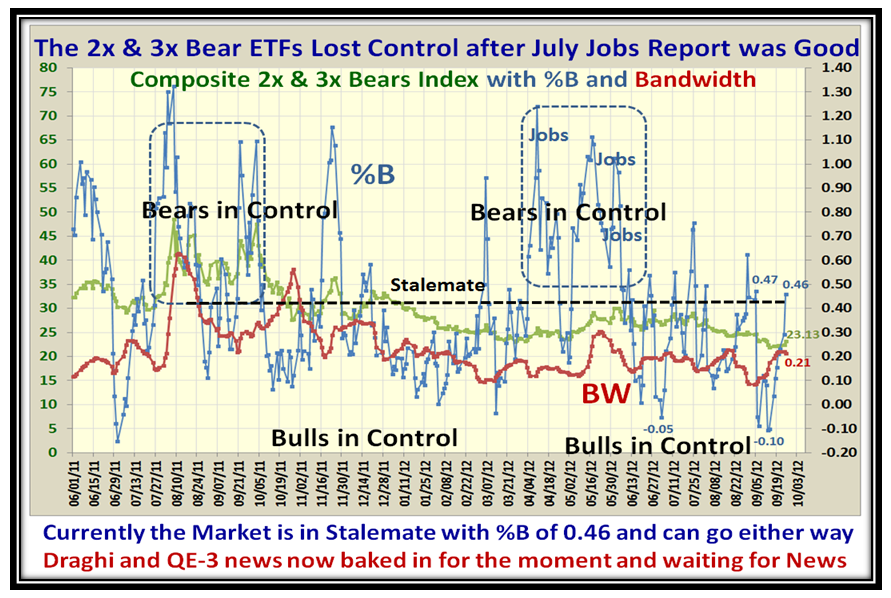 …And here's the "Something's Gotta Give" picture which is acting true to form.  If today's action takes the S&P 1500 %B to an Oversold state in Bucket <0, then we could expect a Bounce.  That Bounce could be short-lived as in the previous cases shown, or we trundle up with a continuation of the Rally.  Let me remind you that the first Election Debate is next Wednesday, and who knows what the effect will be on the Stock Market?  Then on Friday of that week, October 5th we are back to focusing on the Jobs Report, so Traders and Investors be forewarned to be very much on your toes!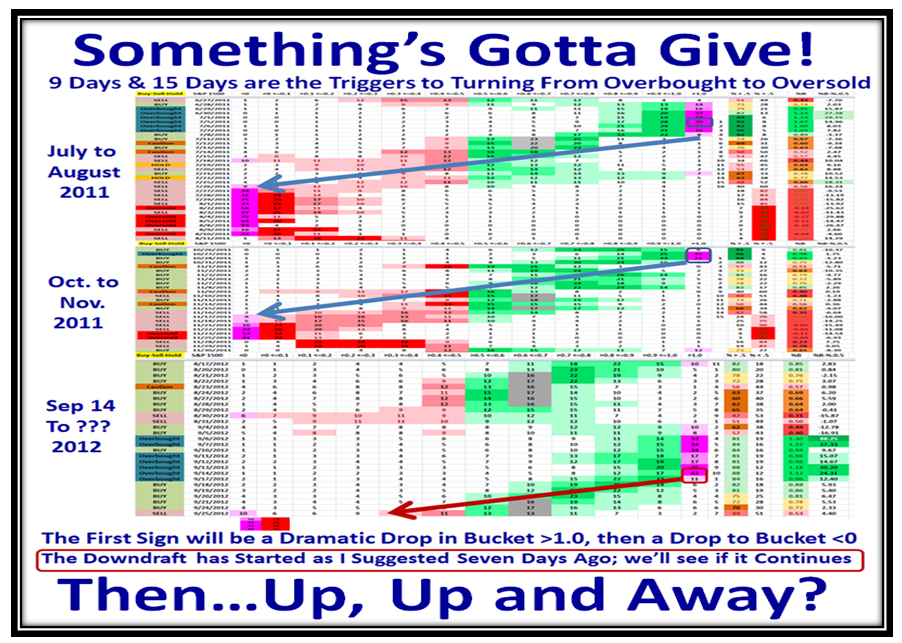 Here is the twin picture, which we have come to enjoy, with the latest drop showing a one bucket skip, but actually was a Kahuna down for the Nasdaq: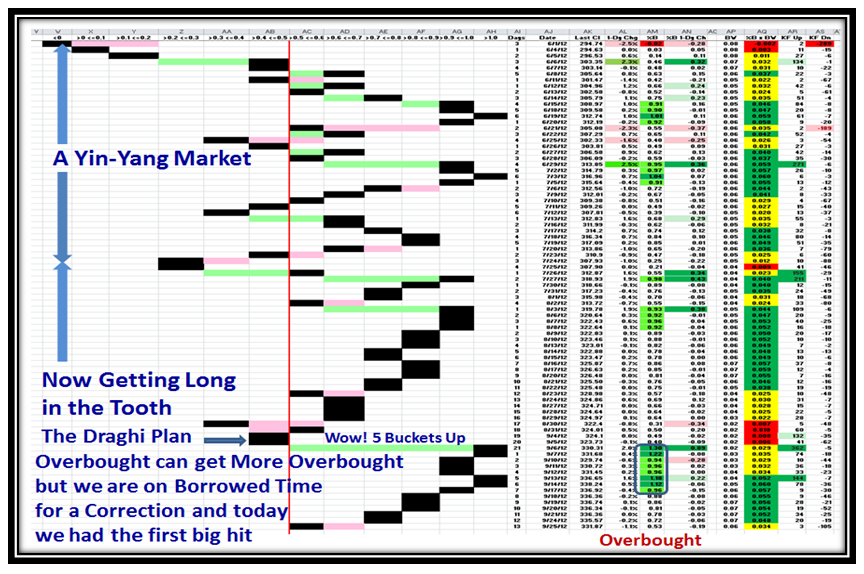 Grandma's Pies show we are at Stalemate with the Bears having a slight advantage.  Note the ~ 10% in Bucket <0: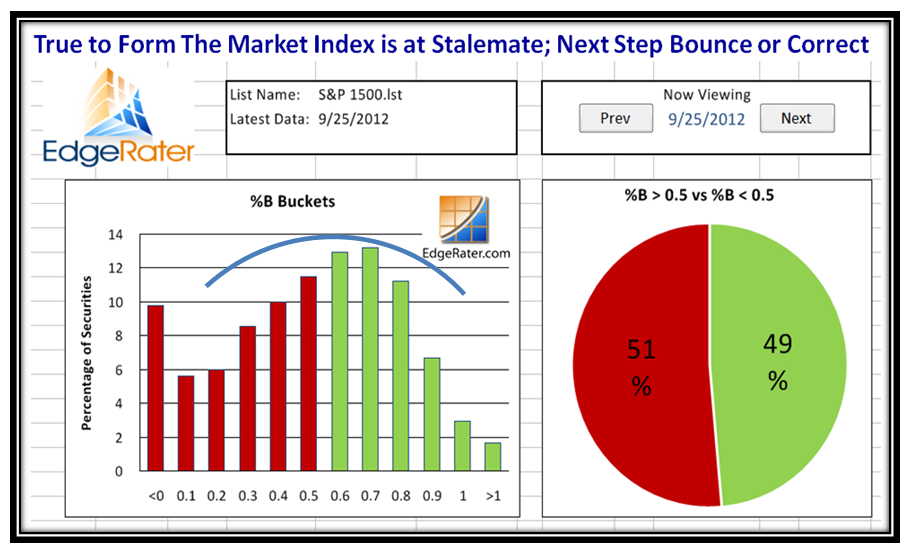 I am sure by now you can see that my efforts in all of this is to keep us on the right side of the Market by Managing Fear and Greed through an understanding of the underlying components of the Market indexes.  Here are three further pictures I share with you from time to time, but is very important to understand at this time: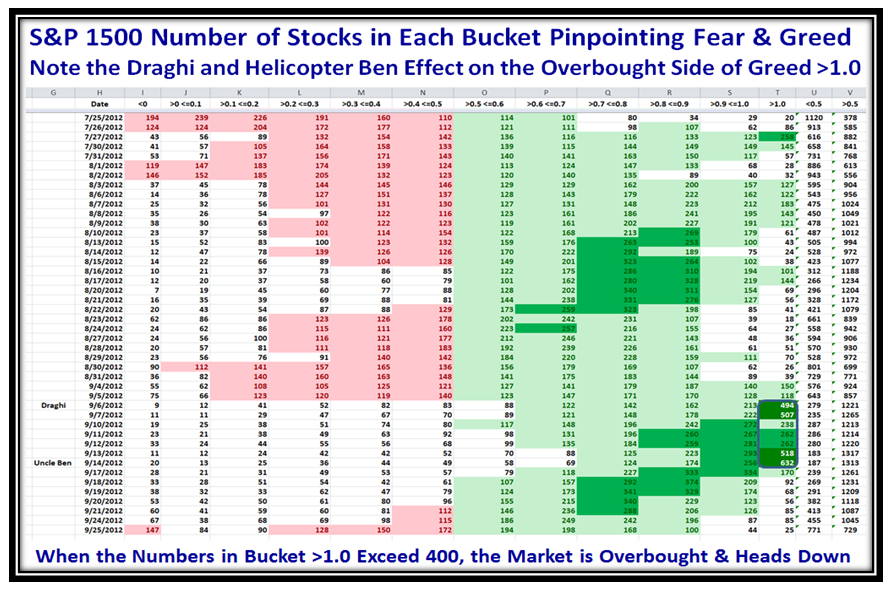 Here is the picture for Greed, concentrating on Stocks with %B in Bucket >1.0.  Note the recent 632 which is 42%: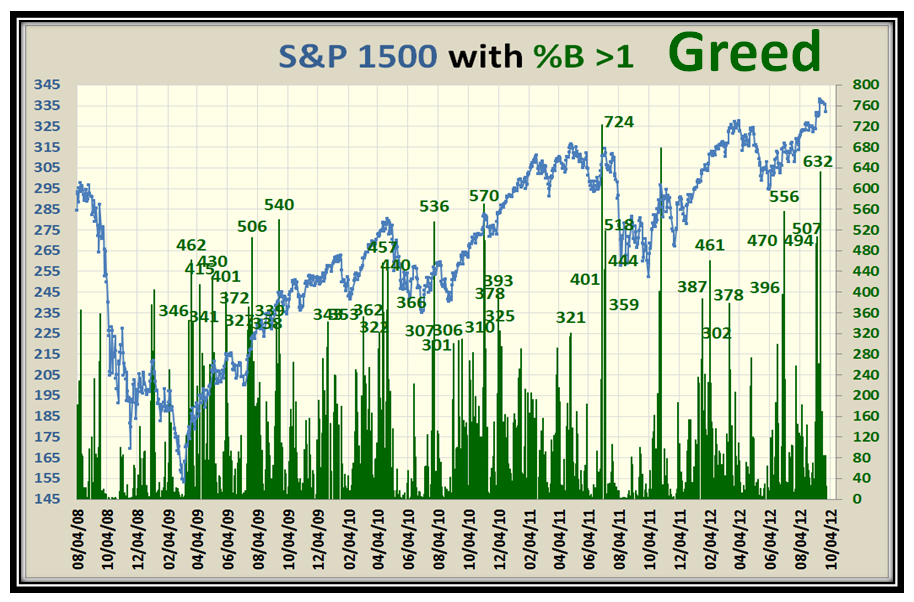 …And here is the one for Fear.  We had 147 stocks for the S&P 1500 yesterday in Bucket <0.   Fear sets in at ~400: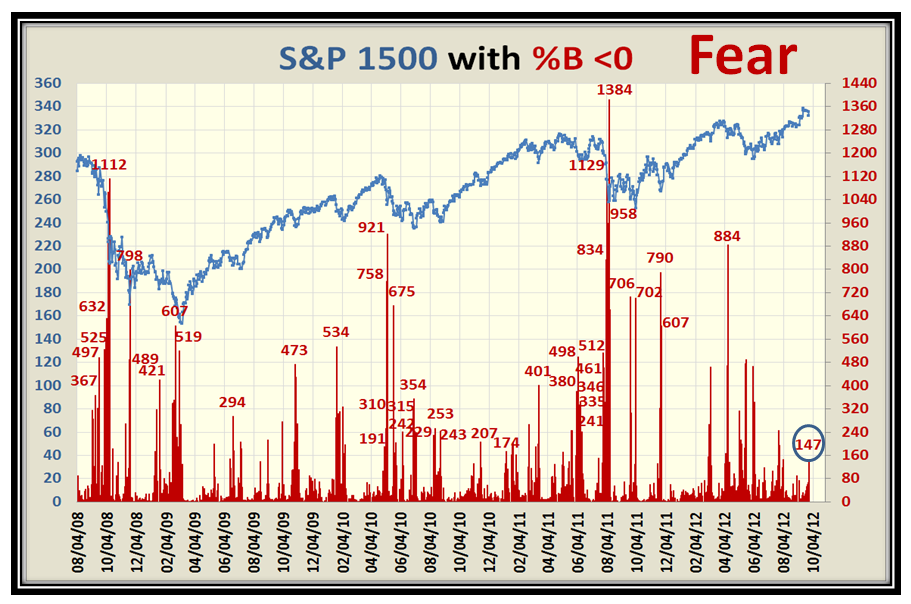 Now not only do you have the Game Plan which I gave you in my last Blog, but also the underlying principles of what to look for.  We have just four weeks to our Seminar and we have plenty of seats available.  Please sign up soon so that we can take care of logistics at this end.
Best Regards,
Ian.