Overview:
This Month's Picture suggests that the Bulls are tired now that the irrational exuberance from both Draghi and Helicopter Ben doing their bit to lift the markets took them into a climax run.  With the market down six days in a row…fortunately on light volume indicating that the floodgates of Fear have not yet opened, we sit and wait for fresh news to either take us down to -8% from the highs or halt the rot that is slowly setting in.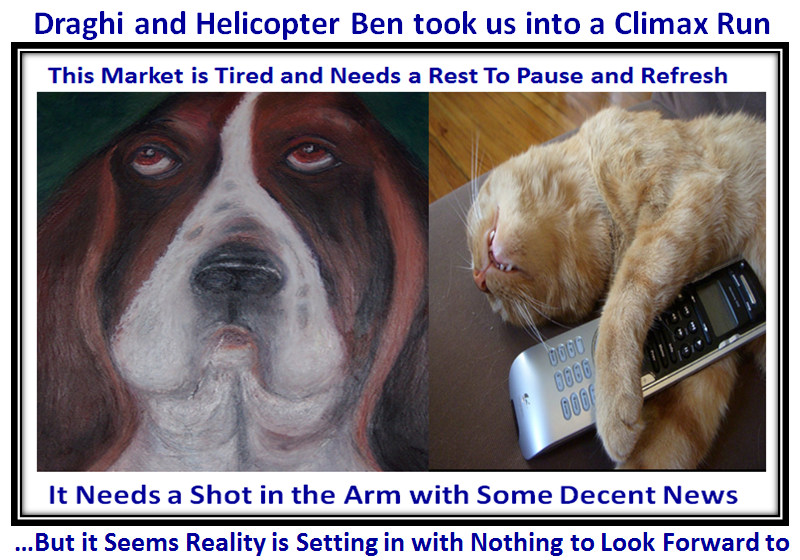 Besides discussing the High and Low Road Scenarios, my theme for this month is to give you a logical explanation with three signs for when the Jobs Report numbers in 2013 will determine whether the economy has at last turned around.  I also show the downside targets so that you have a clear perspective and warning ahead of time to protect your nest egg.
Ron will devote his piece to Pocket Pivots, as those attending the Seminar will enjoy seeing Gil Morales in the flesh!   Hurry, Hurry, Hurry. The Round Table discussion is on Wednesday, 17th October at 4.30pm EST, where we will as usual expand on the ideas in the newsletter.
We look forward to seeing you at the Seminar on October 27 to 29 at the Palos Verdes Library and as always we will have fresh material to cover as we again raise the bar.  We have Gil Morales and possibly Chris Kacher as speakers along with Jeffrey Scott and Chris White.
Ron and I look forward to seeing you all in two weeks to the day.
Best Regards,
Ian.