We are now into the Santa Claus Rally, and it is that time of the year for the HGSI Team to wish you Season's Greetings and to thank you all for your support throughout the year.  It has been a "mushy" month, but through all the Wall of Fear, the Stock Market has bounced back from the doldrums of three weeks ago and is challenging the High Road Scenario.
I sense we are all fed up to the hind teeth with this Fiscal Cliff mumbo jumbo, but we now have just a couple of weeks to go before we have this uncertainty behind us, one way or another.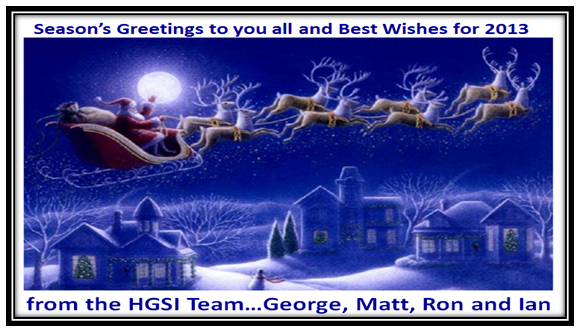 Besides discussing the High and Low Road Scenarios, my theme for this month is to give you an update with three signs for when the Jobs Report numbers in 2013 will determine whether the economy has at last turned around.    This month Ron did a quick review of the process he covered last month, the One Step Scorecard view, and then he moves on to show you how you can use the Group Inclusion Report to prospect.
The Roundtable discussion is on Tuesday, 18th December at 4.30pm EST, where we will as usual expand on the ideas in the newsletter.  You must be a Newsletter subscriber to sign up to attend the Roundtable.
Thanks to all of you for responding to the poll of which 35 said they were interested in coming to the Seminar on March 23 to 25, 2013 at the Palos Verdes Library and as always we will have fresh material to cover as we again raise the bar.  We look forward to seeing you.
Best Regards,
Ian.