Here is a recent question from Paul R regarding the State of the Union ala Kahunas and Buckets:
Ian any thoughts about the current rally in the market as we haven't had any Kahunas in the indexes other than the Russelll 2000 since the Eureka on June 26?
That would suggest to me we really don't have a broad market participation.
Paul R
Hi Paul:  As my younger son Paul would say "You are a Smart Dude"!
Sometimes hard and fast numbers can mislead one, so I had to look under the covers to come up with the answer.  I dub this Bounce Play an "Under the Radar Rally", as you will see from the chart below.  As you rightly say the RUT is the only beast that has shown Kahunas, as the others have all been slightly below the 0.24 requirement to signal a small Kahuna.  To my eyes, that's "Close enough for Gov't work"!
The right hand side of the chart says we do have broad market participation, since %B on Average is at 0.91 and knocking on the door of being very overbought, as it is so close to 1.0, the upper Bollinger Band. We can immediately see that the NYA is the laggard and everyone knows by now that the Small Cap RUT and S&P 600 are the leaders.
Looking ahead, if we get a ROW of Kahunas NOW ala 06/13/13, it will be a Major sign of an Exhaustion Gap to the upside, since all Market Indexes would be >1.0 and therefore OVERBOUGHT above the Upper BB.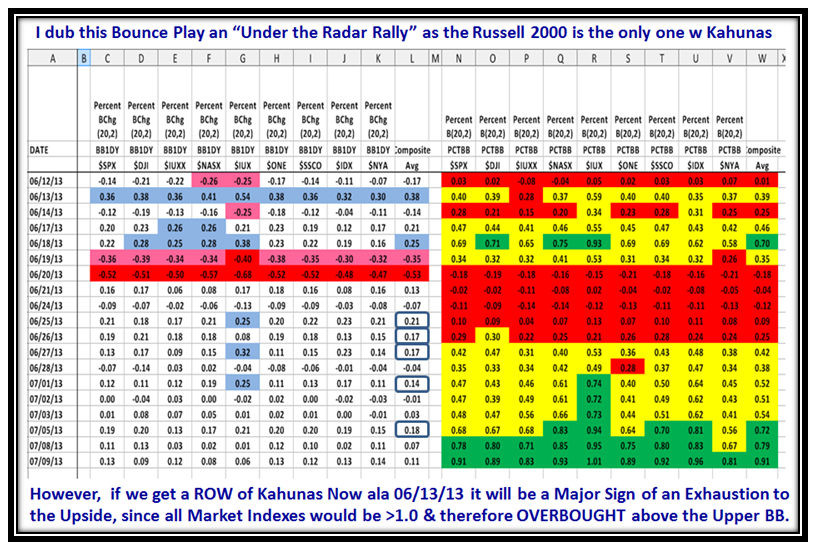 Since we are now at "Double Tops" or higher for most Market Indexes, we should expect a correction sooner than later as I described in my previous blog note , but the alternative is to see an Exhaustion Gap to the upside.
Now the Game Plan is simple, but you had me tossing and turning in bed last night trying to figure out the conundrum!
This stuff is fun!  Italy seems to be getting the hang of it as they were all over my blog note the other day!
Ian