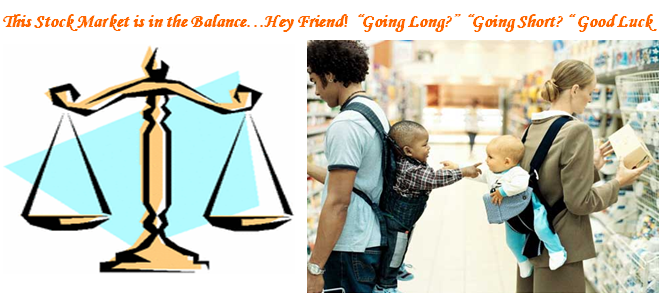 The weak Year-end Rally doesn't bode well for the New Year and we come to the last day of trading with the Stock Market in the Balance and can go either way from here.  All the Indexes are at critical junctures at or near their 50-dma, their 200-dma and at support or resistance lines.  Is it any wonder that the two little fellows in the picture are asking each other if they are going long or short in this market?   The Sectors that have outperformed this year are essentially defensive with Energy, Materials, Utilities, Consumer Staples and Healthcare leading and smatterings of Technology, Internet and Telecommunications Stocks more recently.  Chemical Specialty and Energy Alternative Stocks have been outstanding and despite their huge gains will likely confound us and go up further.  Stocks like CF, MOS, POT, TNH, TRA along with FSLR, JASO, ESLR, CSIQ and new found ASTI are all defying gravity.  Technology Stocks which are holding up well are MICC, CRM, VIP, SIGM (recently pummeled but starting a come-back) along with the perennial favorites such as AAPL, GOOG, RIMM, GRMN and BIDU.  The Steel Producers may be waking up again and that should mean that STLD, MTL, AKS and SID should continue to lead that group.  Throw in ISRG, FWLT, PCLN,  and we have a well rounded group of Leaders.  
One popular theory often offered at the end of the year is that stocks laden with profits as these have provided over the year are held into the New Year before selling off to avoid Taxes in 2007 and delay them into 2008.  I don't subscribe to that notion, but for posterity sake I felt we should go out this year with our best shot at the RonIandex for 2007.  If you haven't seen Ron's Year-end Movie which is out today I suggest you do so post haste.  His focus on the Volatility Index (VIX) which as we well know has grown dramatically this past year and the "jumpy gaps up and down" these past three months demonstrates that this is a very tricky market and one must be extremely nimble and short-term oriented at the moment.  There is no traction to show a continued rally or for that matter a steady decline.    I have built on his ideas to develop a consolidated Index of this group of 26 stocks and we will see if they get hit hard or continue to show leadership into the New Year.  As we can see the Index has risen above its 4-dma which suggests that the Index is healthy but over-extended.  Note how this group has hardly come back to its 17-dma, but if it were to break it, it should show us there is rotation underway.  I have brought back my Sherlock Holmes Character to show what you should look for on the third chart, where I expect the Index to emulate its past performance into the 3-std deviation area before it finally gives up the ghost.  I have purposely included four or five stocks in the three groups of Energy Alternatives, Chemicals – Specialty and Steels, so that we should immediately see the rotation should that occur. 
The 2008 New Year RonIandex: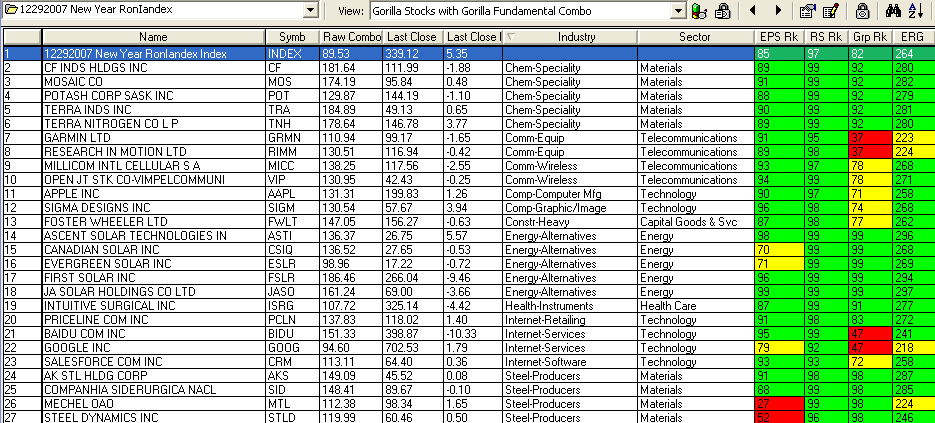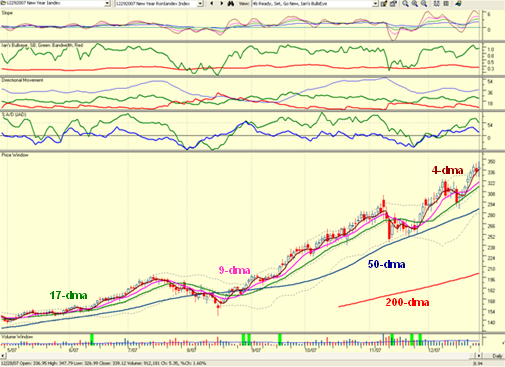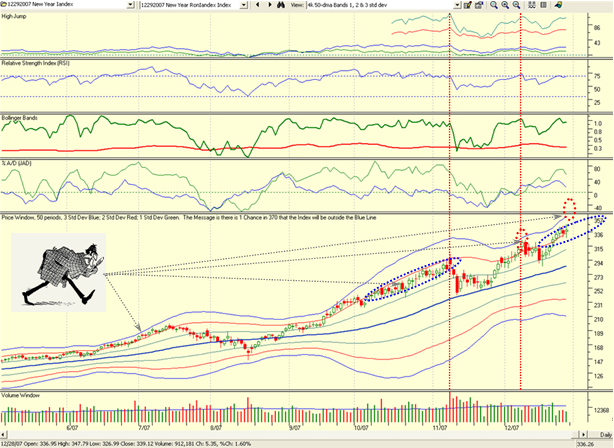 As Sherlock Holmes is showing you with his magnifying glass, we can see that ideally he would like to see the Index climb just below the 2-std deviation line (red line) as it did in the October 2007 timeframe (dotted blue ellipse), but should it stray up to touch the 3-std deviation blue line that will be a strong indication that the Index is way too extended and it would be wise to expect a correction in this Index.    Happy New Year and Best regards, Ian.