Just when the Bears felt they had this Stock Market in their teeth, up pop's Fed Chairman Helicopter Ben and Treasury Secretary Henry Paulson to save the day.  The "Duo" is due to testify in two days before the House Financial Services Committee on suggestions of shoring up the weaknesses of the federal financial regulatory structure.  The one-two punch worked as the market first responded positively to Bernanke's assurances to extend the time frame for embattled brokerages to tap the central bank for emergency funds.  It then turned around and went on a rollercoaster ride up and down 100 points to finish over 215 points from low to high and come roaring back when Henry Paulson suggested that the "The prices homeowners realize when selling their home may not be as depressed as the headlines suggest."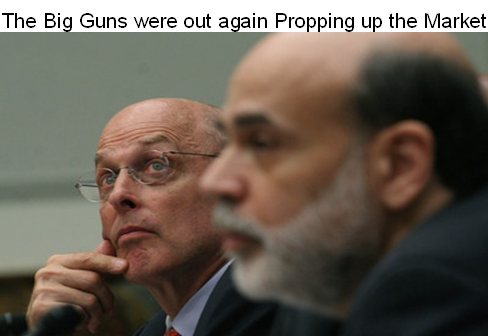 Net-net, The Dow pops as crude oil drops $5.33, the most in nearly four months. $9 in two days.

Alcoa came through with better than expected earnings and was up after hours.

The market should follow through tomorrow when 2nd qtr. earnings are a concern

Japan Nikkei 225 advances on U.S. Gains up over 1.7% in early going.

From my Smorgasbord of items to watch, let me remind you I have been on target:

The XLF bounced from its low of $19.08 yesterday to $20.53 with an up Kahuna

The TKC Dredging is finished for now with a strong bounce from its low of $13.43, which broke the Lowest Limbo Bar I suggested at $14.54 and then closed at $14.49 all on the same day four days ago to now be at $15.68.

Having broken 1257 on the S&P 500, the next in line was 1241.61 in the Twilight Zone and it hit 1240.68 yesterday for a low before bouncing back to 1273.69 today.

Essentially all the Major Indexes are down ~ 20% from the October Highs and below their 17-, 50 and 200-dma so there is a lot of work to do to even think that we have begun to repair the damage of the last month.

We can chalk up a POTENTIAL reversal day off the bottom and now we wait for the next set of signals, including the signs of a follow through day with simultaneous Eureka and Kahuna signals required to trigger in the next couple of weeks. 

Understand that we are no where near on the start of a fresh bear market rally and the best we can expect is a short bounce play until the drastic oversold situation and short covering is over only to find another test of these lows. 

"V" bottoms from such an oversold condition are rare so one must always expect a re-test.  Likewise with the Distribution %E at 25% which is a record reading since many a day, it is most unlikely that we can expect recovery at this depth without some more Bear activity to drive the market down again.  Some of this excessive oversold number has to be burned off to bring %E to between -17% to -7% for a better assurance of having a successful rally attempt. 

It would seem that unless and until the price of a barrel of oil can be driven below $100 for good measure, we will continue to have a see-saw market with more blood-letting to try and open the floodgates to the downside.  

The target is $1150 on the S&P 500 which I first signaled many moons ago as being a distinct possibility with my blog of the "Thick Blue Pencil" of Feb 17th, 2008…remember that.

 

In that note I defined the four types of trader/investor, and cautioned that the only ones who have a fighting chance of making good money were Types 1 and 2! 
We have come full circle to that scenario six months later where frankly only moment and day traders can do well if they are really nimble. Best Regards, Ian.