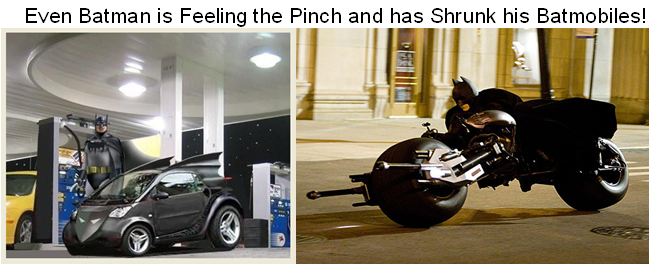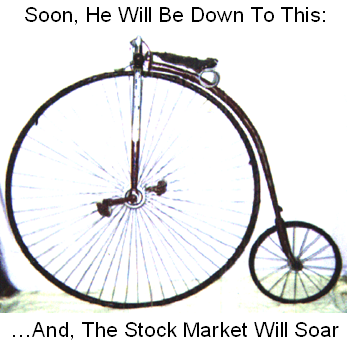 I couldn't resist a tongue-in-cheek analogy to the hot topic around the country on this gasoline affair, and I am sure it will all eventually sort itself out, but not before the hubbub on the Price of Gas comes back down below $4.00 and a Barrel of Crude Oil dips below $100, and/or T. Boone Pickens Wind Plan comes to fruition, etc. etc.  Unfortunately, it is no laughing matter but the question is how do we as Investors and Traders deal with it?  The Market is telling us what to do:
Investors:  Stay in your foxhole and/or not only bottom fish, but dredge in beaten down Industry Groups that are showing signs of moving.
These include the recent hot Wolf Packs of the Solars, Steels, Fertilizers, Coal, Machine General, Railroads, and Energy Drilling…mostly hot today, but you must turn to trading these.

 

Coal is white hot today as are the Steels!
Alternatively, you buy the Home Builders and Financials and pray you dredged correctly.

 

Today the Home Builders are getting whacked.

Yet again, you can fiddle around with the Health Care Sector, and an occasional good Tech stock.

Be aware that the small caps are outpacing the mid caps which in turn are doing better than the large caps…unless you are buying JIRM stocks.

 

But don't say I didn't warn you that Cash is King at the moment, unless you have it in a failing Bank!

 

Then, stuff it under the Mattress, even if it gets lumpy.
Wait for a Eureka signal, and the New Highs at least >100, and then stay up there to average around 150.

 

This last point is EXTREMELY important, and I will show you why at the next Seminar in October.

 

Hurry, we have eight seats left.

 
Traders: 

 
Have your hot Wolf Packs at the ready as mentioned above, and trade the Flavor of the Day.  Add the JIRM Stocks to your Wolf Packs as shown below.
What's up today is down tomorrow so be prepared to turn on a dime and you must be nimble, take what the market will give you, have tight stops and stay glued to your screen.

 

If you have confidence in us and/or know your onions, then concentrate on the JIRM >$35 and JIRM <$35 for your best picks, given to you all of four months ago, and are still as good as ever considering the hammering the Market has taken: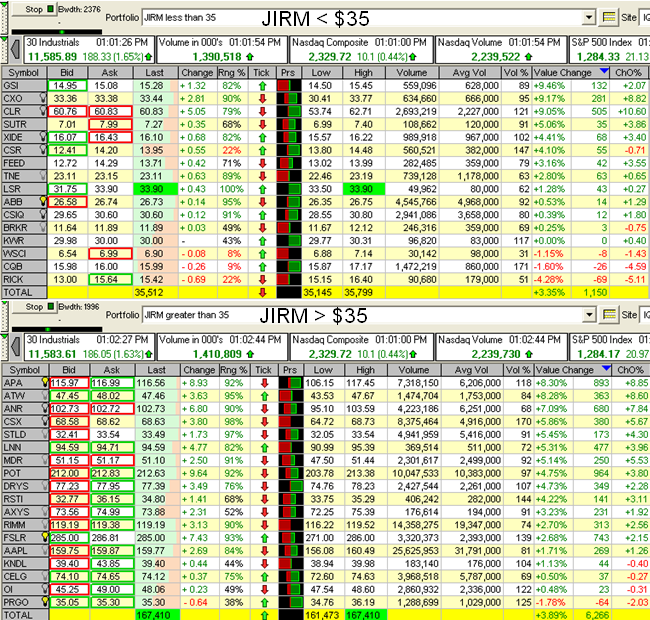 Late Breaking News:  First Solar reported earnings after the bell and it is flying high.  There's your winky winky for tomorrow.  Watch the Solar Wolf Pack first thing tomorrow.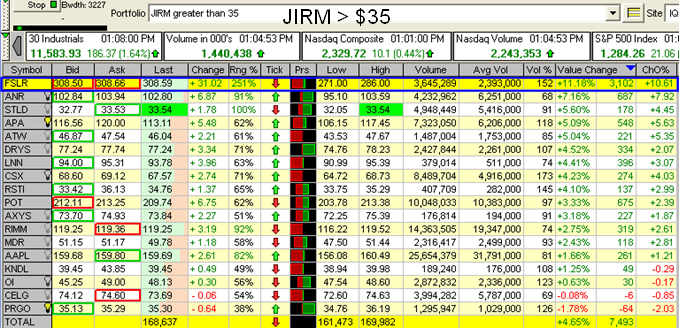 Best Regards, Ian.

  �