Yesterday's Blog was a winner with over 3000 hits for the Day!  One person who commented said he has started a Beer Collection, and another is asking me for any thoughts on Gold?
Here is a quick appraisal based on looking at the Gold ETF shown below.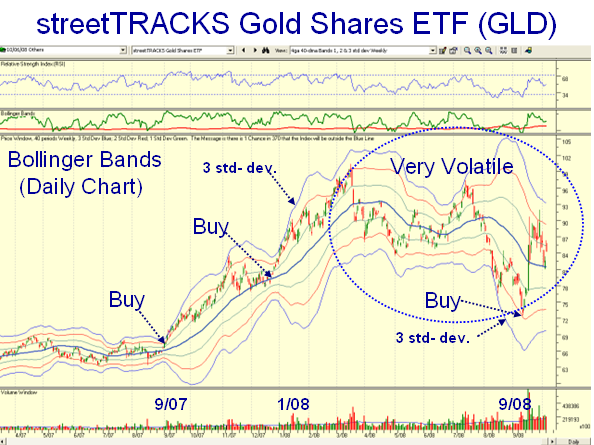 1. Gold had a great move a year ago for all of six months starting in September 0f 2007.  It was a controlled and tight move.
2. As one would expect, since the Market cratered it started to show erratic volatility, and unless you are a very short term trader, you can see it has become very risky.
3. Using 3 Standard Deviations on the Bollinger Bands as shown above (Blue Lines), you can see that it could have been a great buy a month ago, but note how it dropped about 10% in a matter of days, so it is very erratic. 
4. Since it just bounced off the middle Bollinger Band (heavier blue line), you should watch it for an entry around that area, but I warn you that you will need to watch it like a hawk.  From the gaps in the chart, it seems to me it is being used as a hedging instrument by those who are into short-term trading to protect their positions.  It would seem this is not the instrument you want if you are a long term buy-and-hold type who would prefer to see the ETF rise in the same fashion back in September 2007. 
I hope that helps.  Best Regards, Ian.