Sometimes the Stock Market can do funny things to the best of Technicians, especially when it is so skittish and entirely event driven.   There seems to be a temporary air of good feeling which is taking earnings in its stride, as corporate America so far has cleared the low bar set by Wall Street.  Also, after falling at a 6.3% annualized pace in the fourth quarter, a 5.1% decline for first-quarter GDP was the median forecast of economists surveyed.  "Despite the massive contraction in the economy, the expected composition of first-quarter GDP should show encouraging signs," wrote economists for Credit Suisse.
It would seem we need a new definition of a Wedge, and should take a leaf out of the Surfer's book.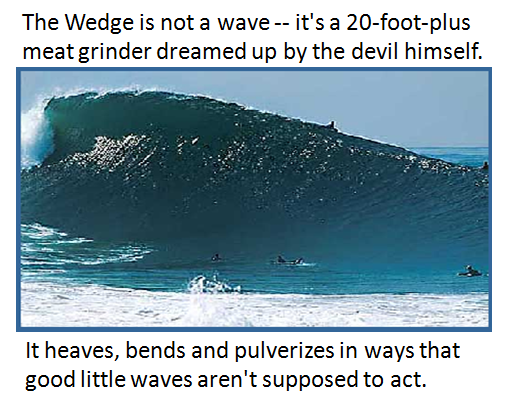 The Wedge is a combination of two waves that merge together, thrusting into a titanic slingshot that breaks with enough pounds per square inch to send an Iron Man to the mat.  The Bulls are hoping for such a sling shot that will swing for the fences with at least a 41% Bear Market Rally from the low to take it to the illusive target 940 level we have talked about – the "Higher" Target.  However, before the Bulls get too carried away, there is the little problem of a double top just above Friday's close that the Market must get above at 875.  Otherwise the pundits will be saying all is not lost for the Bears and the Market is headed for a correction should it not get past that number with authority.
The intra-day Type 1 and 2 Traders are scratching their head as they have to contend with awful zigzags as the market heaves, bends and pulverizes even the intra-day players: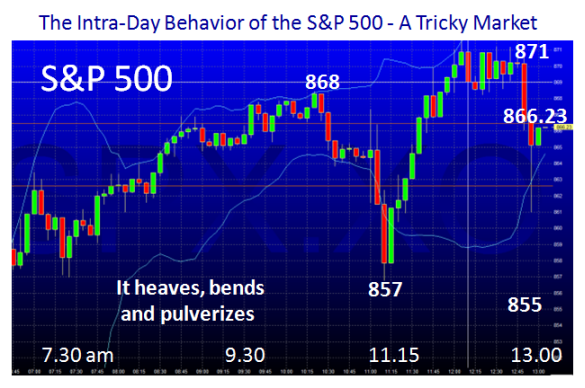 So given all of that, here is an Updated "Ideal" Road Map which shows the alternative Targets which have come into focus.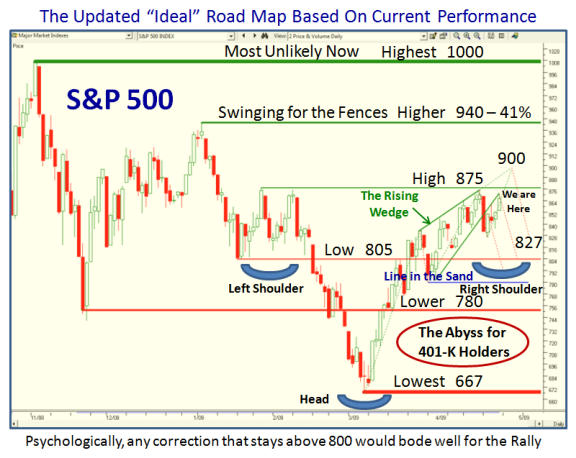 The three immediate Targets for the Bulls are:
1.  Get past the Double Top at 875
2.  Drive for the reasonable follow-up to 900
3.  Then Swing for the Fences at 940, 41% up from the Base Low of 667.
The downside looks better and better with every notch higher.  It goes without saying that the Bears lick their chops the higher the market goes, but meanwhile the early birds are having to cover their shorts. 
1.  The most important psychological Target is to stay above 800, almost an 8% cushion.  That would bode well for a continuation of the current rally as the pundits will jabber about an Inverse Head and Shoulders set up for the next leg.
2.  After that, anything between 780 and 800 would be disappointing but at least gives hope.
3.  If the market breaks 780 we head down into the Abyss one more time.
Best Regards, Ian.