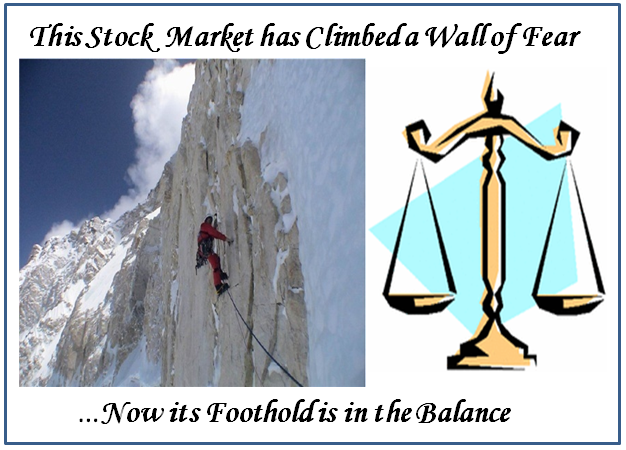 Before I settle down to watch the golf in my friend Maynard's back yard in San Antonio
where Zach Johnson fired a blistering 60 in round three, I felt you would like a quick
feel for my thoughts on this tricky market.
The Newsletter is out, the Saturday Movie from Ron which is free is a must see for all and especially those who profess to be confused and should have no excuse now, and the
Saturday Meeting we had yesterday produced some interesting ideas for tonight's Webinar.  With all of that in mind, I felt it might help if I collect my thoughts at this critical juncture as each week that goes by seems to be that way.
We are at a point where two roads diverge in a wood and we need to carefully pick the one less traveled by…with apologies to Robert Frost.  We have now had close to a 40% rally from the Base Low, and this past week has so far produced an ~5% pause to refresh.  The picture above shows my sentiments that at this point the Bulls have a tenuous foothold.  As many will attest over the years in past Bear Markets, the Sectors that usually lead one out of the abyss are the Financials and Technology, and if you cut through all the mumbo jumbo that has been the same to a large extent this time.  Of course there have also been major moves in the Retails, and the list goes on.  However, for the purpose of this Blog Note, I believe we need to focus on just two items to see if we suffer a light pause to refresh or have to tolerate another deep correction leading to a double bottom.
1.  Financial Sector – The quickest way to cut to the chase is the picture below as explained so well by my good friend and associate, Ron Brown, in his movie.  The XLF is front and center and should tell us volumes if it breaks or holds the lines in the sand as shown below: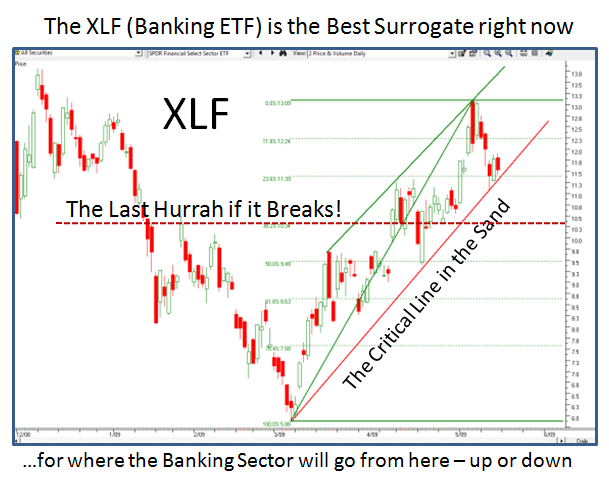 2.  Technology Sector – The Best of the Rally with a couple of tiddlers thrown in is shown below.  We all have our own favorite lists, but if one looks at the underpinning of most of these stocks they are mostly "Above the Line Stocks" (above the 200-dma), with many fitting in the HGS Boxes list: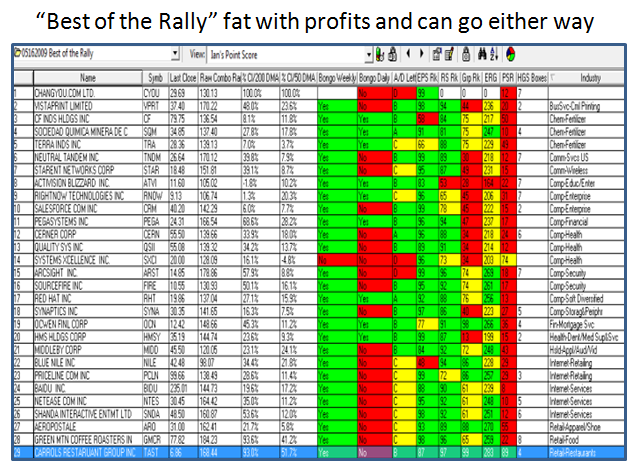 If we look at the Pie Chart, it favors Technology and these stocks were all picked because they have so far exhibited a slight pause to refresh mainly at support levels.  They are ripe with profits, have had some buffeting and are vulnerable to lose heavy ground if the market goes down; or moving up to become strong Silverback Gorillas if the market goes for a second leg from here.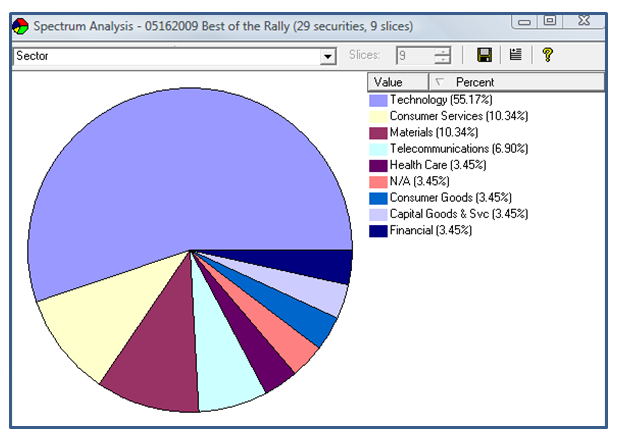 Do your homework, stay on your toes, and let the market tell you which way to go, but be ready to go either way.  We came close to getting a Phoenix on the NYSE on Friday and one can't ignore the early warning signs I gave you in the last few blog notes.  It's always "Your Call".
Best Regards, Ian.