Werner from Amsterdam made an astute observation on the bulletin board which
suggested that the "Old" Silverback Gorillas we depend on to show the way and
that yesterday they were acting weak despite the SPX being up.  "Sczaplam" who
is a "newbie" to the Group and is eager to learn asked a follow up question for an
explanation.  So it is time to bring out the Stock Market Windsock to see which
way the wind is blowing: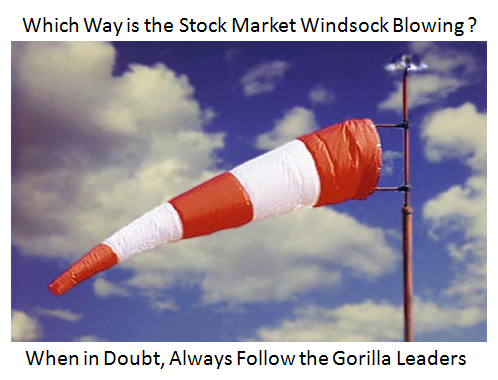 Werner writes:
Some of the horsemen such as BIDU, AMZN, RIMM, AAPL & GOOG are acting
weak today, even though the SPX is green. Maybe another warning?
"sczaplam" queries:
In view of today's action, could you expand on exactly what you saw to declare
the stocks were weak? Any chart views you use?  Thanks so much.
So let me show you how we do it using both HGSI software and also QuoteTracker
which dovetails with it.  As I have shown several times, the best way for an early
warning sign is to follow the Leaders and you need only go back a few Blog Notes
to see the 25 I have been using, so we will dub these the "New Gorillas, but I will
cover both.
Let's start with the Old Silverbacks: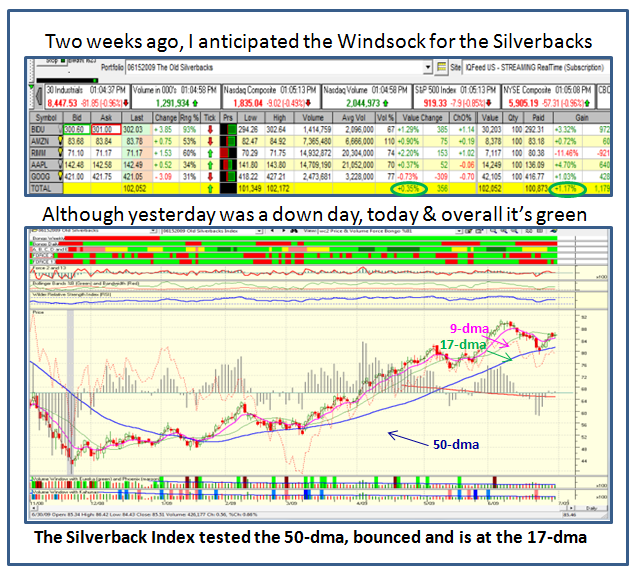 Always remember that leading stocks rise and fall above the 17-dma.  If their
Index breaks that moving average then watch out below, especially if they break
the 50-dma.  By that point your profits will have vanished.  At this stage the Old
Silverbacks are still intact as an Index, but they must get back up above the 17-dma
and then their recent collective high registered about 15 days ago.
Now let's look at how the New Gorillas are fairing: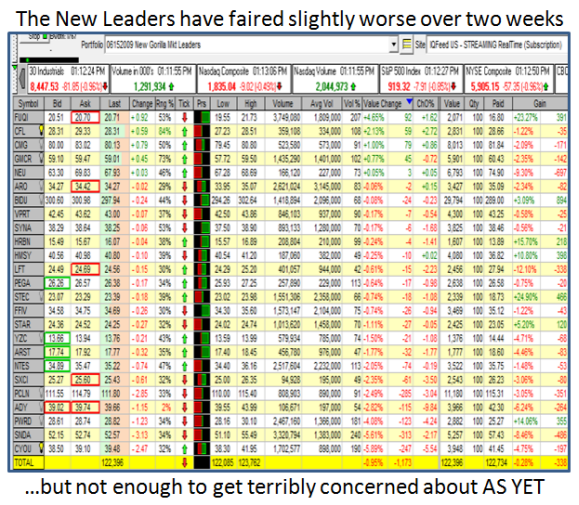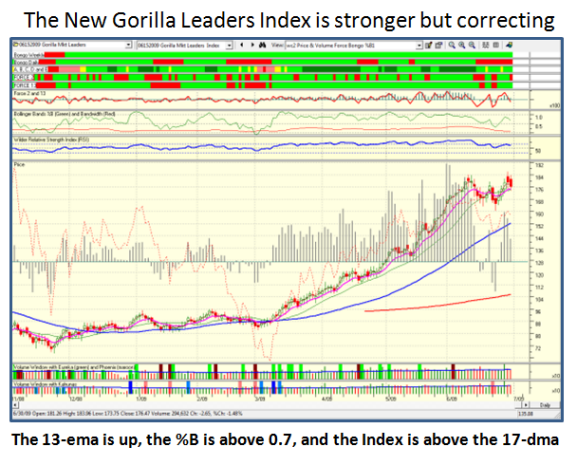 Although the last two days have seen a sell off, the Index is actually stronger as I
show at the bottom of the chart.
The bottom line is that the Leaders are still intact and at this stage the Windsock is
blowing East to West, i.e., in a trading range going sideways.  The true warning sign
is when they break the 17-dma to the downside.  The Bulls can take comfort if the
two Indexes break through the old high three weeks ago.  The Bears are Hungry
and waiting for their after July 4th meal.
Best Regards, Ian.