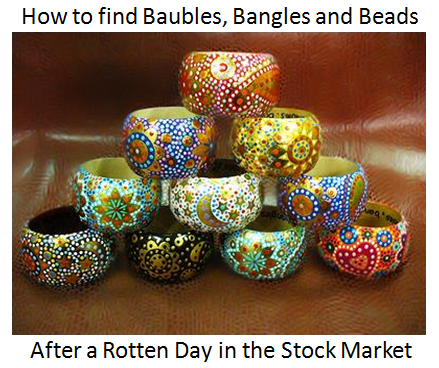 The Market turned sour on Thursday and the HGS Investor Software can always be counted on to find stocks that are swimming against the tide…if you are so inclined.  The Bad day which brought out irrational exuberance by the Bears was registered with a Phoenix Signal.  Naturally, the airwaves are abuzz with Head and Shoulders Tops and the expectation that we are now headed down with the  long in the tooth Bear Market Rally petering out. 
To find stocks that are showing strength and going up when the market is going down, the HGSI software has another arrow in its quiver which is to ferret for stocks that have strength by filtering for "Up" Kahunas, i.e., a 1-Day Change in %B of the Bollinger Bands of > +0.24.  Of course you can also go the other way to find stocks that are weak by filtering for %B of > -0.24, but that is not the purpose of this note.
Here is a Filter that will do the trick and gives a small list of stocks that has positive momentum on a rotten day.  As one would expect, the list is not awe-inspiring, but beggars can't be choosers.  The two with the highest ERG are in the Retail Restaurants Industry Group, i.e., PEET and BAGL.  Another thing  that pops up is an interesting Wolf Pack with poor numbers coming out of the ashes – Fin-Invest Mgmt.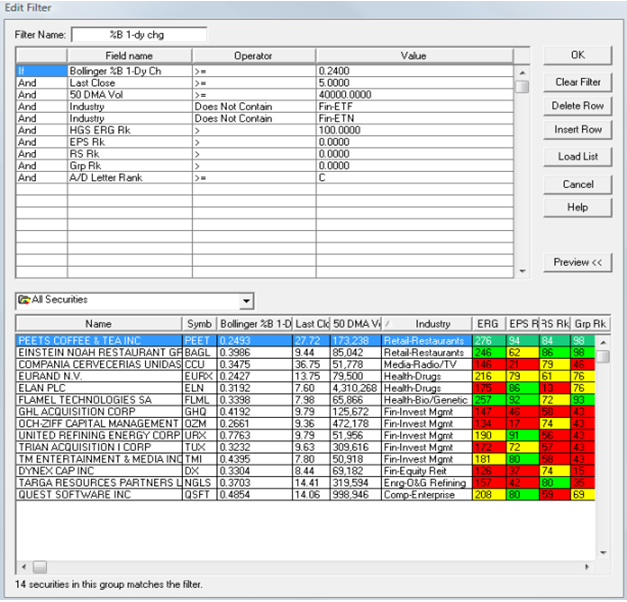 Now here is a further trick to see if anything more can be gleaned regarding these two Groups.  Just toggle the Bollinger %B 1-Dy Ch by reducing it down to 0.18, i.e., 2/3rds of a Kahuna.  True enough, we add one more stock to the Restaurants and two more to the Fin-Invest Mgmt groups.  I'm not for one moment suggesting you plunge headlong in the tide, but at least it would pay to see if these were just one day wonders or there is a Bauble, Bangle and Beads in the mix by putting them in a watch list and see what happens first thing tomorrow.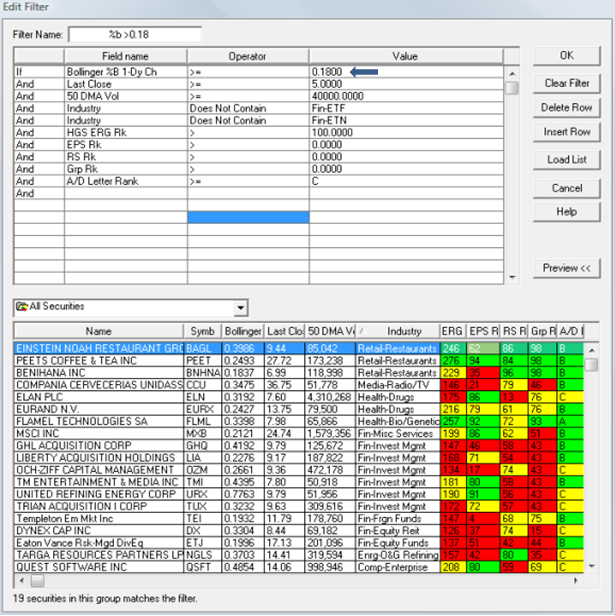 Not to belabor the tricks, but you might as well zero in on the Restaurants as a Group and it won't take long to add TAST to the list, which was dormant on Thursday.  Note that the Group Rank is 98 and the stocks have strong 13-ema Force Index for the past five days with Kahunas coming out of their ears on some of the days, with PEET the last two.  Understand I don't tout, but I am showing you how to ferret for candidates.  It is always "Your Call".
Best Regards, Ian.