The Dow Jones Industrial Average had the best day since March of 2009, up 490 points or 4.2% to close above 12,000.  Actions by central banks worldwide to combat debt crises spurred the broad rally.  The Federal Reserve said Wednesday that it joined some of the world's major central banks in a coordinated action to inject liquidity into the global financial system.
I can tell from your favorite hits on this blog that you are all itching for a Santa Claus Rally and for sure this has all the makings of a fresh run.  Three Buckets Up together with two Eurekas and two Kahunas within three days is just what the doctor ordered to spark this tricky market into a fresh move to the upside.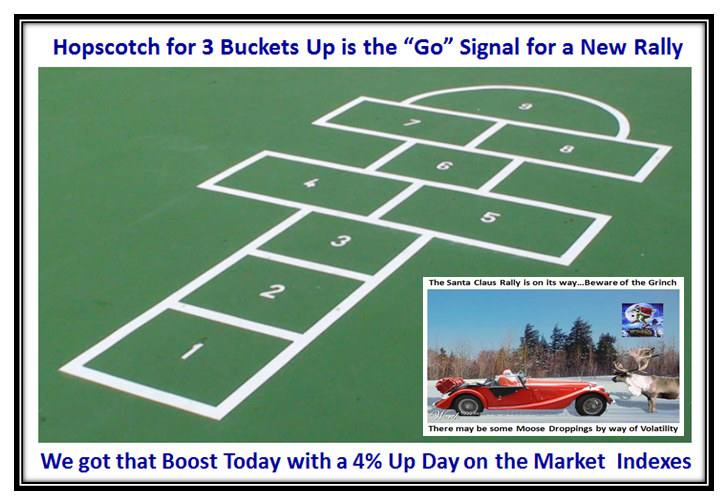 The charts below show the strength of the move at the close of the Day when all Indexes rose rapidly as the Shorts threw in the towel and volume surged for the first time in ages.  This explosive move is matched only by the likes of the sudden burst back in March 2009, so we can hope that this will follow suit and not fizzle out in a few days.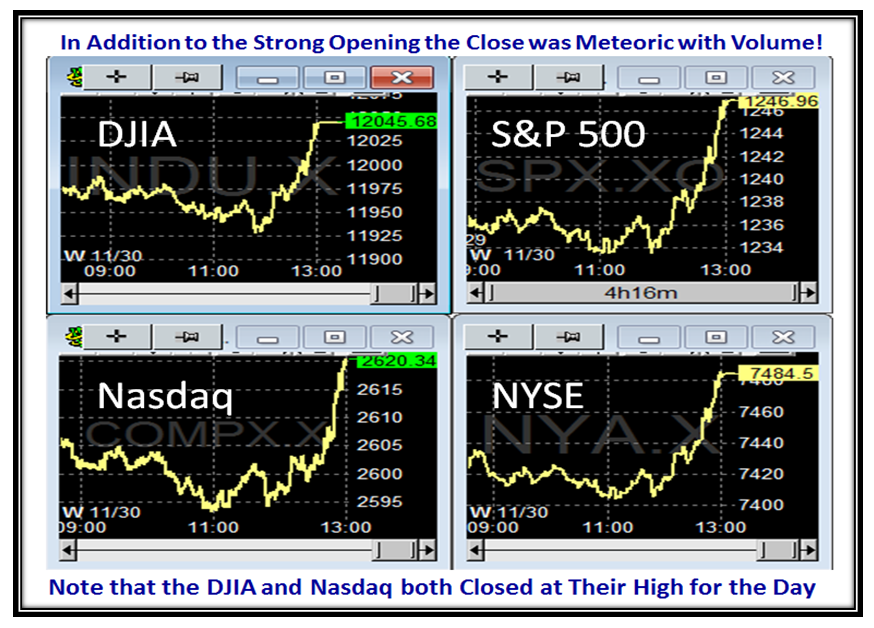 It goes without saying that all boats are now out of the mud and we have a healthy picture for stocks above and below 0.5 on the %B for Bollinger Bands.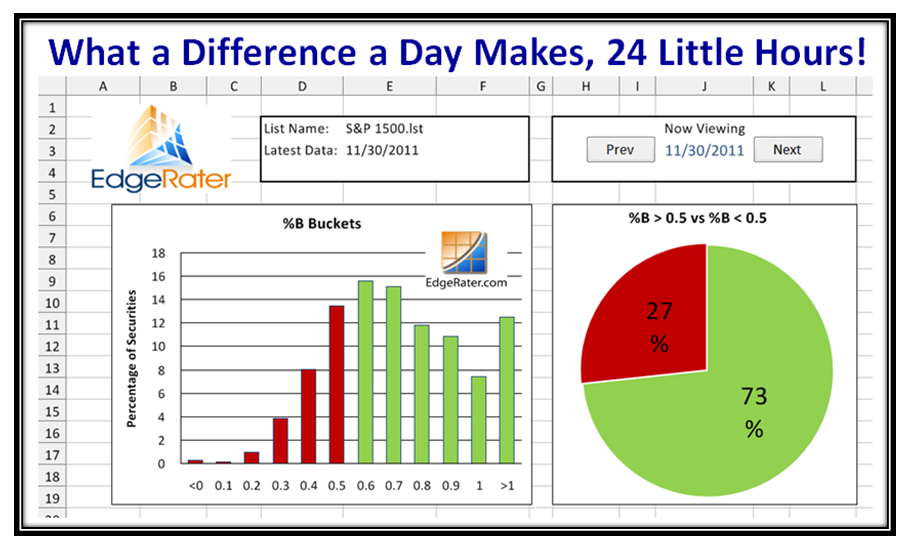 Now for some exciting Late Breaking News!  My good friend Chris White has turned up trumps by adding a Template in his EdgeRater Version 5.0 Product which provides insight into the Sector ETFs for the XL_ Series.  You will note at the bottom of the following chart that these ETFs were already signaling that good things would happen today based on their movement yesterday with six ETFs and the Composite Average all showing "Green" signals just one day after the Turn Around Day which I mentioned in my previous blog: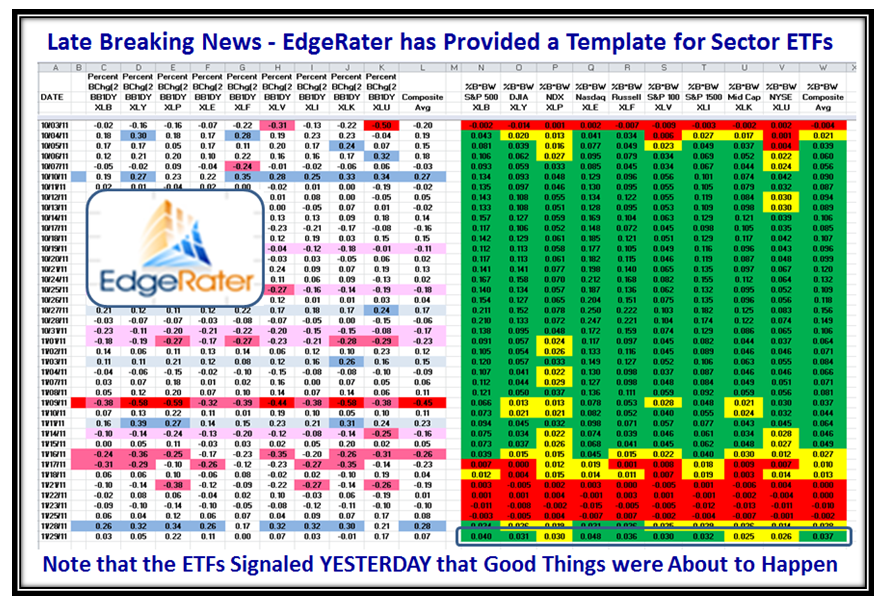 Having the ability to compare both the Major Market Indexes as well as the Sector ETFs stiffens up our backbones by seeing both the similarities and subtle differences to give clues of when to act as shown below.  The colors explain the similarities and differences…the numbers are not important for this illustration.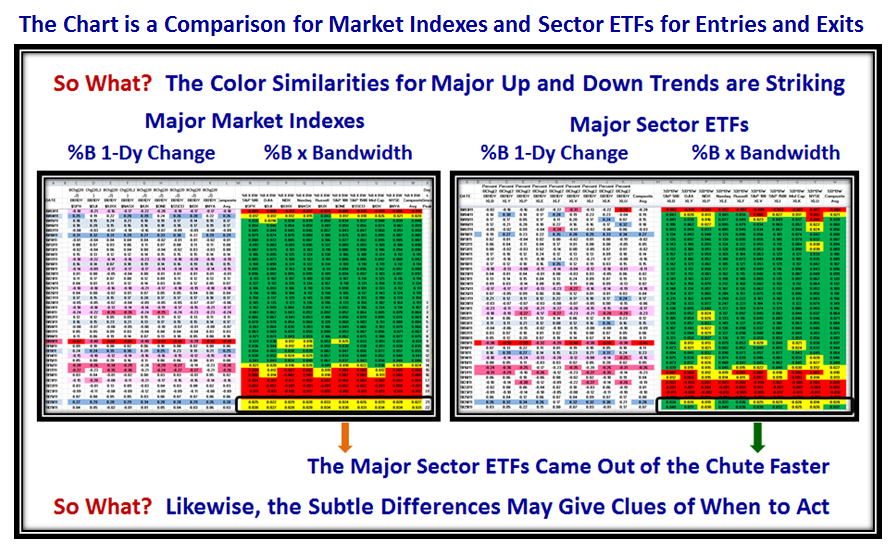 Now let's look at the action today first for the Major Market Indexes and then for the Sector ETFs.  We immediately see that we have another run of Kahunas across the board and %B x BW is completely Green for both charts, which suggests a strong "Go" as of today for both sets of Indexes.  Yesterday would be an Early Call using the ETFs only: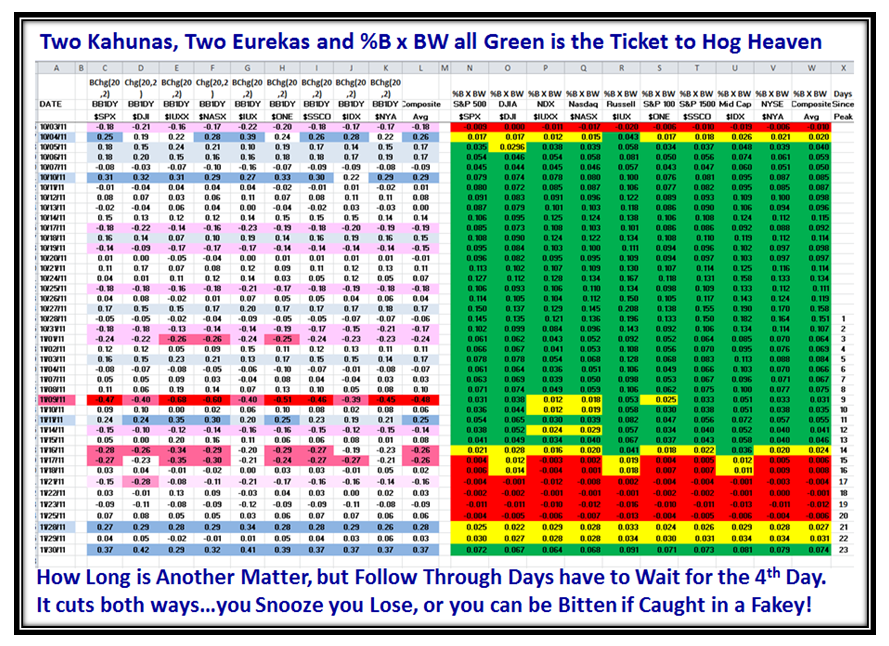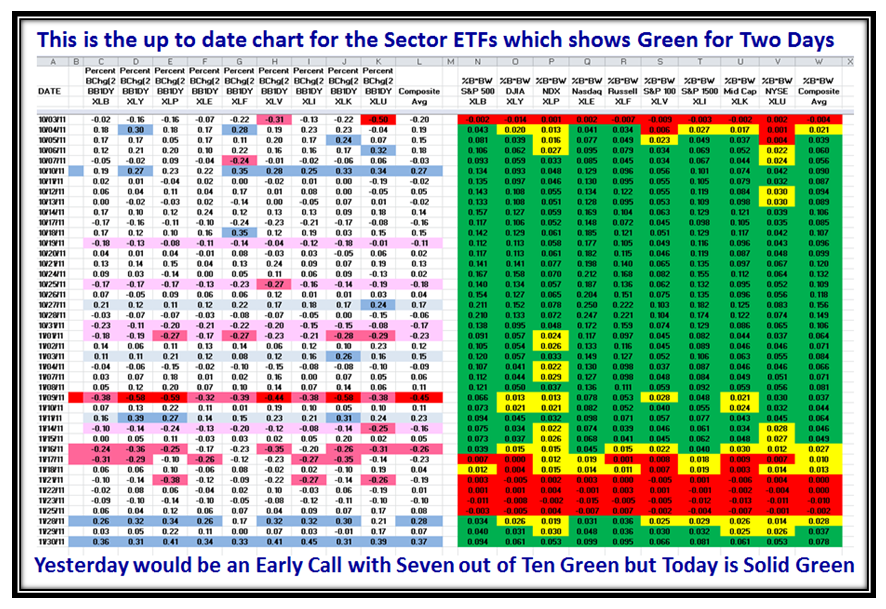 As I have mentioned many times before, a 3.7 Bucket Up Day is a sit up and take notice moment as it happens fairly rarely.  Of course when all Market Indexes are up over 4% it hardly matters as that of itself is very significant.  However, since we have essentially had this type of move twice within three days as shown on the next chart, that certainly shows that we have fresh strong momentum to the upside.  Just look at the 705 Kahuna Force Up moves registered today…that is not just short covering or I will eat my hat!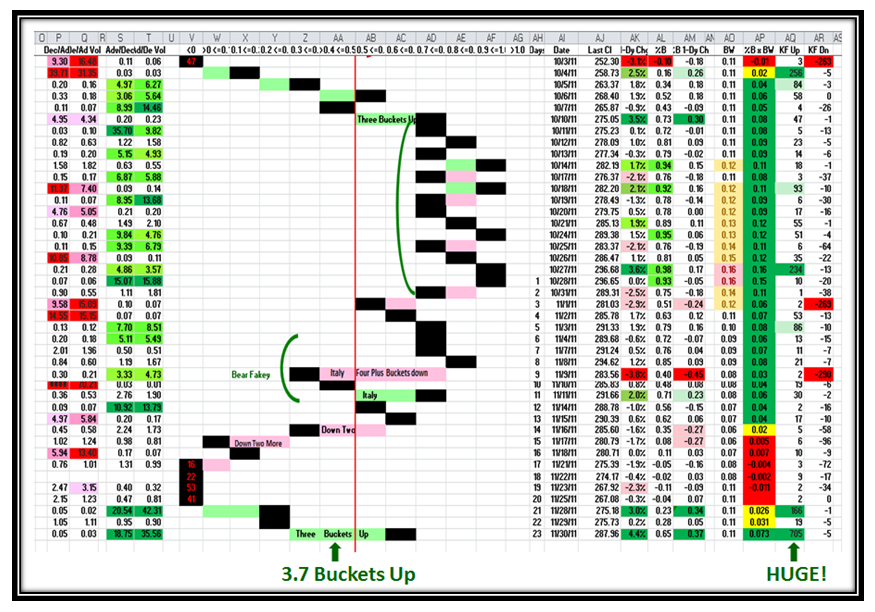 As we well know we still have the major hurdle of getting above the 200-dma which has been a bugaboo for this rally three times before and it could fizzle out once again.  However, as my youngest grandson of ten is known to have said "We will cross that bridge when we come to it!".
There is always a balance between Risk and Reward, so play it the way the Market tells you to play it.
Best Regards, Ian.