I need hardly tell you that this Rally is long in the tooth, but it is now really apparent that it is now on Pins and Needles!  The evidence that some form of correction has been building is what I will show you, but when momentum is this strong despite the sluggish volume of late, it takes a while for it to cave in.  I have collected a potpourri of evidence of old and new faithful slides for you to judge for yourself: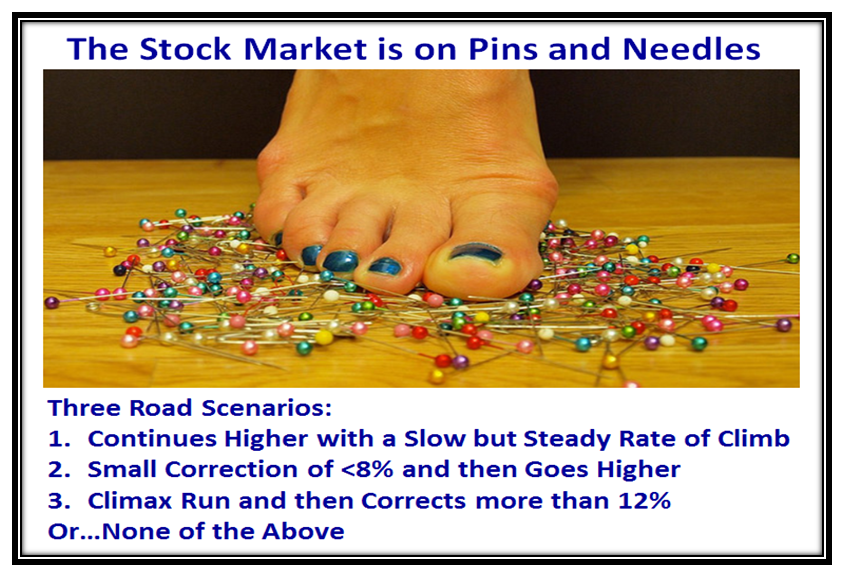 I offer you my Three Road Scenarios with one caution…every one is waiting for a dip so that they can get in since many have missed this last run, so don't be surprised if the correction is small.  But as usual, we can't predict the future on a whim.  Here is an old faithful that shows this rally has stayed up and is now long in the tooth: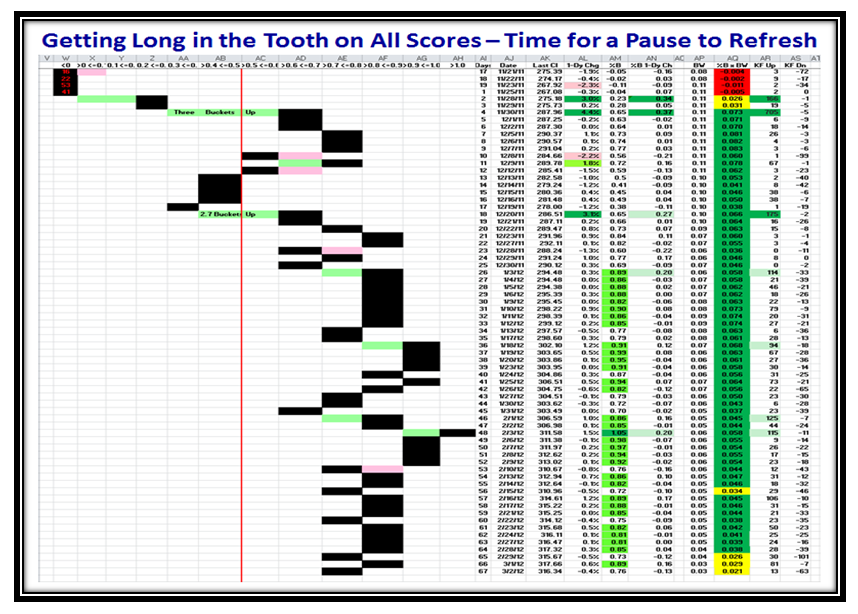 Now here is a new twist.  My recent good friend Fred from down the road who is coming to the seminar,  has been studying feverishly the Woody Indicator (%B x BW), and brought my attention to the Utilities ETF (XLU), which led me to investigate the XL_ series in general and the XLU in particular.  As the next diagram shows all these ETFs are at a Bollinger Band Squeeze Play, where they are tighter than a drum.  So much so that there is no where for them to go but up in Bandwidth!  You judge for yourself and cast your Beady Eyes on the shaded portion for the XLU which is now down to an unheard of reading of 0.013!  Furthermore if you look at the "Countif" table I have produced for you, you will see this has NEVER happened before in the two years of history I looked at: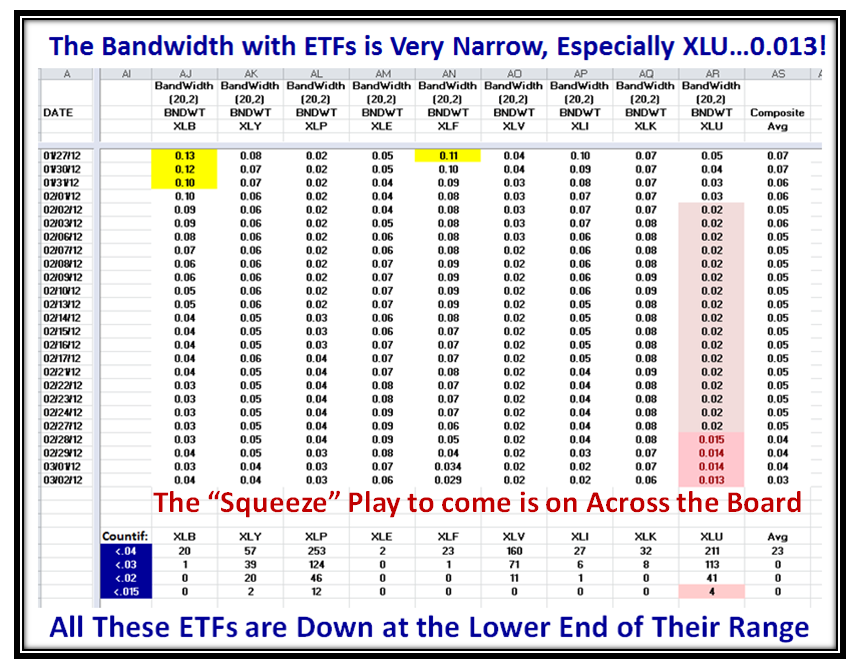 Let's take this a step further and concentrate on the last two year's worth of %B, BW, %B x BW and the Price of the XLU, and it was certainly a surprise to me that the Bandwidth and therefore the %B x BW were so low that one could get very little information out of them, UNLIKE the VIX and TVIX which I have shown you in the last few blog notes.  On reflection, it should be obvious that Utilities are slow boats and usually have little volatility.  However, the %B had plenty to tell us…unless I am reading too much into the tea leaves.
If we study the chart below we see that invariably BEFORE a big fall, %B for XLU FIRST rises above the Upper Bollinger Band, i.e., >1.0 and then collapses rapidly through the Bandwidth to below the Lower BB.  Those who have been with me all these years will recall my BullsEye Indicator and that is precisely the "Go To" indicator in this case at this point in time.  Note that in the two most recent big drops in the market, i.e., the Flash Crash and Debt Crisis, we get "First, and Then This" as I have depicted on the chart.  It will be interesting to see what happens this time as we are currently sitting in Limbo at 0.62: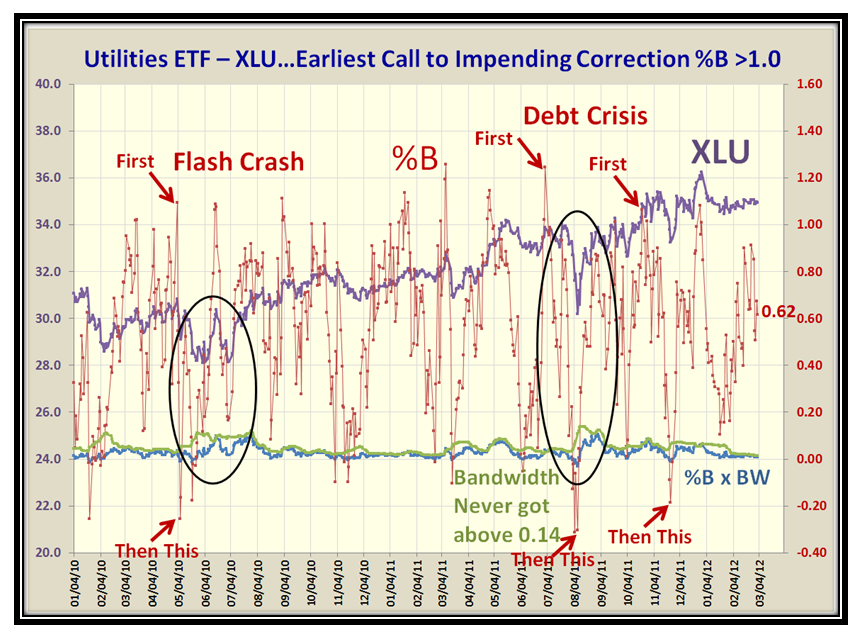 This next view is a bird's nest as I took out the XLU itself and therefore expanded the BW and %B x BW.  However, you can see that %B leads both, and the concept is therefore to watch %B on the XLU for any quirky moves!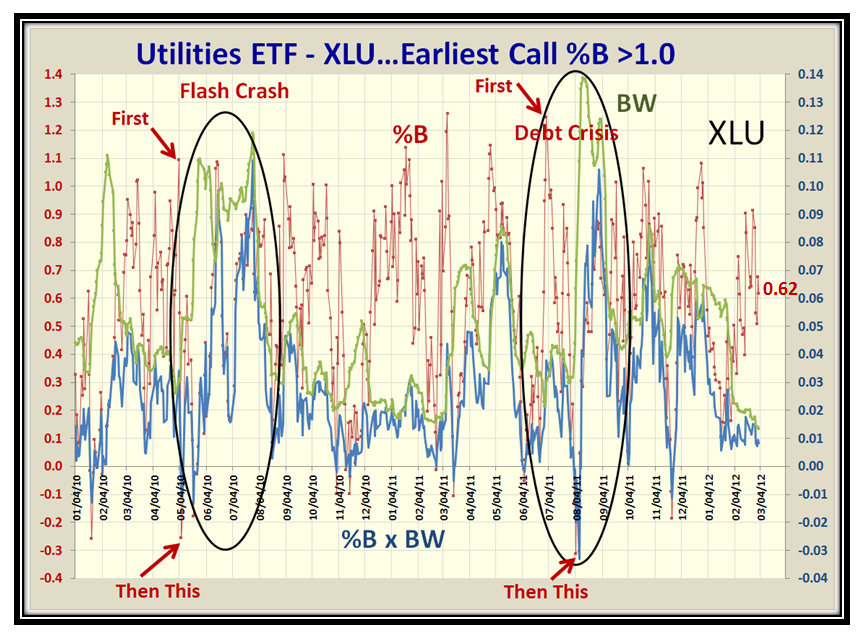 Now for some other old favorites which I haven't shown in a while and you will at once see that the tom-toms are beating: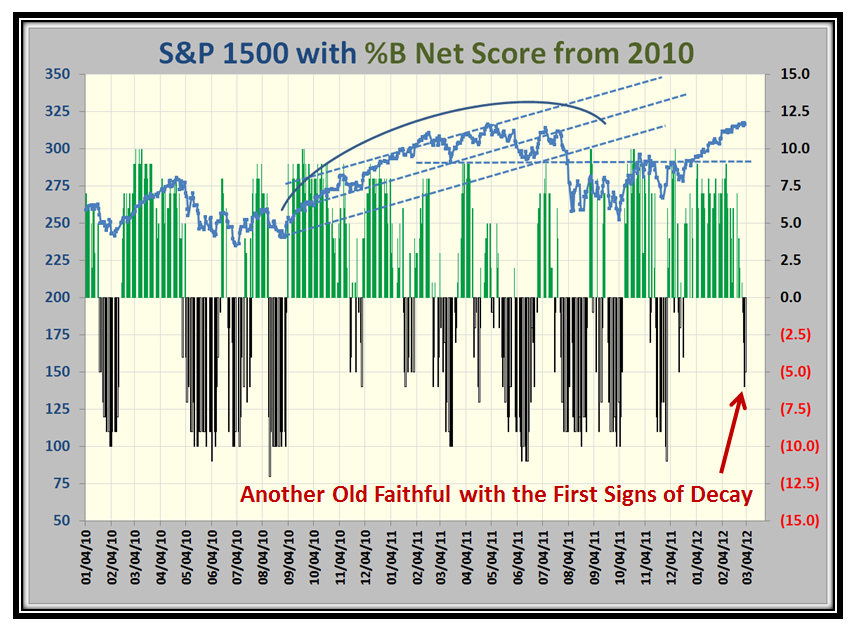 …And that is confirmed by this view which not only shows that we now have 18% in the hole <0, but also the tell tale sign that %B-%0.5 in the last column is ominously high…42% and then 39%.  This and the next slide says it all: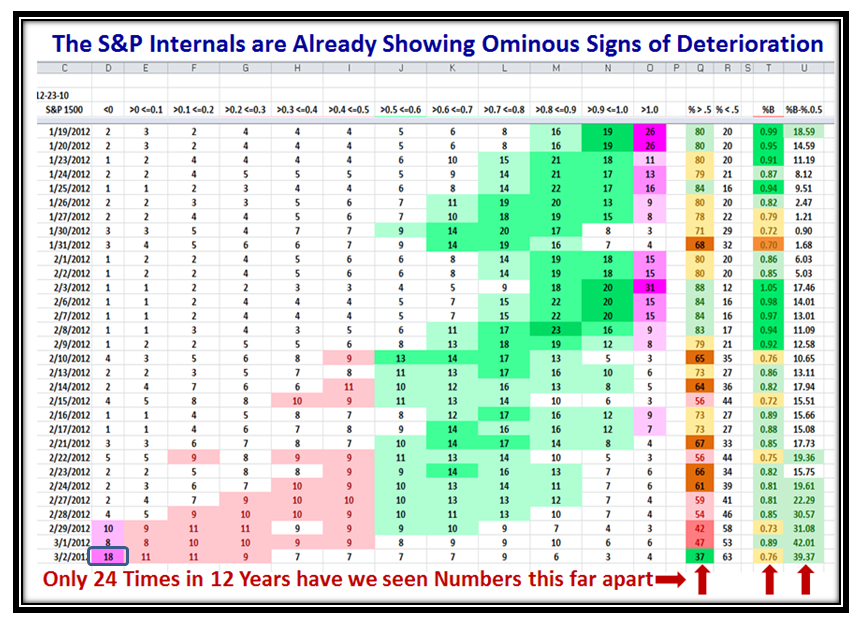 …And here is the chart which is worth a thousand words: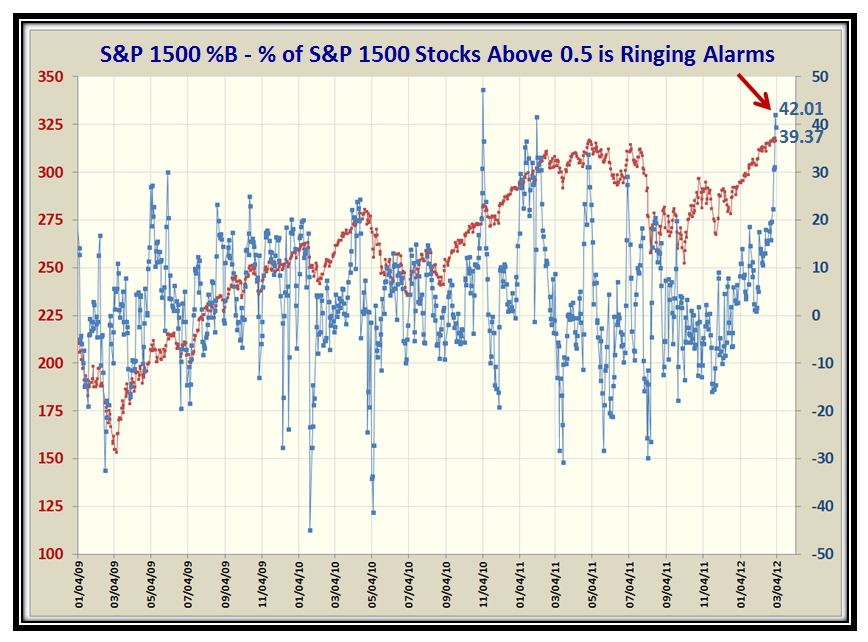 The Seminar in three weeks time will be interesting to see how all of this panned out.  There is still time to sign up.  We have several distinguished guests who will be speaking including:
Gil Morales will be speaking at our upcoming March seminar along with Fred Richards and Chris White. Lou Powers, our energy expert will be in the audience, and since energy is such a hot topic, he will probably have some insights for
us. Hopefully, his book will be published soon.
Let's not forget that Dr. Jeffrey Scott who is a "permanent fixture" will also be talking and we will have a lot of banter back and forth with all of you and have a fun time.
What could be better than basking in the sun with 80 degree weather which we are usually blessed with?
Hurry, hurry, hurry…time is running out.
Best Regards,
Ian