I can tell that my good friend Kevin sitting in Qatar is biting his finger nails along with his friends wondering what the latest pulse of the Market is?  I am feverishly working on the Monthly Newsletter but felt I would give you the Overview to ponder over until this next few days are behind us.  The Bottom Line is "This Market has Nasal Catarrh!"
Overview: 
This Month's Picture not only implies that we are marking time and in Stalemate, with the Market Indexes moving sideways on the Middle Road Scenario, but also the only ones making money are the High Frequency Traders (HFTs).  The rotten Jobs Report only exacerbated the tepid Yo-Yo Rally we have had this past month and two of the Market Indexes, the NYA and RUT are flirting with Death Crosses, while five of the six are sitting around the 50-dma.  Add to this the latest scandals with the Libor mumbo jumbo, it is no wonder that the ordinary investor has toddled off into the sunset to enjoy Graduations, Weddings and Vacations.  Hence the Low Volume has played right into the hands of the HFTs and they are having major fun at our expense.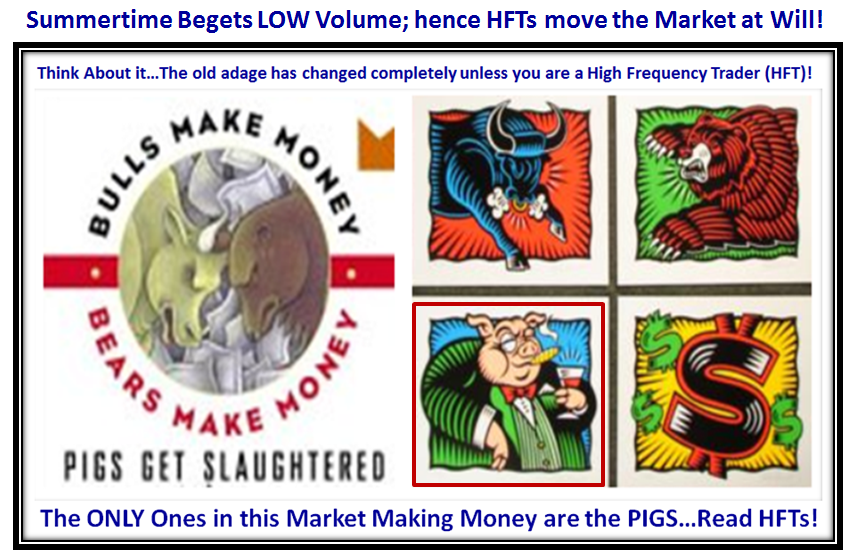 Besides discussing the High and Low Road Scenarios, the theme for this month is to take stock of the recent statistics for Gains and Losses in Rallies and Corrections since March of 2009 and to confirm Rules of Thumb.  Ron continues to squeeze the most out of the HGS Investor Software by evaluating Major Industry Groups that are out-performing the Major Market Indexes and then shows how to ferret down into the Leading Stocks in those Leading Groups.
The Round Table discussion is on Monday, 16thJuly at 4.30pm EST.   If you like what you see on this Blog, sign up for the Newsletter now when you will also have access to the Round table for Free.
http://www.highgrowthstock.com/Newsletter/newsletter.htm
We look forward to seeing our faithful supporters on October 27 to 29 at the Palos Verdes Library and as always we will have fresh material to cover as we again raise the bar.
Best Regards,
Ian