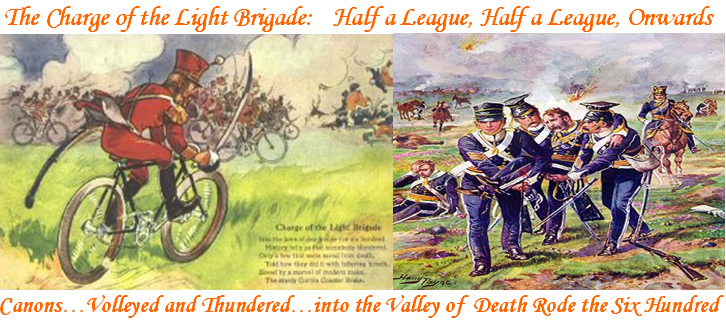 Readers of this Blog had ample warning that the Hindenburg Omen was firing Canons to Right and Canons to Left as they volleyed and thundered.  I trust you took heed and got on your bicycles and went the other way rather than into the Valley of Death with the Six Hundred!  Big Foot the Bear is lurking in the wings, ready to pounce. 
Who knows whether this is just another shot across the bow or the Big Correction we have been waiting for?  It doesn't matter…the more important thing is we had a Game Plan, we staked out the boundary conditions and today the Bulls fumbled the ball and the Bears have it.  I suggest you go back and look at the Blog on November 3rd called "Ian's Musings – Some Principles of HGS Investing".  The Lines in the Sand are all drawn for you and not only 1490 but also 1476 have been broken today on the S&P 500, so now we wait for tomorrow and then next week.  Why? Because today was another 360 point day down on the DOW which makes this #5 this year and we need to see what happens tomorrow and a week from now to confirm we have repaired or we are in a lot more trouble.  
Of course tomorrow brings a new day and either there is a follow through to the downside or yet again for the umpteenth time the Bulls see an oversold situation and come charging back into the same Silverbacks we all know and love.  However, we have a few more wounded than before and you know by now that the likes of GRMN, DRYS, EXM, AKS, CLF, CROX, FTK, and VDSI to name a few are now broken or breaking down.  Not enough to declare that the party is over, but enough for one to be careful if you are tempted to roll the dice when there is an oversold bounce.  Play near the exits before you get trampled on.  Anything lower and there will be a good deal of hurt before the Santa Claus hopefully kicks in.  November and December are traditionally good months, but we will have to wait and see as this financial fiasco unravels further. 
Keep your Powder Dry!  Best Regards, Ian.