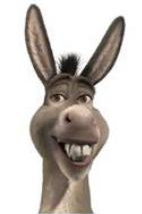 >>>(Ian many thanks for this and for mentioning my blog. As you realise, I am a fan!)<<< 
I tried to respond to you on your website, but it wanted my name and password from what I could gather, so I had to post my message here and hope that you will recognize your mascot from your site and see this response: The feeling is mutual, but I only wish I could read your notes and write in your language as well as you can in mine.  I am glad you and your readers are enjoying my blog.  Once this correction is over, I will be signaling it with an Indicator called "Bingo", which should be at the lows of the market correction, so keep an eye out for that.  Then hopefully, it will follow up with an "Eureka" signal and that would be the time for the "All Clear". It may be days or it may be weeks before it comes.  Tonight "Big Foot" should be the headline! 
I'm sure my supporters won't mind seeing my response to your kind gesture, which has a heads-up to come in the message…we call it a winky-winky.  If you do wish to respond, please leave a comment in the place indicated below.  Alternatively, you can always respond to ian@highgrowthstock.com 
Once again, many thanks, Ian.