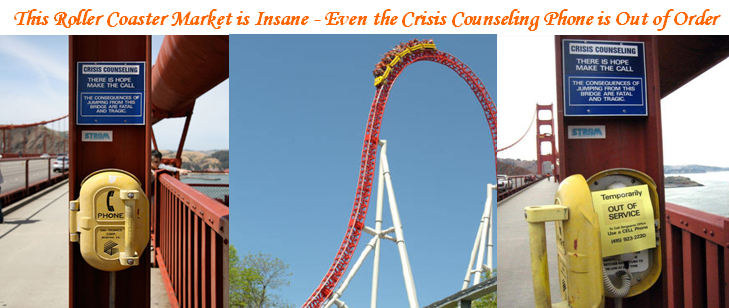 The DOW climbed a modest 41.13 points to 13473.90, after a session of wild roller coaster intra-day swings as the Market Gurus and investors tried to digest the Fed's plans to add liquidity to money markets and also profit warnings from major banks:
The DOW jumped more than 250 points at the opening bell, which took the wind out of the sails of the Bears initially and then gradually, had a day-long descent.

 

Trading was very volatile in late afternoon, with the Index going down more than 110 points below its opening level before finally settling up a modest 41+ points.

J.P. Morgan Chase, and B of A were cut from buy to hold and Wachovia was cut from hold to sell.

 

Bank of America fell 2.7% after it warned of tough sledding to come, including larger write-downs on collateralized debt obligations and a fourth quarter that will be profitable but "disappointing." Wachovia shares fell 3.4% after it said it sees higher provisions against credit losses and further mortgage-related losses.

Import prices surged today and the weak dollar is causing inflation beyond tolerable limits.

It is plainly obvious to the common person that the FED is trying to pull every trick out of the bag in dribs and drabs depending on how the market reacts to their medicine.

 

What that does is make investors more suspicious that this Global Sub-Prime loan crunch has many more shoes to drop.
This has to be a trifle frustrating to the Bears who once again have been thwarted unless they were exceedingly nimble and made their buy and sell decisions in nanoseconds instead of seconds, skipping over milliseconds and microseconds these days!  That's meant to be a tame joke, but it is not laughable as I am sure genuine Investors are in a state of shock and disgust.
I will go back to my foxhole and enjoy my Nephew's visit from England and leave you as frustrated as I am, as even the Crisis Counseling Phone is out of order!
The only smile I can offer you is that the Post Office unveiled a 41c stamp of Frank Sinatra with that infectious smile and wearing his fedora hat.  It will be out in late spring, 2008.  What other blog gives late breaking news like that?  Best regards, Ian.