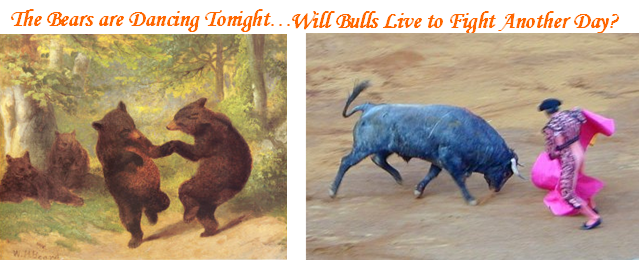 Another Year is almost at an end and the HGSI Team of George, Matt, Ron and I send you all our sincerest wishes and Season's Greetings for this holiday period and may all your trades be winners in the New Year.    
I wish I had cheery news to go along with this time of the year of the festive season, but I will pull no punches and tell you that I feel the Grinch stole Christmas as the saying goes, and we are in for more rough sledding on this roller coaster market.  There is little more by new good news to come unless the FOMC pulls another rabbit out of the hat and conjures other ways to prop up the market that can improve the lack of confidence that is now permeating through the Investment Community.  Expiration week looms directly ahead and often provides some fireworks.  The following week will be the last opportunity to posture for the year-end.  Fasten your seat belts, the roller coaster ride, up and down, could be interesting. 
This month my Case Study has focused on identifying a few benchmarks for unraveling the mystery around the Tops and Bottoms in the Market.  It turns out that of all the parameters that we discuss surrounding the Hindenburg Omen, Eureka and Bingo signals there are three easy levels to remember relating to New Highs on the NYSE.  I hope you enjoy this insight and we will certainly keep an eye on this going forward.    
Ron's movie and focus this month continues where he left off last month on how to milk the most out of the new Group Inclusion feature.  This month he concentrates on using user groups to prospect for both long and short candidates because after experimenting with the Group Inclusion report it has the potential to help HGSI users find potential winning stocks that do not appear when using filters and combos.  It always amazes me how Ron can conjure up new ways to squeeze the best out of the HGSI software.  It is very versatile as I am sure you will see from Ron's movie.  The Newsletter will be posted later today.  Best Regards, Ian.