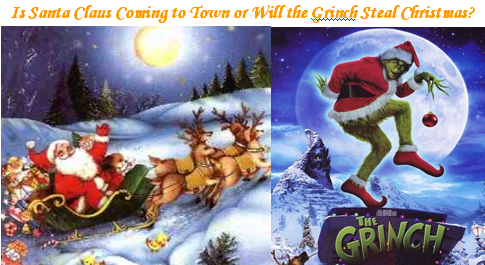 I send Seasons Greetings to all my new found friends in various blogs around the world and especially my followers in Greece led by Thrassos who first found me with the mention of the Hindenburg Omen, and for his encouragement in the various Comments he makes from time to time.  Since he said they like the pictures I give them supporting my statements here are a couple of statistics which they would not normally see to show how poor the underlying internals of the market are at this juncture when the Grinch seems to be winning over Santa!
It goes without saying that after this past week's roller coaster market the Grinch is winning so far.  The leadership of "A" Accumulation stocks has narrowed to a paltry 5%, with an alarming drop in the last three days from 7.5%.  As we can see from the diagram below: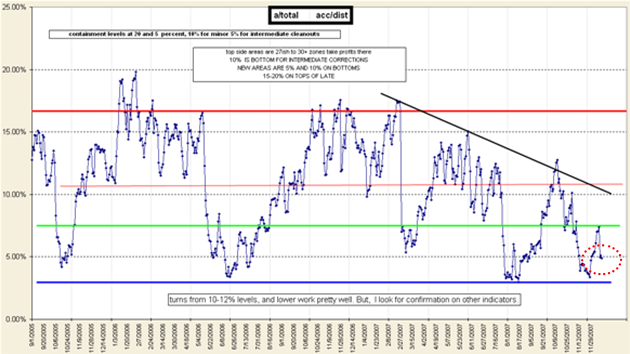 We are heading for the 2.5% level if this current trend keeps up, and that will be the time to sharpen our pencils.

 

We are just over 100 stocks at present and when this shrinks below this level we will have some clue of where to find the survivors.

 

The place to look will be the high "B" accumulation stocks that have had less than 15% correction from their highs.

The leadership we used to enjoy back in 2005 and 2006 with peaks of "A" accumulation stocks has dwindled from highs over 15%, have now got lower and lower in 2007 where 10% is all we can expect these days.

 

This suggests that the nifty-fifty phenomenon I mentioned all of two months ago will ultimately get cleaned out with a Major Market correction and we will see rotation and a new birth into new Industry Groups and fresh stocks taking over the leadership.

 
I am indebted to my good friend Mike Scott for these views and here is another gem from him which shows the weakness in the overall Market as we have deteriorated from a healthy 89% of stocks above the 200-dma back in January this year to just above 30%.  Again we can see that we will soon be testing the recent lows down at 25% we set in mid-year, 2007.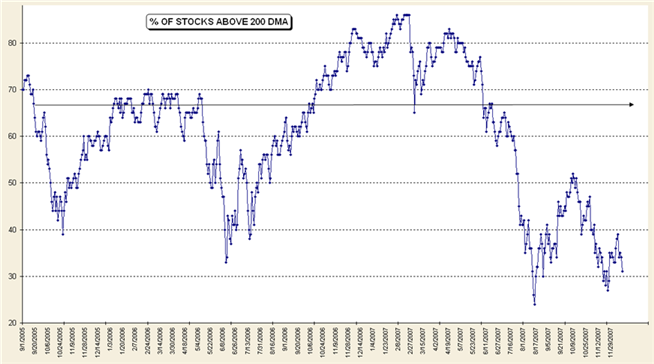 While the rest of the country is suffering from a terrible snow storm, we are basking in sunshine in our world on the West Coast just 15 miles south of the LAX International Airport.  Unfortunately, Ron is shoveling snow in Nebraska.  Good luck to you all is the sincere wish of your friends, George, Matt, Ron and Ian.