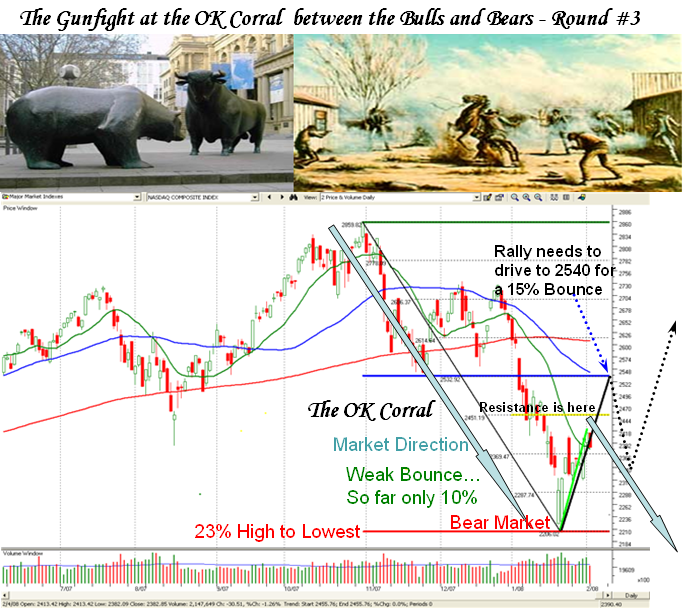 The Picture says it all…The Bears are winning Round #3 of the Gunfight at the OK Corral so far: 
We had a Bear Market Correction of 23% when it went down to 2203, the recent low

The Bounce so far has been WEAK with just a 10% retracement back up

The Nasdaq and all other Indexes paused to refresh today, but it had 30 points down

The Bounce Play must carry on through the Resistance as shown at 2540…between friends

It must at least give us a 15% Bounce for us to feel that any retracement can be held

That would give us a Double bottom and a chance to drive up to the 200-dma red line

Otherwise we are headed down to test the low and maybe breakdown further

THE KEY to all of this is that the 50-dma blue line must first bottom and then turn up

NO RECOVERY WILL OCCUR WITHOUT THE 50-DMA TURNING UP. It's currently pointing down – blue line 

The Bulls will not gain control until the 17-dma green line turns up through the 50-dma

The only saving grace so far for the Bulls is that the Market Internals have repaired fast

% E's are down to a trickle, Industry Groups have gained strength quickly, but the drive must continue for this to be a real rally and not a Bear trap.

The Five horsemen are essentially all being hit or gasping trying to find a Base.

Rotation is on into beaten down Industry Groups and stocks and I have already mentioned these previously.

 
The hour is late and I must toddle off to bed.  Nimble is still the trump card.  Best Regards, Ian.