Continuing the theme of my last Blog where the question was whether the Stock Market was in a Rotation, a Correction or in the Fertilizer, suggesting three scenarios of up, sideways or down, the question is "Where O Where have the Wolf Packs Gone?"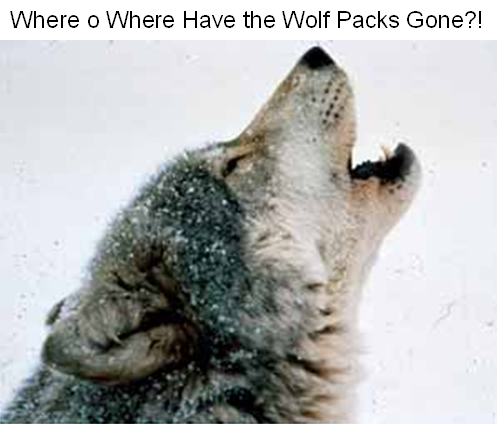 The favorite Wolf Packs that have been stalwart for many moons took another hit today, exacerbated by a statement from Bloomberg that Merrill Lynch recommends investors to sell Sun Power Corp (SPWR) and Evergreen Solar Inc (ESLR) companies. Merrill says Germany – world's largest solar market – may cut subsidies by as much as 25%, greater than the 16% reduction analysts had expected, Bloomberg reports.  This brought all the Solar Stocks down heavily today as shown in the picture below, along with all the other favorite Wolf Packs:
It goes without saying that whenever these favorite Industry Groups and Stocks get hit they come bounding back, but it seems this time many of these groups and stocks are looking a trifle tired.  Anyway, the question is whether there are other potential Groups that produce an opportunity if Rotation is indeed underway? 

This is a choppy market and after getting a whacking last week as I showed in the last blog, most investors and speculators are concerned that we are now due for a further leg down to test the old lows.  However, as my good friend Maynard reminds us there is always a market somewhere on the long side, and I take a leaf out of his book to suggest that Pollution Equipment Control certainly had a reasonable day today.  In addition, I have been watching the Technology groups and selected the Semiconductor –Mfg Group as one potential Wolf Pack in that Sector.  The SOX was hammered for the past 10 months and may be stirring again.  Here is a selection of ten stocks from each Industry Group with strong ERG credentials of 240 and up: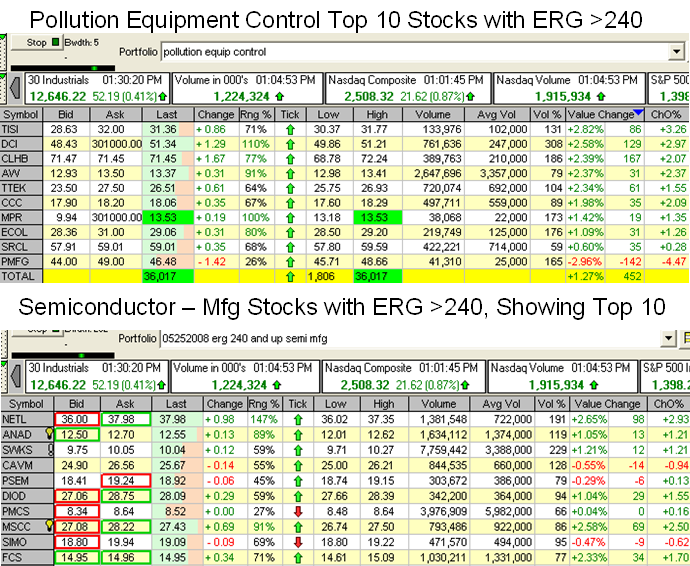 I had hoped that the Semiconductor SOX Index might be able to break out of a base today as it tried all day to move up through 409, but fell back towards the end of the day.  Here are two snapshots to give you the perspective of what I see, one long term over the past ten years and the other this past year.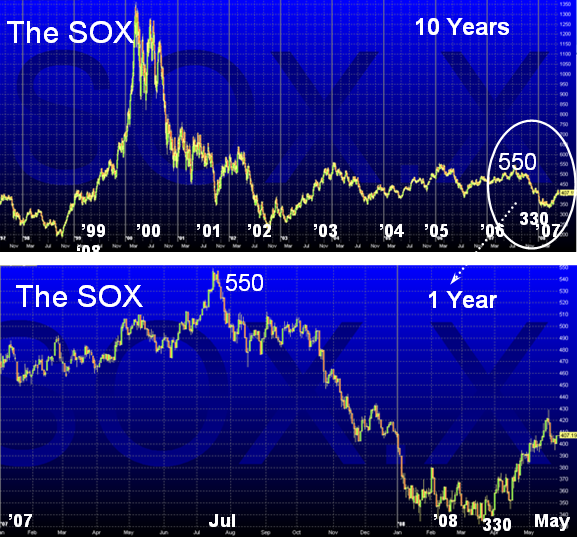 Then below, I zoom in to today's action to show you what I mean of the SOX trying to break out above 409.  Note that it has broken the short-term uptrend line and may continue to falter.  If on the other hand it can find enough muster to regroup and break through the 409 resistance, we may have opportunities in the Technology Sector and specifically the Semiconductor Mfg area, where there are over 20 stocks with ERG >240 of which I show you the top ten based on their behavior during the past week.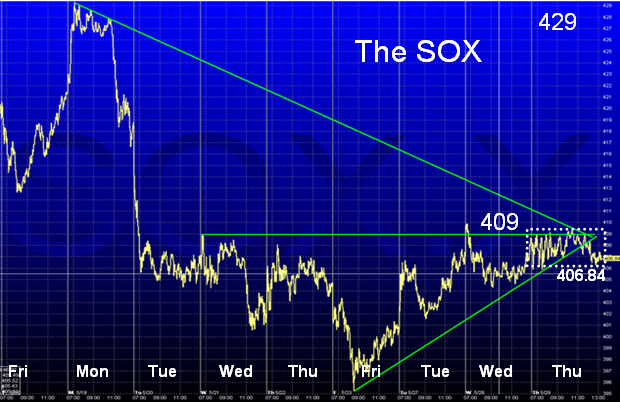 Rather than holding this blog over till the weekend, I felt you would like some fodder to research and see what happens tomorrow, but realize that we are at month's end and it is Friday so anything can happen, especially as many are expecting a down move again sooner rather than later. 

 

Best Regards, Ian.