With Oil sputtering and hot Wolf Packs tiring, Technology Stocks have begun to awaken for a potential move up after losing 25% since November of 2007.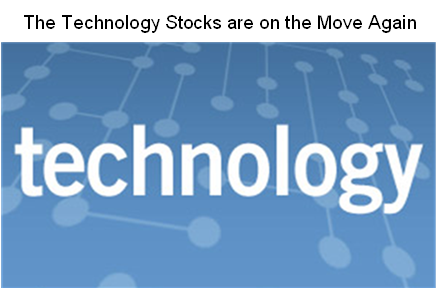 As my good friend and partner, Ron Brown, explained in his movie this weekend the Technology Sector was hot last week and the Nasdaq 100 along with the Nasdaq were strong.

 

In retrospect both Google and Apple reported revenues of 42% and 43%, respectively, higher than a year ago.

 

Mergers and Acquisitions are also picking up in the Technology Sector.

 

Also, the Russell 2000 which has been generally weak has come on these past few weeks. 

 

 

Last week I gave you an early indication with a long discussion of the Semiconductors (SOX) Index, showing that it was gearing up for a move that occurred on Friday…granted that it was a tepid breakout above 409.

 

That is all the more reason to sit up and take note of where the opportunities lie.

 

In the following charts I show you the change in the Market Indexes from the horrendous week we had over a week ago and the recovery this past week. I show the major change in some of the key Technology Groups that have moved this past week and then an updated view of the Semiconductor Mfg Group based on last week's performance.

 

You will recall in the last two blogs that I had been bemoaning that we were so close but yet so far for all Market Indexes

 

from clearing the key short-term hurdle of the 200-dma, but I am happy to show you that things have improved substantially this past week.

 

Note that Bongo Weekly signals have remained strong, but there is a marked improvement in the Bongo Daily which has jumped up to ten from two the previous week.

 

Also the Acc/Dist picture has improved as shown in the diagram below: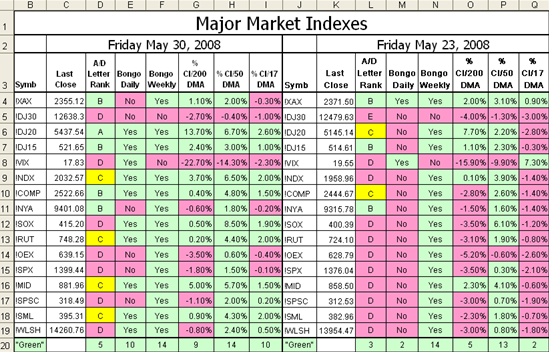 Many moons ago, I coined the terms Delta ERG and Group Speed and the chart below shows exactly what I mean.  Note how the Computer – Enterprise group jumped 24 points from a low Group Rank of 35 to 59 in a week, while Delta ERG shows the total improvement.  The left side of the chart shows this Friday's data, and the right hand side shows the INFORMATION to help you see the changes from the past week: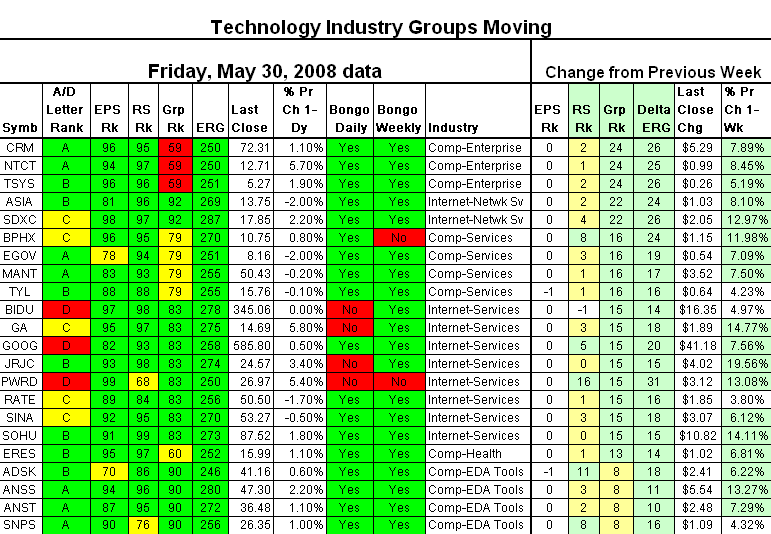 This next chart updates the information of the previous week on the Semiconductor – Mfg stocks to watch.  Note I show that three stocks had Kahunas last Friday, implying they had strong momentum and should be watched this coming week, despite their negative changes in ERG.